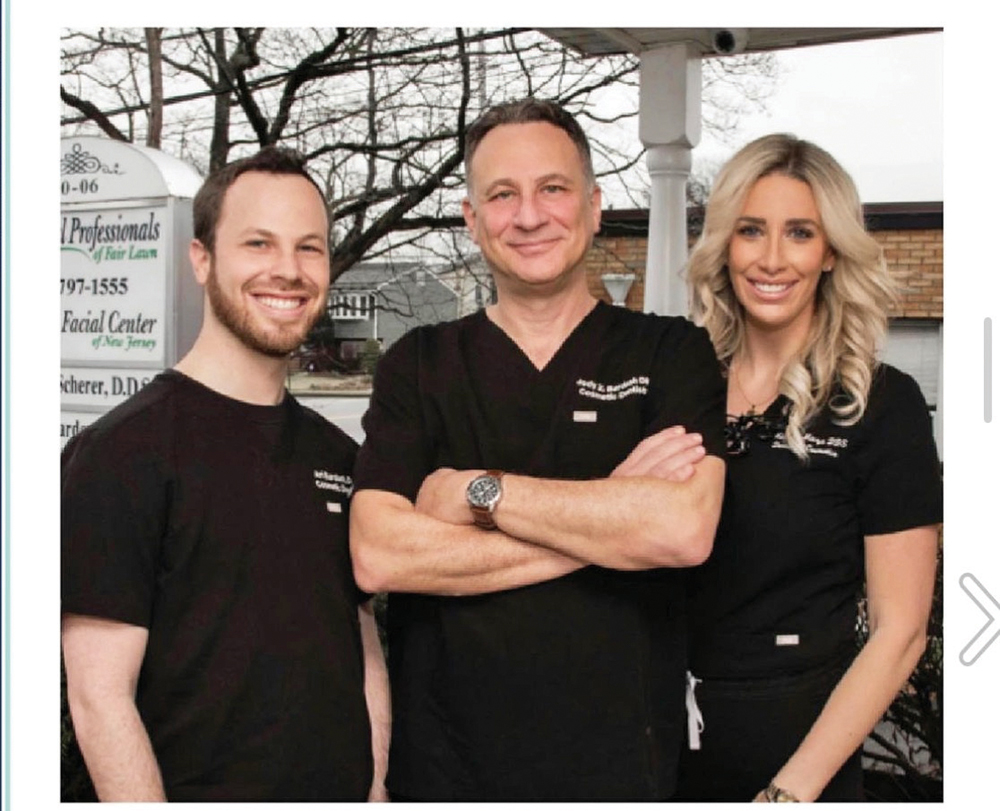 It's not every day that you go to a dentist appointment only to walk in and wonder how you've accidentally stepped into a luxurious spa instead. But that just might happen when you enter the offices of Dental Professionals of Fair Lawn. With its sleek new look and luxe feel, the newly renovated office will have you running to your next dental visit.
Dental Professionals of Fair Lawn features treatment areas that were specifically designed to be calming environments, adorned with picturesque screens and equipped with an entertainment system that allows patients to enjoy their favorite music or watch their favorite shows. "We are focused on the comfort of the patient," Dr. Jody Bardash explained. Luxuriously plush and comfortable chairs will keep you guessing whether you're really at the dentist or spending a relaxing day getting pampered. "We're a pretty pain-free office, other than having to give the occasional injection. Nothing should ever hurt." That should be music to anyone's ears.
Naturally, the fully renovated space features the latest equipment the industry has to offer, with modern state-of-the-art equipment and cutting edge technology. The revolutionary Itero scanner offers 3D panoramic imaging. Calling it "an incredible diagnostic tool," Dr. Bardash explained that it has the capability to turn the mouth and jaw into a 3D image in order to see areas of the mouth clearer than ever before to locate and treat problems more effectively, like origins of infections or miniscule cracks in the teeth. Similar to the way an ultrasound works, the scanner can determine whether or not there is decay or cavities in between the teeth. If you have crooked teeth or imperfections that have always bothered you, the Itero scanner has a simulator that can show you how much better your teeth could look. In just two minutes, you can see how a teeth-correcting regimen, such as Invisalign, could give you the million dollar smile that you have always dreamed about.
"We treat each patient as an individual, making sure to address his or her unique needs," Bardash explained. That specialized treatment means Bardash and his team are acutely tuned in to what their patients want, combined with what they need, along with all that is possible to enhance not only their smile, but the way they feel about themselves as well.
Instead of cavitrons, the device that sprays your teeth with water while uncomfortably scraping the plaque off, Dental Professionals of Fair Lawn has introduced the Piezo LED Scaler, the latest in state-of-the-art dental equipment that cleans your teeth very gently. Additionally, the office is now equipped with a Prophy Jet, a veritable sand blaster for your teeth that very gently provides a deep cleaning while effectively removing stains and restoring your smile to a gleaming white finish. The updated machinery helps to make patients who are typically sensitive to a cleaning feel much more comfortable during their visit.
But at Fair Lawn Dental Professionals, it's not just about cavities and cleaning. Invisalign treatments, cosmetic bonding, bleaching, and the ever-popular Zoom bleaching are just some of the treatments performed that have patients flocking to this practice. Bardash and his team also offer a vast array of sought-after dental cosmetic procedures including porcelain veneers, no-prep veneers and "snap-on smiles" for those patients seeking a lower cost option. The team also regularly performs full implant surgery, full mouth reconstruction and rehabilitation, and All-On-4 implants that utilize fewer implants. The best part is that the whole procedure can be done in one day.
Fair Lawn Dental Professionals is also the ideal spot for facial cosmetic procedures including Botox injections, Juvederm fillers, and the wildly popular Instagram-famous Liquid face-lifts which can restore facial fullness to give a more youthful appearance. In fact, Dr. Bardash was the top instructor at Allergan, the maker of Botox and Juvederm for all the latest, tried-and-tested cosmetic procedures.
Besides Botox enhancements for the face, the team at Dental Professionals of Fair Lawn regularly uses Botox to treat patients suffering from TMJ dysfunction. "We treat a lot of TMJ dysfunction and Botox has been a game-changer in terms of alleviating a great deal of people's suffering from TMJ pain." Administering the injection at the head of the masseter muscle, which is lower than the jaw line, will also alleviate those who suffer from debilitating headaches," he explained.
A high-end practice with a premium reputation for top cosmetic care for the last 30 years, Fair Lawn Dental Professionals has an impressive roster of patients, including actors and models who flock to Fair Lawn Dental Professionals to achieve their winning, glamorous smiles.
Dental Professionals of Fair Lawn proudly boasts four generations in its practice, which has been around since 1960. Besides Dr. Bardash, the team at Dental Professionals of Fair Lawn includes Dr. Michelle Mirza, and orthodontist Dr. Anna Bonaiuto. Dr. Bardash is also joined by his two sons, Dr. Ari Bardash and Dr. Etan Bardash. "It's a dream to have my sons working with me in the office. I love being able to kibbitz with them. Sometimes it's two against one but it's a dream come true to be able to work with my kids. It is exciting to be able to share with them my knowledge that comes with my almost 40 years of working here and hearing from them about what modern and innovative practices they have learned in their education. That is a big part of what makes this practice so great."
When Dr. Bardash is not treating patients at his practice, you can find him teaching at Hackensack Medical Center and Englewood Hospital Medical Center as an attending physician in their residency program. He's also traveled to Africa on humanitarian missions to provide dental services to underserved communities.
Dental Professionals of Fair Lawn treats adults and children and offers 24 hour emergency service. Conveniently located just a few miles from the George Washington Bridge and just minutes from the Garden State Plaza, the practice participates with all insurances and is in-network with many.
---
To make an appointment with Dental Professionals of Fair Lawn call 201-972-6555. You can also contact them at drbardash.com, or visit them online at dentalprofessionalsoffairlawn.com or at Dentalprofessionals_fairlawn on Instagram.