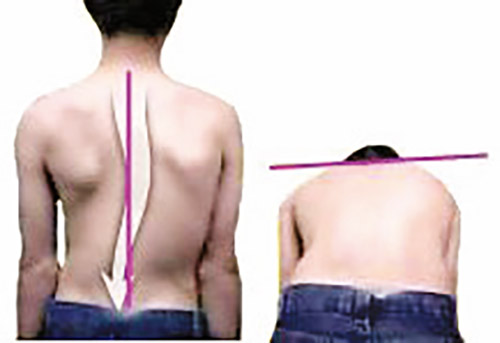 What is scoliosis?
Scoliosis is a spinal deformity consisting of lateral (to the side) curvature and rotation of the vertebrae. Adolescent Idiopathic Scoliosis (AIS) is scoliosis that develops during adolescence.
What is the cause of Adolescent Idiopathic Scoliosis?
The main focus of this article will be idiopathic (without an obvious cause) scoliosis, which is the majority of adolescent scoliosis cases encountered by the general practitioner. Some possible causes of scoliosis are reduced muscular and ligamentous stiffness, also known as hypermobility, which is excessive movement at a joint. Some research links it to a decrease in melatonin production. According to the research, there also could be a genetic predisposition. The Scoliosis Research Society reports that abnormal bone growth in the front of the vertebrae could be responsible for the scoliosis.
What can someone look for when screening for scoliosis?
Scoliosis can appear at any age, but Adolescent Idiopathic Scoliosis (AIS) often presents between the ages of 10 and 12 years or during a person's teen years. New Jersey state law requires the offering of scoliosis screening; however, parents can waive this right. A quick screening test that parents can perform themselves is the Adams Flexion Test, which is performed by having the child place their hands together in front of them, and then asking the child to bend forward and reach for the floor. With a positive Adam's test, you will see something called a rib hump, which is basically a hump on one side of the spine created by the rotation of the vertebrae and rib cage. This rib hump is typically seen in the middle back or the lower back. With a positive Adam's test, you will also see asymmetrical posture in standing, in the shoulders, pelvis and hips. Often one shoulder will be higher than the other, and the pelvis might shift to one side. If parents perform this test on their child and they see an asymmetry in the spine or a rib hump, they should contact their pediatrician ASAP, or bring their child to an Orthopedist who specializes in scoliosis. A full spine x-ray is imperative to measure the scoliosis and decide whether additional treatment (bracing and physical therapy) should be provided.
Does scoliosis cause back pain?
While pain is not the typical presentation, back pain is not unusual. Approximately one-quarter of children with AIS present with back pain, but more specifically, mid back pain on the side of the rib hump. In these cases the pain can be addressed with physical therapy to relieve muscle tightness and specific postural strengthening.
How do I know if the scoliosis curve will progress?
The risk of curve progression in AIS, and its treatment, is based on the timing of onset, the initial size of the curve and how much the child still has to grow. On an X-ray of the spine and pelvis, the doctor can see the Risser sign, an indirect measure of skeletal maturity that tells us how much more the child has to grow. A Risser 0 is an immature skeleton, which places a child at greatest risk for an increased scoliosis because they are just starting to grow. A Risser 5 shows that the skeleton is fully matured and that the child will not grow anymore, and so after that point there is significantly less risk that a scoliosis curve will progress and get bigger. It is important to look at other markers of growth and maturity, including signs of puberty, onset of menarche and breast development for females. Any scoliosis curve greater than 20 degrees, while categorized with Risser 0 – 4, places a child at greater risk for progression of the curve. The larger the curve, the more increased possibility there is for progression while the child is still growing.
What does a doctor look for on an X-Ray?
For a doctor to diagnose scoliosis, the Cobb angle (a measure of the curvature on the X-Ray) must be at least 10 degrees. Doctors will classify scoliosis curves as structural or nonstructural. A structural curve is the lateral curvature and rotation of the vertebrae. A nonstructural curve, also called functional scoliosis, is temporary—meaning that the curvature of the spine is caused by compensatory, postural, or transient factors about the spine. Both structural and functional curves should be given a physical therapy prescription to address the issues.
What is the treatment for scoliosis?
The treatment for idiopathic scoliosis is based on age, curve magnitude and risk of progression. When the curve is under 20 degrees, the child will likely need observation over time. This will require three to four month follow-ups, when the curve is measured by using x-rays to see if the curve progressed. Additional treatments include physical therapy (specifically the Schroth Method to prevent the curve from progressing and reducing the curve) and bracing. In extreme cases, surgical intervention is needed with curves greater than 50 degrees. The SRS (Scoliosis Research Society) criteria for bracing includes children 10 years or older, those who have a Risser score of 0-2 and a primary curve angle (COBB angle) between 25 – 40 degrees.
Does physical therapy help prevent progression of scoliosis and reverse curve progression?
There are numerous research studies that demonstrate the Schroth Method reduces and prevents progression of the spine, and can even reduce the cobb angle at times. A physical therapist who specializes in the Schroth method offers the best treatment for preventing progression of the curve.
What is the Schroth method?
The Schroth method is a nonsurgical option for scoliosis treatment. It uses exercises customized to each patient to return the curved spine to a more neutral position. The goal of Schroth exercises is to derotate, elongate and stabilize the spine in a three-dimensional correction of the curve pattern. The patients would learn these exercises over a series of appointments. Eventually they can perform these exercises independently at home during their growth stage, and as maintenance as they get older to maintain their posture. Schroth certification can be received by a physical therapist after advanced coursework and a certification exam. A Schroth therapist will evaluate X-rays and diagnose the curve type to develop proper treatment plans for each patient's needs. A thorough home exercise program is developed for each individual so that the program can be continued at home in between PT sessions.
---
Jessica Lowy, DPT, CMTPT, DN, Mckenzie 1 -4, Schroth Therapist, and Michal Porath, MPT, Mckenzie 1 – 4, Schroth Therapist, are owners of Prime Orthopedic Rehabilitation in Tenafly. They treat scoliosis in their clinic, in addition to general orthopedic and post surgical patients. Call (201) 503-7173 for an appointment.