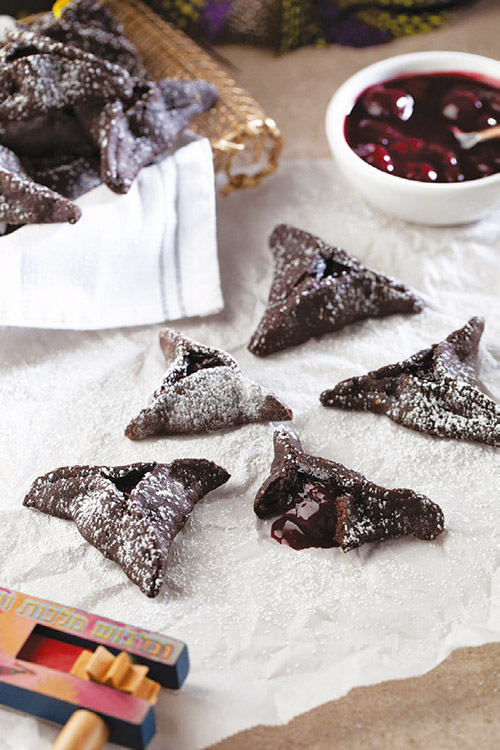 No, it's not alcoholic.
Yes, the alcohol cooks out…leaving a lusciously decadent filling.
Yes, cherries and chocolate need to be together.
And yes, give some to your friends…if there are any left.
Do Ahead: Dough can be prepared up to three days in advance. The filling can be made up to a week in advance.
Dough
¾ cup oil
1 cup sugar
3 eggs
¼ cup milk or soy/oat milk
1½ teaspoons pure vanilla extract
3½ cups flour, plus more for flouring
⅔ cup Dutch-process cocoa
4 teaspoons baking powder
¼ teaspoon salt
Drunken Cherry Filling
1 (12-ounce) bag frozen dark pitted cherries, thawed
⅓ cup dry red wine
¼ cup sugar
1 Tablespoon cornstarch
¼ teaspoon cinnamon
Special Equipment
rolling pin
Directions
1. Prepare dough: Cream the oil and sugar together in an electric mixer until a grainy paste forms. Beat in eggs, milk, and vanilla until well blended.
2. Mix: In a separate large bowl, sift together the flour, cocoa, baking powder, and salt. Slowly  add the flour mixture to the batter, a little at a time, mixing at low speed until the dough comes away from the sides of the bowl and forms into a ball. Wrap in plastic wrap and refrigerate for at least two hours or overnight. While dough chills, prepare the filling:
3. Filling: Combine all filling ingredients in a medium saucepan and stir to blend until  all cornstarch is dissolved and no lumps are visible.
4. Place a saucepan over medium heat and bring to a simmer. Cook for 5–7 minutes, stirring often, until mixture is thickened and bubbly. Remove from heat to cool; chill to thicken.
5. Roll and fill: Preheat oven to 350°F. Line three baking sheets with parchment paper. Divide dough into four parts. Roll out the dough on a lightly floured board (it helps to flour the rolling pin as well) into a very thin round — about ⅛–¼-inch thick. Using a 3–3½-inch diameter cookie cutter or glass, cut circles in the dough. Place one cherry with a little of the sauce in the center of each circle. Shape into a triangle by folding the three sides inwards toward the center (leaving space for the filling to be open and visible); pinch the sides together tightly.
6. Bake: Place hamantaschen 1 inch apart on prepared baking sheets (pinch again to secure folds). Bake for 12–14 minutes. Be careful not to overbake. Repeat with remaining dough, using up dough scraps as well. Transfer baked hamantaschen to racks to cool.
Chef's Touch: For a pretty look, drizzle with a little melted white chocolate (or dip one-half of the hamantasch into white chocolate).
By Naomi Ross