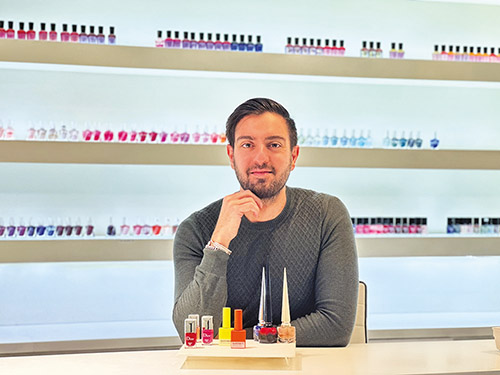 Elie Tanous has nailed it! First, he opened his eponymous hair salon in The Stores at Riverside, where clients get undivided attention by highly trained stylists in a beautiful environment. After listening to clients request more services, he is opening The Nail Studio, located one floor down in the site of a previous nail salon. The space is ready and being stocked with the highest quality brand names in nail gel, acrylics, powder and polish. Elie Tanous: The Nail Studio will carry exclusive names like Valentino Beauty Pure, Essie, Christian Louboutin and Christian Dior. Look at the Instagram pages for these companies and you'll see a level of nail artistry that will now be available for the first time in this area. Quality finishes last longer, so your beautiful manicure and pedicure will stay fresh and vibrant. Technicians coming aboard must meet Tanous' high standards of technical know-how and proven customer service to be considered for a position.
"Everyone knows the high level of customer service, technical skills and professionalism we offer in the hair salon," said Tanous. "We are introducing the same commitment to quality at The Nail Studio, including the extras that make the experience more enjoyable like kosher refreshments, champagne and herbal teas." Natalie, who has been managing the hair salon, has been promoted to general manager and will be responsible for The Nail Studio as well, to ensure the same consistent customer service.
Elie Tanous is expanding into New York and will open soon. You will be able to book an appointment at any Elie Tanous location online, by text or phone call. A Black Card program for clients, by invitation only, is in the works, offering members special promos, perks and discounts at all Elie Tanous Salon locations.
Elie Tanous Salon: The Nail Studio will be opening in a few weeks. Watch for the opening date and grand opening specials at www.elietanous.com; https://www.facebook.com/Elietanoussalon and https://www.instagram.com/elietanoussalon.
By Bracha Schwartz