Chocolate Pudding Pie
This dessert is easy to make and everyone loves it! I am addicted to chocolate and it hits every note! It is great for the holidays or any time of year.
Ingredients:
Crust:
24 Oreos
4 tablespoons coconut oil, melted
¼ teaspoon kosher salt
Pudding:
1 egg
2 cups extra creamy oat milk
¼ cup sugar
3 tablespoons cornstarch
¼ teaspoon kosher salt
1 cup chocolate chips
½ teaspoon vanilla extract
Topping:
1 cup non-dairy whipped topping, whipped in a stand mixer using the whisk attachment until stiff peaks form
2 tablespoons sugar
½ teaspoon vanilla
Pinch kosher salt
Crushed Oreo cookies, for topping
Directions:
Preheat the oven to 350 F.
Pulse Oreos in a food processor with the S blade until finely ground. Add coconut oil and ¼ teaspoon kosher salt.
Place into a pie plate and bake for 10 minutes.
Whisk egg, oat milk, sugar, cornstarch and ¼ teaspoon kosher salt over medium-high heat in a medium pot. Whisk for 5 minutes, then simmer on medium-low for 2 minutes.
Take the pot off the heat and stir in chocolate chips and ½ teaspoon vanilla. Pour into pie shell.
Press plastic wrap directly on top of pie. Chill in the fridge for 2 hours.
Top with non-dairy whipping topping and garnish with crushed cookies.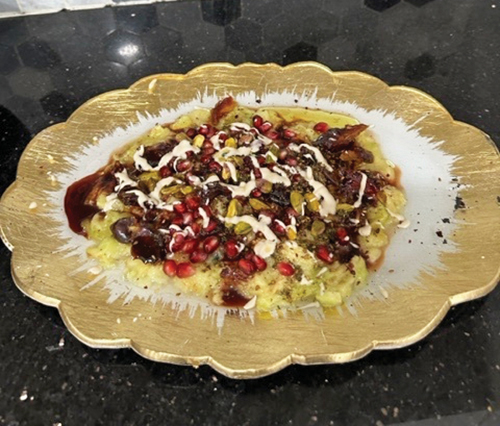 Zucchini Carpaccio
This appetizer is great served with toasted sourdough or challah. There is a great crunch from the pomegranate seeds and pistachios paired with the creamy zucchini base and the tachina. You will be begging for more!
Ingredients:
2 large zucchini, cut in half lengthwise
2 tablespoons olive oil
1 lemon, juiced
Kosher salt
¼ cup prepared tachina
2 tablespoons date honey
2 tablespoons olive oil
1 teaspoon za'atar
¼ cup pomegranate seeds
3 medjool dates, chopped
2 tablespoons roasted, salted pistachios, chopped
2 tablespoons flat leaf parsley, chopped
Pomegranate molasses, for drizzling
Sumac, for sprinkling
Directions:
Preheat broiler to 475 F.
Place zucchini flesh side down on a greased sheet pan. Brush skin with olive oil.
Broil for 15 minutes.
Scoop out the flesh onto a platter.
Season with fresh lemon juice and salt. Drizzle with tachina, date honey and olive oil.
Top with za'atar, pomegranate seeds, dates, nuts and parsley. Drizzle with pomegranate molasses and sprinkle with sumac.
Endive Blood Orange Salad With Herb Citrus Dressing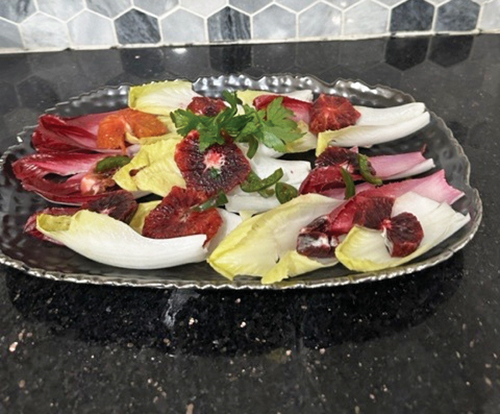 Here is an easy salad to make that is fresh and colorful. Feel free to add any fruit to the platter. I love the bitter endive with the sweet blood oranges. If you can't find blood oranges, feel free to use navel oranges.
Ingredients:
3 bunches endives, broken into hearts
3 blood oranges, peeled, sliced
1 jalapeno, seeded
1 bunch flat leaf parsley, chopped
1 lime, zested and juiced
1 ½ tablespoons toasted sesame seeds
¼ cup olive oil
1 tablespoon maple syrup
½ teaspoon kosher salt
Maldon salt
Place endive, oranges and jalapenos on a platter.
In a blender, blend parsley, lime zest and juice, seeds, olive oil, maple syrup and kosher salt.
Drizzle dressing on salad just before serving and top with Maldon salt.