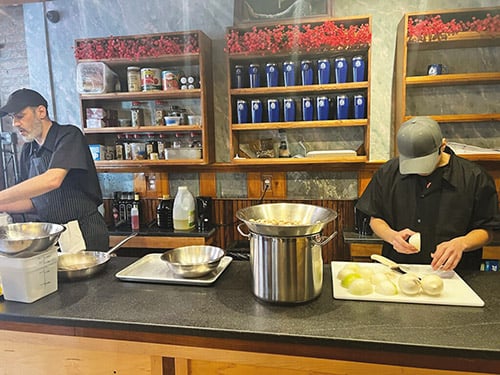 In 2021, Clifton resident Randy "Yisroel" Settenbrino, originally from Crown Heights and who grew up in Borough Park, was on a mission to prevent his award-winning project, The Historic Blue Moon Hotel, from becoming a casualty of the COVID-19 pandemic. The Historic Blue Moon Hotel is housed in a beautifully renovated New York City brick 1879 tenement, located at 100 Orchard Street, the Bicentennial Block, across the street from the Lower East Side Tenement Museum. And the hotel is recognized by National Geographic as one in 150 in the Western Hemisphere to check into. On permanent display at the hotel are 14 collages Settenbrino made from the personal effects of the anonymous merchants and the Depression-era tenants, thus memorializing the 19th century as well as the neighborhood's Jewish history as home to working-class Jewish immigrants.
Artifacts in the hotel are strategically intertwined with contemporary materials and the vestiges of the tenement itself have been honored. The 22 oversized, luxurious rooms are each named after a celebrity from the 1920s and 1930s. All rooms have kitchenettes and many have balconies. All of the rooms have a mezuzah affixed to their doorposts.
Settenbrino devoted 25 years of his life to retaining the tenement building and transforming it into the award-winning Blue Moon Hotel. Now, he is following his long-awaited sweet dream, the development of the Sweet Dreams Cafe.
Saddened to see that the Lower East Side historical Jewish community was bereft of any sort of eatery, Settenbrino made every effort possible to implement his concept of cafe, bakery, wine bar (enoteca) and family-run restaurant (trattoria). Based in the lobby of The Historic Blue Moon Hotel, the Sweet Dreams Cafe opened full-time in 2023 after lengthy preparations. The cafe was the final piece of the peerless Historic Blue Moon Hotel, but one of the first ideas the owner, artist and developer dreamed of.
"The Sweet Dreams Cafe and Bakery buildout, just as The Historic Blue Moon Hotel, was not plotted, schemed or planned in an architectural vein, but rather all finishing was done in bits and spurts of inspiration, but formulated in a painterly and lyrical style," said Settenbrino. "Our main concern is seeing Sweet Dreams flourish, and expanding to Settembrinis' Trattoria and Enoteca, a process that has already begun.
"We are serving a menu that reflects the warmth and artistry of the historic Blue Moon Hotel," Settenbrino continued. "We feature two soups made daily, salads with house dressings, five variations on panini made with mozzarella that we make on the premises, artisan pizza made with house sauce and mozzarella, lasagnas (white and whole wheat), eggplant parmesan, eggplant rollatini stuffed with ricotta and topped with mozzarella, broccoli rabe frittata made with potatoes, garlic and eggs. We sell full pans of pizza, lasagna, eggplant parmesan and rollatini at family-minded prices and variations.
"The work we have done in our bakery is remarkable," Settenbrino said. "We alternate having seven different types of biscotti, authentic Tuscan Italian cheesecake made with ricotta and accented with lemon, lime and orange zest and juice. Chocolate lovers can indulge in our chocolate signature cupcake or our fudgy crinkle cookie. Our goal with the cafe bakery is a very Italian, expansive menu. Coming soon are cannoli as well as handmade pasta and ravioli. We are relying on family recipes as well as an immaculate kitchen and to use the finest of ingredients and to choose healthy and wholesome ingredients. It is our intention to bake with olive oil all of our baked goods, to offer our patrons a unique, healthy and satisfying experience. Rabbi Fishelis from The Mesivta Tiferes Jerusalem (MTJ) is the hashgacha of the restaurant."
Settenbrino also gives credit to the heavy-hitting consultations he received from executive chefs who helped him carve the niche for the handmade mozzarella as well as the biscotti variations. "Overall, our dishes and style are gleaned from family dishes," he noted. "Art encompasses all aspects of our lives. The need to create and express ourselves is germane to all my initiatives. Menu expansion as well as ingredients and purchasing are conducted by me."
Settenbrino received a BFA from Brooklyn College, which he said "at the time was on a par with any great art institutions, Alan D'Arcangelo, Sylvia Stone, Philip Pearlstein, Lennart Andersen, my mentor Lois Dodd and before my time Ad Rheinhart and Rothko." His love and respect for good food comes by way of his family.
"My parents came from Williamsburg, and my father's family came to the U.S. in the 1800s," he said. "My father's grandfather hails from central Italy: Casetta, Florence. Our original name was Settembrini, like the Count in Magic Mountain. My mom was a first generation Yiddish-speaking Litvak. My father was an amazing cook. My mom's cooking was amazing as well, with many hearty Litvishe soups, kashas, borscht and gedempte mains, and followed many of my father's family recipes, so the accent was certainly Italian and I learned through osmosis. At 9 years old, I asked to go to yeshiva and continued in my studies until college. I learned to speak fluent Yiddish as well as gain a working knowledge of Italian, all the while enjoying our family recipes."
Settenbrino's expertise, love, care, artistry and devotion make the Sweet Dreams Cafe a one-of-a-kind culinary establishment. Here the guest will experience classic recipes to new age kitchen adventures, each dish reflecting the Settenbrino family passion for high-quality food presented in a simple yet pleasing manner. You are invited to dive right in, take a bite and join in a very special culinary experience. The Sweet Dreams Cafe even has LaVazza coffee, which is considered the best coffee in the world. "I like to say about our eatery that we are an Italian restaurant that happens to be kosher," Settenbrino said. "The food is so good, even the Italians don't know it's kosher!"
His long-awaited goal of serving as an ambassador to the local and greater Jewish community, a menu that serves authentic kosher Italian on a par with Little Italy, has arrived. As Settenbrino says, "Alla Vostra Salute!" or "Tzu Deine Gezundheit!"
Opening hours are Sunday-Thursday 11 a.m.-7 p.m. Hours are expanding soon. Dine in or take away.
For more information: [email protected], (917) 967-0072 http://www.bluemoon-nyc.com
---
Susan R. Eisenstein is a longtime Jewish educator, passionate about creating special, innovative activities for her students. She is also passionate about writing about Jewish topics and about Israel. She has two master's degrees and a doctorate in education from Columbia University.