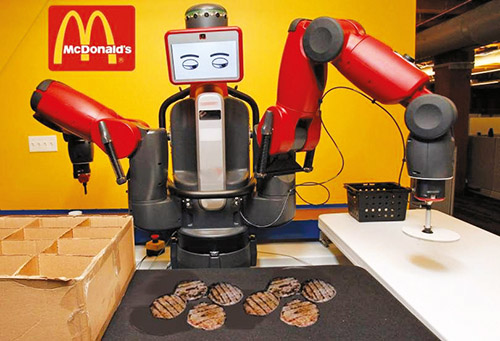 Industry leader McDonald's now serves up Big Macs with a side order of robots.
McDonald's opened its first fully automated restaurant in Texas in December 2022 to service customers who wanted to dine in, at home or on the go. As an engineer and IT consultant, I'm always looking for technological advancements, especially those concerning business and automation. When I heard about this new fully automated McDonald's, I couldn't resist checking it out.
Wow, I was thoroughly impressed!
Here's how it works. Customers order from a large touchscreen kiosk. The food is then prepared inside and delivered by conveyor belts. Of course, the cooks are still in the kitchen. The coolest part, no doubt, is the service robots that sometimes come out and serve the food to customers. Yet, if you ask me, I would say the best technological advancement McDonald's could make is a kosher location here in the U.S. where I can get a burger for a dollar.
But seriously, this new automated McDonald's is a glimpse into the future of fast food. With its advanced automation systems, the restaurant can operate 24/7 with minimal supervision, providing customers with a fast, convenient and safe experience. In general, many restaurants have integrated new technological infrastructure and digital services to enhance their customers' user experience inside and outside of the store.
Yet, honestly, I would miss my Saturday night pizza pick-up and chit-chat with the tribe if every kosher restaurant went automated here in Bergen County. There is something just 100% certified kosher about walking into a restaurant and talking to a server, cashier, owner and other customers.
In addition, food joints play a vital role in the local economy by employing hundreds, if not thousands, of community members. As such, while I would love a Big Mac minus the bacon served to me by an adorable robot, the small business owner in me isn't crazy about people losing their jobs for convenience.
A happy medium between tech advancement and new job opportunities should be a business's ultimate goal. Hava Java in Monsey is a fantastic example of a restaurant that has created a hybrid tech and human user-experience-driven business model combining kiosk and cashier orders. They have mastered the art of saving antsy customers' time, yet do not compromise on customer service.
Whether you are a customer or business owner and want to embrace robotic servers—or not—the reality is automation is playing a significant role in the food we buy and consume.
If you are not ready for a humanless engagement at a local cafe, that is ok. I am with you on that. Yet, let's face it, we are all so busy these days, so if it means we can save 45 minutes by taking advantage of an automated restaurant pick-up or delivery app vs. standing in line forever, choices like these are no-brainers. Sammy's, Mocha Bleu and Jerusalem Express, on behalf of the entire pizza-needing Motzei Shabbos Teaneck and Englewood cult, we can't thank you enough for embracing automated restaurant delivery and pick-up apps.
---
Shneur Garb is the founder of the Garb I.T. Solutions Group specializing in migrating healthcare business to the cloud. Zalman Weisman is a freelance tech journalist, available at [email protected].