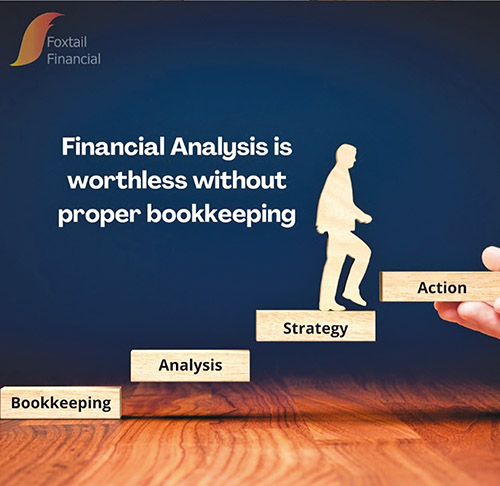 Zack Goldglantz knows a thing or two about managing a business. Spending much of his career in the financial services industry at a global tax operations company, he worked closely with international tax agencies, large banks, hedge funds and high net-worth clients, gaining valuable insight about what it takes to establish and maintain a successful business.
Years ago, a friend of his mentioned the overwhelming stress he felt about his business's financials. Goldglantz was shocked because his friend was always busy and seemed to be running his business well. Despite using a bookkeeper who prepared monthly financial statements, his friend didn't know how to translate his financial data into a descriptive story of how his business was performing. Goldglantz offered to take a look at the books and financial statements, sat down with his friend to explain what it all meant, and answered all his questions. Goldglantz immediately saw the stress leaving his friend's body as he finally had a grasp on the financial health of his business.
Goldglantz decided to help out a few more business owners he knew, and each time he reported back to them, they also experienced a renewed sense of calm and satisfaction. "It became clear to me that a gap existed between financial service-oriented companies and the knowledge and understanding they needed to provide to their clients," Goldglantz said. He decided to change that, and started Foxtail Financial LLC, realizing the services he could provide would have a significant impact on the lives of many business owners.
As owner and founder of Foxtail Financial LLC, Goldglantz combines high-level business strategy and analysis with bookkeeping services and CFO-level insight to provide the tools and assistance that are essential to running businesses effectively.
According to Goldglantz, many business owners wear far too many hats during their first few years of operating, often leaving them with little to no time to grow their business or any other pursuits for that matter. He explained that they tend to do what they need to do to get by, but are unable to give the proper attention to each function of the business. Foxtail Financial can help relieve these entrepreneurs of the everyday pressures of managing their business through corrective actions, monthly tracking and organization of transactions, and financial records maintenance.
Goldglantz explained that, for instance, business owners might be getting their taxes in on time, but find themselves constantly behind on their books. Some may be unaware of their profit margins, or make business decisions without giving a thought to the numbers. "That's where Foxtail comes in. Not only do we provide bookkeeping, we provide strategies and financial analysis to help business owners save money."
Trying to do too many things at once is usually the biggest mistake people make; as an enterprise grows, the owner is not going to be an expert in all its aspects. "Often, business owners continue to wear all those hats past a certain point where they should really be outsourcing much of it. … Instead of focusing on growing their business or customer satisfaction, they are just trying to keep the lights on, in a way, and make sure each department or function of their business is operating. When you do things like that, it keeps you from growing."
Foxtail Financial offers a comprehensive selection of services including financial reporting, bookkeeping, KPI procurement and analysis, cash-flow forecasting, high-level strategy, and growth initiatives. CFO-level analysis along with ongoing financial review is available as well, even for businesses that maintain their own in-house bookkeeping.
Foxtail Financial also specializes in providing financial services to medical and dental practices, with special discounts available to those fields. There are several tiers of service available to provide clients with the flexibility in determining which plan best suits their business needs.
Goldglantz calls his previous experiences in the financial services industry invaluable as it allowed him exclusive access and exposure to see how various financial institutions structured their operational and financial processes. "I saw what works," he said. "I saw what didn't work. I saw the reasons behind organizational shortcomings and the reasons why some of the biggest names in the industry are just that—the biggest names. It gave me a unique perspective on how to build Foxtail Financial and use that lens to analyze our clients financials.
"I value community highly, and in a community environment we all want each other to succeed. I want my clients to know that we are not just providing a service, we are primarily providing relief. We make lives easier so you can pay attention to what truly matters."
Foxtail Financial offers a complimentary comprehensive financial review for prospective clients, to discuss what their business is about, what their challenges are, and what aspects they would like to improve. "The review is necessary because it allows us to understand the market you're operating in, and how we can provide the most value to you," Goldglantz said.
He added that it's important to have the opportunity to talk things out with a professional. When a client elects to work with Foxtail Financial, the service his company provides usually ends up paying for itself, he said.
Goldglantz advises people who are just starting out in the small-business arena to talk to as many people as they can. "Networking is very important as it allows you to meet people who have already gone through the growing pains you will encounter. When speaking with people, you can learn from them what their mistakes were and what worked for them. Oftentimes, they will have valuable advice that could help save you a lot of time and trouble down the road."
For more information on how Foxtail Financial, LLC can help you save money and grow your business visit www.foxtailfinancial.com, email [email protected] or call 201-361-5322.
By Jewish Link Staff