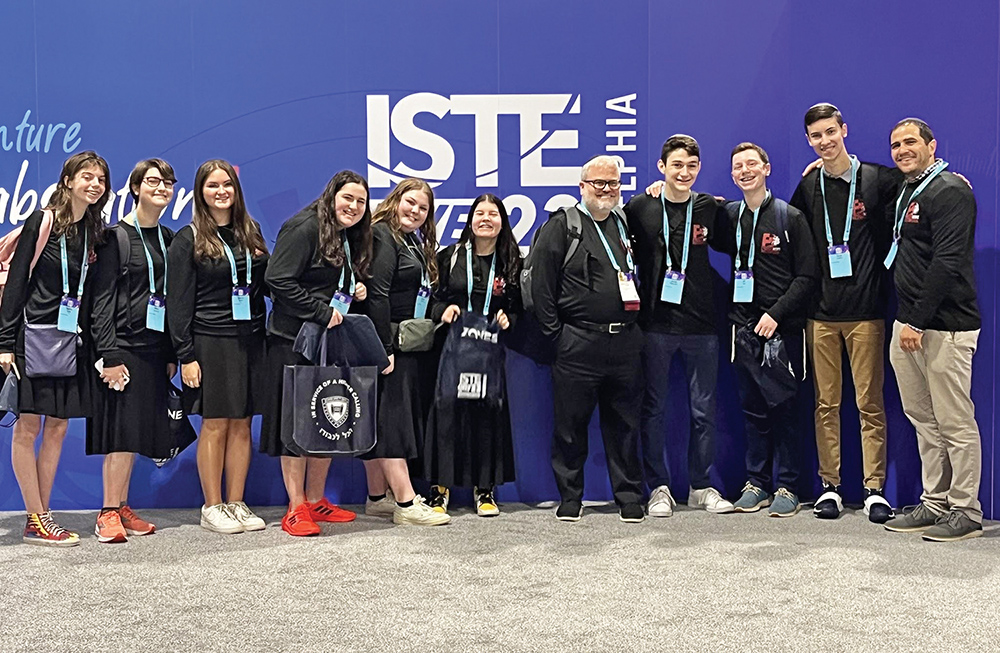 The Frisch News Network (FNN), the live-streaming news broadcasting network at Yeshivat Frisch, presented a poster session at the International Society for Technology in Education (ISTE) 2023 conference on June 27 in Philadelphia. The FNN team was proud to represent their school at the largest edtech conference in the world with over 16,000 participants. They were the only Jewish high school to present and brought nine students, the largest group of students of any school, to the conference.
The poster session, titled "Frisch News Network: A Student-Run News Broadcasting Network," showcased FNN's goals, methods, outcomes, and lessons learned. The session also featured a live demonstration of their broadcasting equipment and software, as well as samples of past newscasts. Watching the students seamlessly transition into a live filming and interview crew was truly inspiring.
The session highlighted the achievements and challenges of creating and running a student-led news network in a Jewish day school setting. FNN produces a regular newscast, providing updates on school news, upcoming events and special features. Students gain experience in news writing, video editing, conducting interviews, producing, and operating the camera/mic.
The Frisch News Network team was accompanied by one of their faculty advisors, Rabbi Tzvi Pittinsky, director of educational technology; and Joey Small, director of institutional advancement at Frisch. They received positive feedback and questions from the conference attendees, who were impressed by their professionalism and creativity. The team also enjoyed networking with other educators and students who are interested in using technology to enhance learning and communication.
The FNN team expressed their gratitude to the Frisch School administration and faculty for their support and encouragement, as well as to the ISTE organizers for giving them the opportunity to share their work with a global audience. Additionally the students expressed their amazement at the scale of the new technology they saw and learned about at the conference, and the connections they made at the conference. They were thrilled that their presentation inspired other schools to create their own student broadcasting networks and helped foster a culture of media literacy and civic engagement among young people.
Yasher koach to Randi Wartelsky and Rabbi Tzvi Pittinsky faculty advisors to the Frisch News Network, for creating the type of program so many other schools want to emulate!
---
Atara Goldstein is a rising sophomore at Yeshivat Frisch.