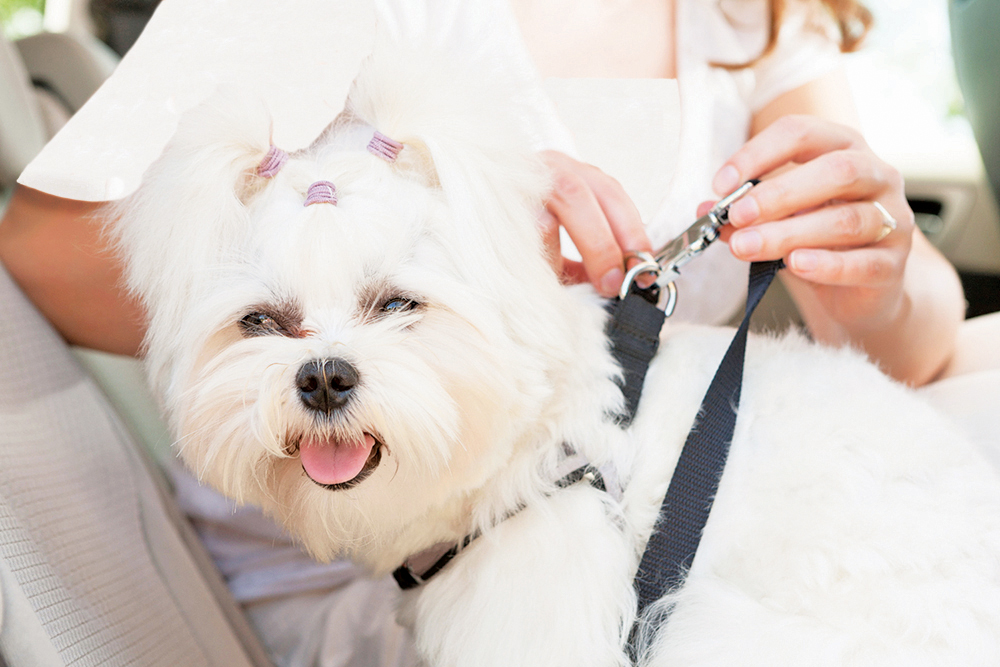 (StatePoint) While we love having them near, dogs aren't always safe passengers. A recent poll commissioned by Selective Insurance, a leading home, auto and business insurance carrier, found that in the past 12 months, dogs caused a majority of drivers to be distracted on U.S. roadways.
The study, conducted online by The Harris Poll, found that of licensed drivers who recently (over the last 12 months) drove with their dogs, 91% admitted to interacting with them while driving, including interactions requiring the driver to take their hands off the wheel or eyes off the road, and 48% acknowledged that they are more distracted when their dog is in the vehicle than when it is not.
"We love our dogs. However, some of their behaviors in the car, such as sitting on drivers' laps, jumping between seats, or sticking their heads out the window, divert drivers' attention from operating a vehicle," said Scott Smith, vice president and director of Safety Management at Selective Insurance. "To help keep our roads safe, drivers need to minimize distractions. That means our beloved pet passengers should be restrained in the back seat, and if they need tending, drivers should first pull over to a safe place."
Some of the more hazardous behaviors that drivers engaged in while recently on the road with their dog include giving them food/treats/water (36%), taking a photo/video of their dog (27%) or holding them in place (23%) while driving. In addition, 40% of drivers who have ever driven with their dog confessed to various reckless driving behaviors as a direct result of having their dog in the vehicle, including swerving out of the lane (11%) and hard braking (13%).
As you head out with your dog on journeys near and far, help minimize driving distractions in your vehicle with these tips from Selective Insurance:
Have your dog ride in the back seat and consider using a partition between the front and back seats.
Use a dog seatbelt, safety harness or anchored crate to prevent distractions and provide your dog with some protection if there is an accident. A significant 70% of licensed drivers who recently drove with their dogs say their dogs were unrestrained in the vehicle. Yet, 82% of drivers who recently drove with their dogs agree that having an unrestrained dog in a moving vehicle can distract the driver. Not using a restraint is risky and could put you in violation of the law. Some states have animal restraint laws for vehicles to help keep drivers safe and focused. However, only 24% of licensed drivers who recently drove with their dogs say they are very familiar with such laws in their state. That's compared to 34% who say they didn't know these laws existed.
Plan ahead and identify rest stops along your route so you and your dog can take a break. If you need to make an unplanned stop, avoid the side of the road and instead look for a quiet parking lot. Use these occasions to give your dog food, a little exercise and most importantly in summer, plenty of water.
"More pets in homes, especially with the introduction of the pandemic puppy, means more Americans than ever may be hitting the roads with their pooch on road trips this summer. Drivers should understand the risks associated with taking them along for the ride," said Smith.
For additional survey findings, along with tips to keep roadways safe and K-9 companions secure, visit Selective.com. For survey methodology, visit selective.com.