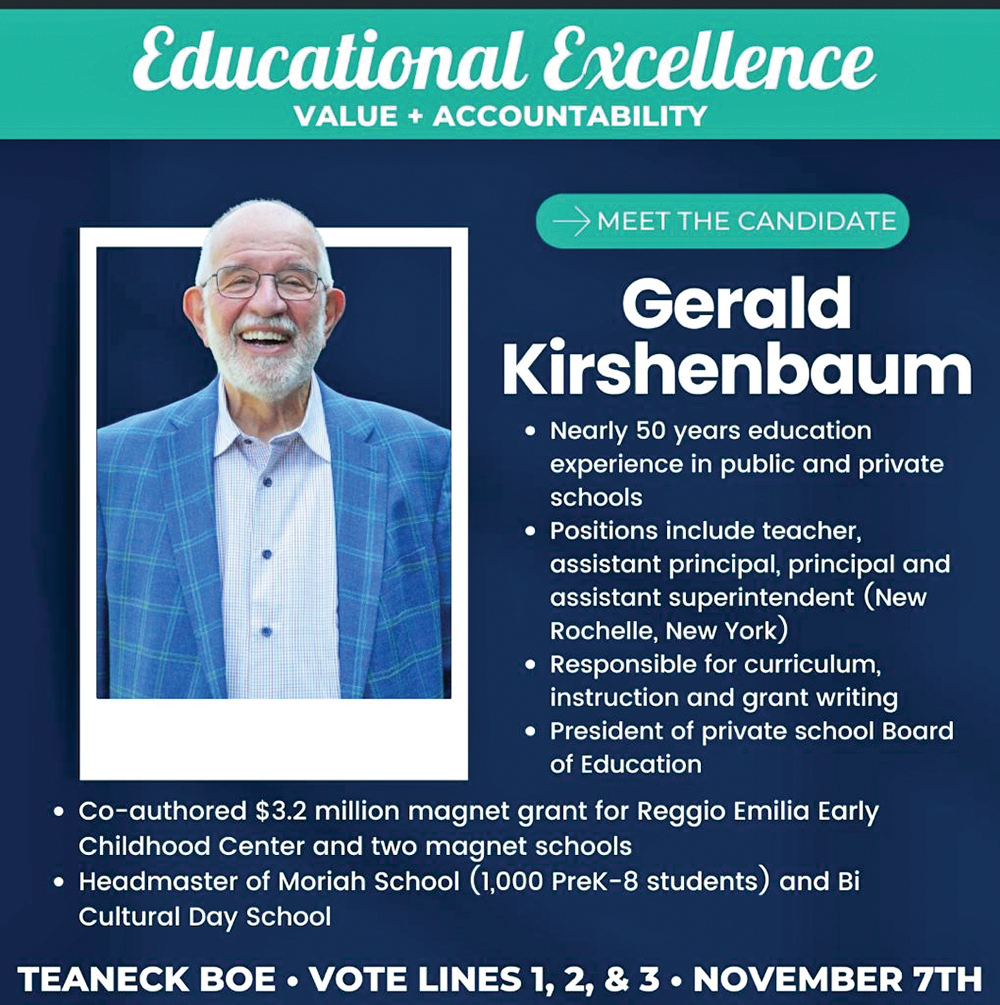 With over 50 years of experience in education, it's no surprise that Gerald Kirshenbaum is excited at the chance to be on the Teaneck Board of Education. The former public school principal and assistant superintendent has both public- and private-sector experience across a diverse range of school districts in the tri-state area. Now, the Teaneck resident has found the perfect time to dedicate his energy to his community and to improving the school system.
"We moved to Teaneck eight years ago," Kirshenbaum shared. "I was president of a school board for 10 years, and I've always wanted to run one, but I needed to get myself grounded and understand Teaneck a little better. Now that I've retired from my full-time job, it couldn't have been a better time to run for the Teaneck Board of Education. It's perfect, with a capital P."
Kirshenbaum said that after retiring from his career in education, he began to miss the excitement of it. "Working gave me the opportunity to be creative. I love being able to address the needs of students and teachers and seeing children really grow from my work." He noted that retiring has in no way diminished his interest in education—he continues to read journals and books on the latest trends and research.
"I may not have all of the answers, but I certainly have the motivation to find out what's successful and what's not," the candidate explained. "That's how we're going to deal with this looming achievement gap in the Teaneck school system," referring to the standardized test scores of Teaneck students, which have been low overall despite a high spending rate by the Board of Education.
So what's his plan for Teaneck?
According to Kirshenbaum, research supports that gifted students should be with other gifted students in schools, which would allow them to thrive and advance scores. "Gifted kids should be with gifted kids … that's what stimulates them, and they need that," he said, noting that when he was assistant superintendent in New Rochelle, he ran the gifted program in the district. "Those in special education should also receive special training considering the amount of challenges that those students bring to the table." Overall, he stated that he is eager to see Superintendent Dr. Andre Spencer's plan for addressing the literacy and math needs of the full range of students in the district.
Kirshenbaum's concerns with the student performance in Teaneck sounded quite similar to those of his running mate, David Gruber, whose overarching goal is to reduce spending while focusing on closing the achievement gap. Kirshenbaum said that he and Gruber connected over shared ideals, and that along with their third running mate, James Wolff, they "all complement each other" with their respective interests and experiences.
"My priority is student achievement," Kirshenbaum explained. "That was my priority when I was running schools, and that's my priority now. It's not to say I'm not interested in the financials, but my running mates bring a lot of experience and together we can really create change."
His first plan of action, if elected, would be to get a true sense of the depth of the issues in Teaneck schools. "I want to communicate and see where everyone is, and that way, I can truly understand the context of my work and what would be effective given my values and experience. You can't go in like a bulldozer … effecting change in any organization involves getting to know that organization and its mission, especially what's been successful or unsuccessful thus far."
In terms of tackling the achievement gap, Kirshenbaum recalled a baffling discovery from his years as the principal of DRS High School for Boys in Woodmere. "New York State lowered the passing marks for its standardized testing, which made the scores appear better," he said. "It makes us look like we're doing better, when in essence, we've just lowered the standards for our students." He explained that by not adjusting to the needs of each student, the state had failed its schools—something he takes very seriously.
"We need to address the needs of our students and provide them with the proper venues so they can self-actualize," stated Kirshenbaum. "Not only does this include setting the appropriate standards for them, but it also means ensuring that nothing noneducational should interfere with the teacher's goal to educate those students. They need to be in the proper environment so that they can really teach and help their students meet expectations."
Kirshenbaum's vision is clear: to improve the efficacy of Teaneck schools, and for student performance to reflect that growth. "I'm so excited about this," he shared.
Check out Gerald Kirshenbaum's article, 'The Importance of Educational Excellence,' on page 80.