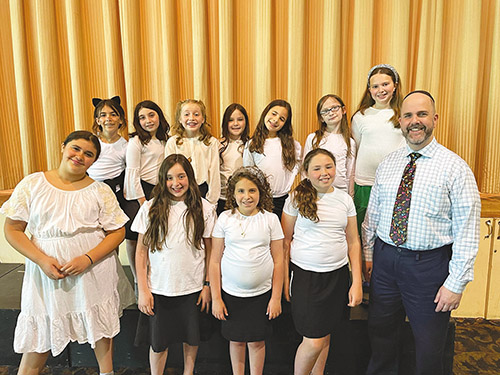 Yeshivat He'Atid drama and choir students were thrilled to perform their spring production of "Wonder & Wander," an afternoon of theater and music. The third through fifth graders presented "By Way of Wonderland" with creative costumes, group work and musical interludes to help tell this classic tale. The middle schoolers, performing for the first time, shared big laughs in their production of "The Final Dress Rehearsal," a one act Cinderella production in a "play that goes wrong" style. All of the young actors brought their talent, passion and creativity to every rehearsal and the production.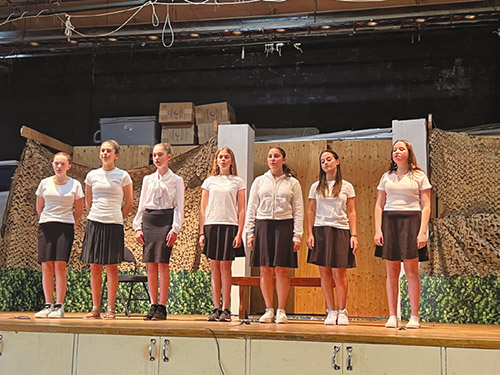 When the curtain rose on May 21, in the Heichal HaTorah theater space, the students of the after school drama and choir programs at Yeshivat He'Atid put on an amazing performance that left the audience in awe. The singing was beautiful and the acting was superb.
The lead role of Alice was played by fourth grader, Sadie Benzel, who stole the show with her thoughtful portrayal of a girl who takes a brief respite from normal day life, only to enter a kooky world filled with wonder and excitement. The audience loved seeing many well-known characters brought to life, including the Mad Hatter (Brielle Schneck); the White Rabbit (Julia Kozlovsky); the Queen of Hearts (Nicole Pruzansky), and Tweedledum (Lia Solow) and Tweedledee (Orli Klapper).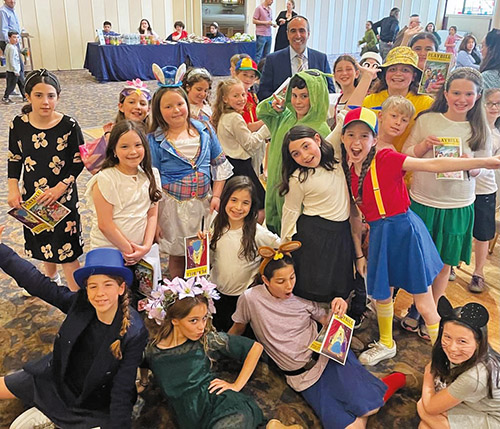 In the second act, sixth grader Sophie Baine played the part of the Director and had us believing the Cinderella play was actually falling apart right before our eyes with her brilliant,quirky antics. Seventh grader, Miri Kramer, artistically played the part of the confused Cinderella who wasn't sure how to act the part. The other students were equally impressive and it was clear they had put in a lot of effort, seamlessly blending this two-act production while capturing the heart of the audience.
The original playbill was created by professional cartoonist and He'Atid parent, Chari Pere, that was served as a keepsake for parents. It included the students' pictures and bios, as well as autograph pages so students could sign their friends' books. Some students even lined up to get Yeshivat He'Atid's Head of School, Rav Ronen's autograph!
The choir sang contemporary songs, whose tone complimented the theme of the production. Led by choir director, Cantor Eric Freeman, the choir sang songs such as "Wonderland" by Taylor Swift and "Alice" by Avril Lavigne. Eighth grader Emily Billauer superbly played the guitar as an accompaniment to the middle school choir singers.
Overall, the He'Atid cast offered fun adventure and big laughs. The cast not only strengthened their theater skills, but learned to work together to have a final product of which they can be extremely proud.