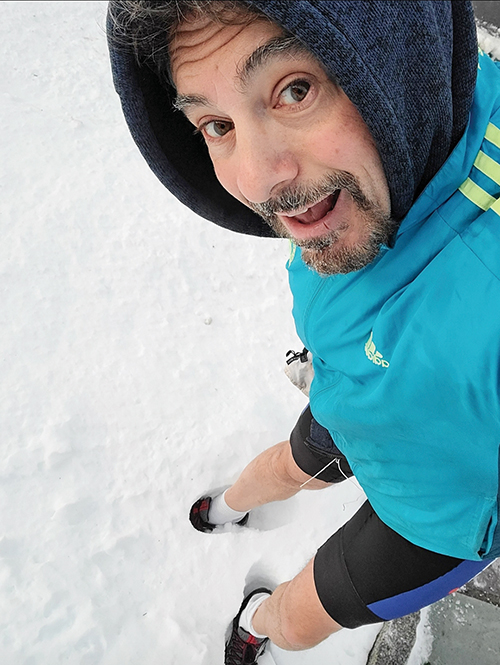 I'm in Nice, France, overlooking the French Riviera with its blue waters and pebble covered beaches. It's a long story of how I got here, but it's the culmination of almost 12 months of training.
(Hopefully, not 25 editions long.)
I will do my best as I sip my espresso and recount the adventure that was Ironman United Kingdom 2023. The decision to return to Europe in 2023 was made before I ever left Europe … in 2022.
Now let that sink in for a moment.
(I'm trying to, but my brain hurts.)
On June 30, 2022, my wife turned to me after our first day in Paris and said, "I never thought I'd see Paris."
(This was our two day excursion while in England for Ironman United Kingdom.)
"You're welcome." I thought, well that's a nice thing to say to your loving husband, but there was more.
"I always wanted to see Paris … and Italy."
Naturally, I looked up Ironman Italy.
(Naturally.)
Ironman Italy is a September race, after the start of the school year. No good.
But what if we did Ironman United Kingdom next year and just flew to Rome for two days?
(How much were the flights?)
They were $250 round-trip per person … we could do that.
So, even before I had competed in Ironman UK, I decided to do that race again the following year.
We finished Ironman UK 2022 and proceeded on to Ironman Lake Placid 2022.
(Which we all read about for half a year, thank you.)
The training for Ironman UK 2023 started on Monday December 5, 2022.
(Which was the day after the NYC Marathon!)
I started with a swim. Only 500 meters.
(Is that far? Like half the race distance?)
The race swim is 4,000 meters.
500 meters isn't even to the first turn on the swim course.
(It was gonna be a long winter.)
For years, every Monday had been a swim. It's how I anchor my week.
(But the week begins on Sunday.)
Sunday is race day, so the training week begins on Monday. I announced my intentions to return to race Ironman UK and my friends responded with memes.
(Inspiring? Encouraging?)
No, demeaning. They insinuated that I was crazy.
(You are.)
True … but I digress.
Tuesday was my interval run. In December it was dark, it was cold and I needed to do speed work. Man, I needed to find my motivation to get up.
(How about this, you already paid the race registration fee?)
OK, I'm awake!
(So what does the world look like at 4 a.m. in winter?)
There was deer outside my door giving me a look like, "It's dark and it's cold. If I could be in a warm bed I wouldn't be out here right now."
I needed to do these runs on a track. Intervals are a minute warm up, then run fast, run slow to recover, run fast again. Usually, two on, two off. The more you do intervals, the faster your run becomes. When I got up to White Plains Middle School the track was shrouded in darkness; the middle school building was bathed in lamp light. So I ran the laps around the middle school building instead. This would become my Tuesday morning run spot for the next seven months.
(What if it snowed?)
Every Tuesday, even in the snow.
Then after the workout it was a two minute drive to my parent's house for a hot shower and a change of clothes.
(Didn't you worry about waking your parents?)
They never complained and they got used to having me bring in my father's three daily newspapers.
Wednesday was indoor bike work.
(That sounds exciting.)
Do I detect sarcasm?
(Yes you do. In door bike work sounds incredibly boring.)
One word: Netflix.
Get up at 4 a.m., get out of bed, get on the bike.
All throughout the house, not a creature was stirring, except a nut job on his bike. Thursdays were my long runs.
(How far was "long?")
From December to March, no more than two hours.
(Two hours? Where did you run to, Brooklyn?)
On some weeks, yes. Sometimes Manhattan, so I could spell out messages in my tracking data.
By week three of training the temperatures had plummeted to 29 F and I needed warmer gloves.
(Pants?)
Never. I have yet to find a temperature cold enough to stop wearing shorts.
(Isn't that dangerous?)
Mind you I have four layers over my torso.
Friday was the double. Sixty minute indoor bike before work, long swim after work.
(Sunday?)
Sunday was either a two and a half hour run or a two and a hlaf hour bike ride.
It was going to be a full commitment to getting this right. I had not liked how Ironman UK had gone in 2022.
(You finished it?)
Yes, but barely and I wanted to do it better this time.
With work, grad school, family and training it was going to be a long year. I needed to do something to help me keep my focus. I needed to…
---
David Roher is a USAT certified triathlon and marathon coach. He is a multi-Ironman finisher and veteran special education teacher. He is on Instagram @David Roher140.6.
He can be reached at [email protected].