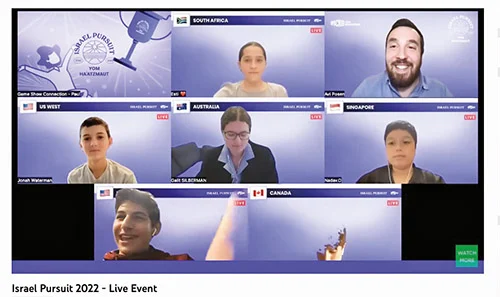 (Courtesy of OpenDor Media) OpenDor Media announced that the third annual Israel Pursuit global trivia contest was a success and achieved wide global reach. The program has emerged as a foundation for Israel Independence Day educational programming in Jewish schools throughout the world.
The 2022 program had nearly 10,000 students registered from 125 schools in 13 countries across the globe. Six finalists from six regions participated in the final live contest on May 17, 2022. The finalists hailed from the Hebrew Academy (Montreal), SAR Academy (Riverdale), Milken Community Schools (Los Angeles), Sir Manasseh Meyer International School-SMMIS (Singapore), Moriah College (Sydney, Australia) and Cape Town Torah High School (Cape Town, South Africa).
The final championship round on May 17 broke language and time-zone barriers in a live, online format. It was run by a professional game show production company in a true "Jeopardy"-style format. The winner from SAR Academy in Riverdale received a $500 cash prize, and the runner-up from Milken Community School in Los Angeles received a $250 cash prize. The first-place winning school is also awarded an attractive trophy.
The run-up to the championship round took place over the course of five days. Students viewed a selection of six videos from the Unpacked for Educators library, covering topics on Israel's history, culture and current events. Students from each region then competed in the regional qualifying game, with top scores based on correct answers and response time.
"It's incredible to see so many Jewish teens from such diverse backgrounds and cultures demonstrate pride in their schools and for Israel," said Dr. Noam Weissman, OpenDor Media's executive vice president. "And it's always exciting to see that learning about Israel with nuance inspires them to think, discover and broaden their perspectives."
For more information and to view a recording of the Israel Pursuit finale 5782-2022 please visit https://unpacked.education/program/yom-haatzmaut-global-trivia/