It's about time.
We are in the Jewish month of Elul and that means Rosh Hashanah is nearby.
(How near?)
Near enough that I'm thinking about which Sunday will be "sukkah assembly day."
(Too near … back up.)
OK, time to think about a new suit, a fresh haircut, and explaining to work why I won't be working a five-day week for what will seem like six weeks.
(You do realize that you only need one Monday for Yom Kippur because everything else is on the weekends?)
And the kids, if they are attending a Jewish school, it will seem like they won't be in class for a month … because it's about time.
And it's sukkah assembly time!
(You just said that.)
At that time of year, acorns litter the street like Mother Nature's minefield for runners and the fear is twofold:
Either I step on them and twist my ankle or these tiny squirrel snacks will get into my sneakers and I will have to stop my run to clear them out.
Fallen leaves paint the ground in the colors of autumn— which means it's time to erect my sukkah.
Whether it's panels or snap together or pipes that you need an Allen wrench to assemble, there seems to be that one Sunday when I'm doing my NYC Marathon training when I'm running throughout my neighborhood that I hear the clank of the sukkahs going up.
(Wait … why are hex keys called Allen wrenches?)
The patents for hex keys go back to the U.S. Civil War. Around 1900, the Allen Manufacturing Company of Connecticut patented the Allen Hex Key, which we call the Allen wrench. For me, the Allen wrench is as connected to the end of summer as the cries for me to put away my off-white linen suit.
(By September 1?)
By the end of Labor Day. Ask yourself, does September really feel like fall when by September 15 or 30, it doesn't matter if the mid-day temps are as high as they were in mid-August?
(No, you cannot wear your white linen suit after Labor Day no matter how warm it gets.)
The custom had been for many years not to wear lighter colors after the end of summer, because heavier, darker colors would keep you warmer as the temperatures dropped; but designer Coco Chanel went out of her way to wear white all year long. By the 1950s, fashion magazines like Harper's Bazaar were warning housewives of the new suburban middle class to separate themselves from the working class, as well as not to make the fashion faux pas of wearing white after Labor Day. I'm hoping to write my Ph.D. dissertation on how suburban families were misled into a culture of conformity in the 1950s.
(So, you are going to wear your linen suit into September, aren't you?)
You betcha! Labor Day has been a legal holiday since 1894, but the custom of no white clothing after September 1 was grounded in the idea that the super wealthy would wear white clothing when they travel after summer to set themselves apart from the working class who wore dark clothing because many of them were factory workers who were covered in filth and would bring home the factory filth.
Every year as people mistakenly put their "whites" away, their children would bring home new art projects to laminate against the rains.
The older my kids got, the fewer projects to hang up. My children are now 11 and 18.
It's about time.
Somehow I've started hanging pictures of the kids, from previous Sukkot holidays.
Pictures of me sleeping outside in the sukkah with Eric.
Eric and Stevie decorated the sukkah when they were too small to hang anything from the ceiling of bamboo.
I've also marked the time through their clothing.
From my eldest borrowing a shirt or a tie to his wearing sizes I will never be tall enough for.
Yes, I have joined the ranks of parents whose sons tower over them.
We used to measure his growth on a door post, but now Eric likes to ask me, "How's the weather down there?"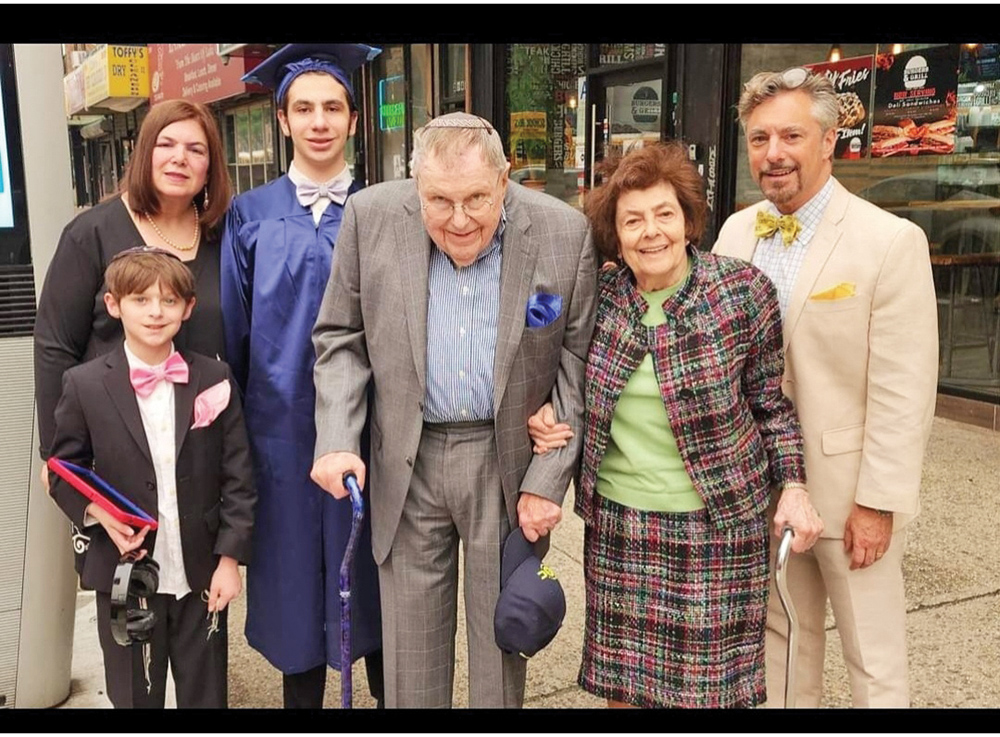 Finally, this time of year is marked by the back-to-school picture, which as a high school teacher, I have always enjoyed. But with one child in college that too may be ending … because it's about time.
---
 David Roher is a USAT certified triathlon and marathon coach. He is a multi-Ironman finisher and veteran special education teacher. He is on Instagram @David Roher140.6. He can be reached at [email protected].