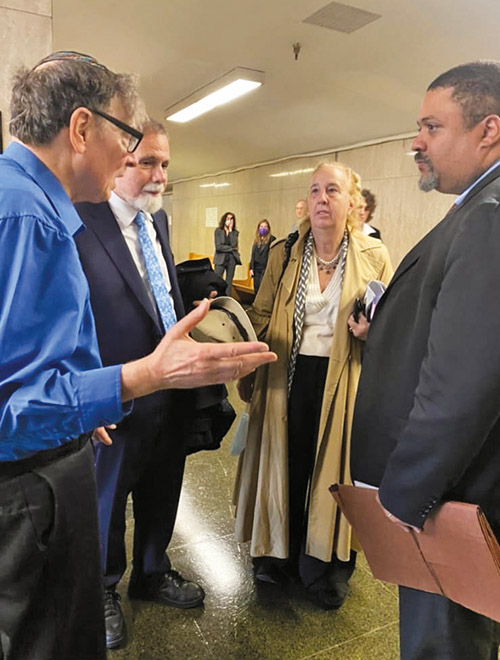 Local members of the Jewish community and political leaders expressed shock and outrage after a judge allowed a suspect with plans to attack a synagogue to remain free on bail.
The decision by Judge Neil Ross on Dec. 7 in Manhattan Supreme Court was the second time the Manhattan District Attorney's office has been rebuffed in asking for remand for Matthew Mahrer, who was arrested Nov. 18 by MTA Police as he exited Penn Station in Manhattan with an accomplice. Mahrer, 22, and Christopher Brown, 21,were arraigned on 11 total charges, including criminal possession of a weapon and criminal possession of a firearm. Brown was also charged with making a terrorist threat as a hate crime. They have since been indicted by a grand jury and Brown remains in custody.
Mahrer, who is Jewish and the grandson of a Holocaust survivor, was released after his family posted $150,00 bail. He reportedly has autism, bipolar disorder and ADHD.
Councilwoman Gale Brewer, who represents the Upper West Side, attended the hearing and couldn't believe the decision to release Mahrer.
"The district attorney was shocked," she said in a phone interview. "I was shocked. He didn't even get an ankle bracelet. He was just sent home with his parents. He has been hospitalized recently and he has challenges, but to have a loaded gun in the house…"
The pair had been arrested on a tip from the Joint Terrorism Task Force after the initial threatening post from Brown was flagged by the Community Security Initiative earlier that morning. CSI is a joint program of UJA-Federation and Jewish Community Relations Council of New York.
The two were seen on security video Friday night about an hour before their arrest entering the Upper West Side apartment building where Mahrer lives. Mahrer was carrying a bag, later recovered from the lobby by police, according to authorities. Inside the bag was a Glock-style semi automatic pistol, a large-capacity magazine, and 17 9mm rounds.
At the time of his arrest Brown had a swastika armband, an 8-inch military style knife, and a ski mask.
The two men had met with a third person and, in a recorded phone call with a prison inmate, said they were driving to Pennsylvania to get a firearm, their indictment states. Brown sent Mahrer $650 and Mahrer then sent $700 to this third person, who has since also been arrested.
"I have sympathy for the family, but he needs to be kept in custody," said Sheldon Fine of Community Board 7 on the Upper West Side of Manhattan and co-chair of its health and human services committee. "Jail probably isn't appropriate, but he doesn't belong on the street. He should be in some facility where he could be receiving psychiatric care for his mental health issues."
Fine pointed out there are between 70 and 75,000 Jews living on the Upper West Side where Mahrer resides in an apartment in the same building as his parents.
"Does the Jewish community have to wait until a tragedy happens and then hear, 'We should have done something?'" asked Fine.
He said he contacted the Manhattan District Attorney's office when Mahrer was released after the first hearing and was pleasantly surprised to receive a phone call from District Attorney Alvin Bragg who told Fine he had "strongly recommended" remand.
Bragg was in the courtroom for the second hearing where Assistant District Edward Burns again argued for remand.
"A horrific tragedy was averted thanks to the diligence, hard work and coordination between my office and our local, state and federal law enforcement partners," Bragg said in a statement. "The increase in antisemitic attacks and threats cannot and will not be tolerated. Manhattanites and all New Yorkers should know that we continue to vigorously prosecute hate crimes every day and are using every tool at our disposal to address hate and bias."
One of the biggest concerns is that Mahrer lives in close proximity to Congregation Ohab Zedek located on West 95th Street. Brewer said she had spoken to its rabbi whose congregants are already concerned about coming to synagogue because of rising crime and are now more frightened because of their close neighbor. Another court hearing for Mahrer has been scheduled for Feb. 1.
Glenn Richter attends the shul, which he said is no more than a minute's walk from Mahrer's apartment building, and was at the Dec. 7 court hearing.
"I think Judge Neil Ross made a strong error," he said. "The goal of Shelly and myself and others is just to get Matthew Mahrer off the street. A lot of things can happen between now and Feb.1. At least put him someplace where he can get some psychological help. If Matthew has mental issues, we don't know what he's going to do. Matthew was the one who brought the gun. Matthew was in contact with someone in jail for possession of three loaded weapons. Matthew sent him money. Matthew is not some poor unadjusted young man and we are concerned."
Richter is a founder of Student Struggle for Soviet Jewry and is no stranger to Jewish activism.
"When Jews are confronted we need to speak out and speak out loudly," said Richter. "There is no longer a time for timid Jews. Alvin Bragg was in court because he felt the pressure. Councilwoman Gale Brewer was there because she felt the community's concern. We unfortunately need to send a strong signal [that] if you are going to get us we are going to get you."
Both he and Fine urged the community to show up in force at the Feb. 1 hearing.