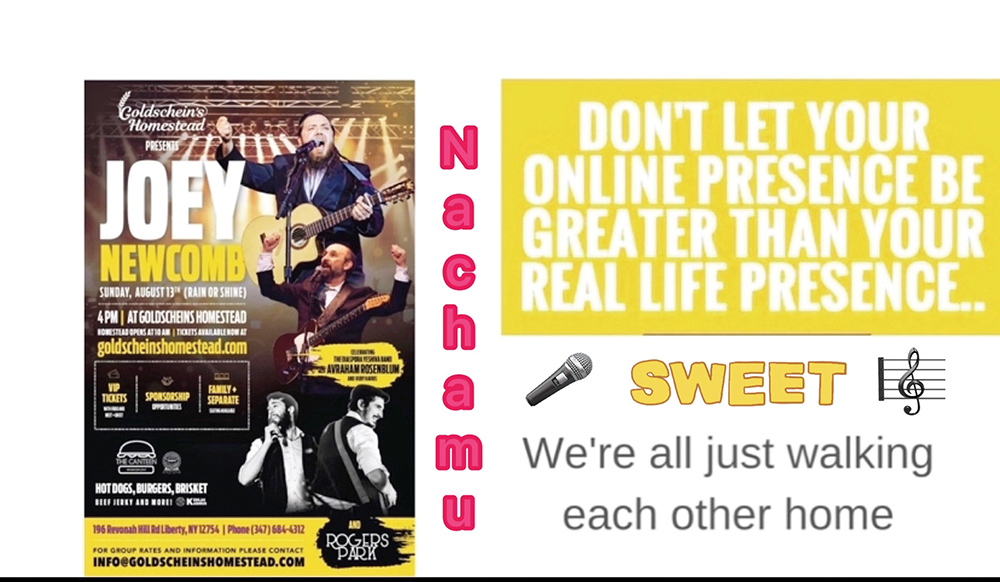 We're told the day to fast will become a day to feast. With Tisha B'Av, Menachem Av and the High Holy Days upon us, we strive toward hope and healing.
"Moireh Rabbach," (non-a capella) with Shea and Avrumi Berko's video, depicts students and teachers, Chassidish and litvish yeshivos, fun, song, and real instruments which D.J. Al always appreciates over "boom-boom" music, LOL. My fave old tune "Aneini" (Lev Tahor), which I've played for decades, still holds a place in my heart.
We were delighted with a new assortment of meaningful a capella tracks. Uri Davidi shared his song "Hinei Geula" with us, which we're sure will be a hit. 8th Day's "Ben Amram" remix is fabulous. Who remembers the film "The Ten Commandments," where Pharoah loudly declares "Ben Amram" about Moses? I know I can't be the only one. Some things leave lifelong impressions.
Speaking of impact, our kids watch what they see us do, not what we say. Something to ponder as we approach this time of reflection in an effort to improve ourselves and our communities, beyachad. We highly recommend looking up a poem called "When You Thought I Wasn't Looking" by Mary Sill. Tissue box advised.
We're about to celebrate two years of marriage, Thank you, Hashem! We feel fortunate to have built a strong team despite outsider attempts at disruption. With love and music in our hands and hearts, forward we go. As my son Joey Newcomb sang at our wedding, "Lech Lecha, sometimes you've got to leave the past behind." Yes. We've restructured our personal and professional lives with God as THE BRAND.
Dovid Pearlman's "Nachamu" is fantastic, offering comfort with a new twist. Thank you to Hashem Nation, who put out "Another Chance" featuring Moey. We love kids' voices. The song is filled with meaning and is certainly good timing. Doni Gross presents "Eicha" (a capella edition), an English song with Gavriel Pelcovitz's sweet young voice. Chayala Neuhas is a master composer whose lyrics reach the heart and soul. Joey Newcomb's "Take Us Back" came out during the pandemic yet is as timely today as we yearn for the rebuilding of the Beit Hamikdash, unity, and repairing baseless division, one soul at a time.
I've been honored with the title "editor-in-chief" of an important chaplain publication, where many topics shared include the value of music as a comfort in healing. A fellow chaplain and music therapist discussed the effects of music in a grief process. Soon concerts will be back, including a special event at Goldschein's Homestead that appears to be a very special place to experience farm life with wonder.
There's nothing like live music. Camp HASC kids and kids of all ages everywhere, have much to look forward to. The universal language — music, reaches into the souls of the non-verbal community as well. Jenine Shwekey (Mrs. Yakov Shwekey) and Chaya Bender spoke about the special children's center, including the impact of live music. We had the pleasure of spending time up close with the Shwekeys during Pesach, smachot and other events where we saw firsthand what they do to include all folks at all cost. Most impressive in a "Meaningful Minute" interview was Jenine's drive to make something of herself by giving to others and her koach to try even harder when someone dissuaded her dream to build.
We would be remiss as music broadcasters if we didn't mention the country song, "Try That In A Small Town." Seems there's been some controversy surrounding the song, which perplexes us as we find it to be chock full of meaning on important issues. D.J. Al is a country music lover although I admit I am not. This may be the first country song I've ever purchased. The line which hits us closest to home: "Here we take care of our own." Indeed we do. The protectors among us. May we all choose to build forward together, bezrat Hashem, as we make it to the other side of Tisha B'Bv as one people with one heart. Thank you Hashem!
---
Al and Sarah (Newcomb) Gordon own and operate 1640 WJPR, a unique radio station in hybrid format out of Highland Park/Edison. Al has been dazzling radioland with his voice and personality for decades. Sarah, a writer, realtor and therapeutic healer is new to radio and new to the Gordon household. Together they hope to blaze a unique trail utilizing their special koach impacting their children, grandchildren, community, many fans and all others as intended from above, one song and one smile at a time. #TYH Nation YOU matter! They can be reached at [email protected].