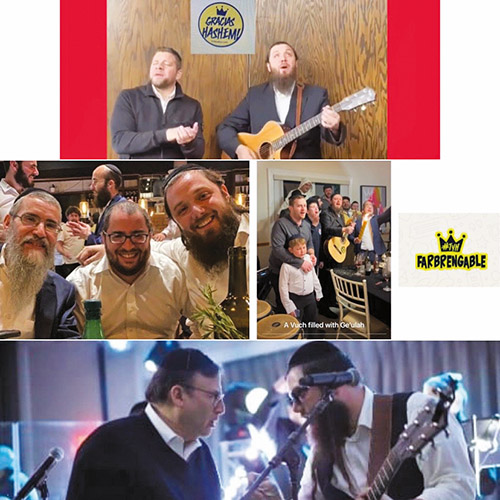 Summer's on the horizon, Soul refresh time, though our musical needs may vary seasonally. Planning, shopping and packing, travel, camp, concerts, simchas, the Three Weeks and Tisha B'av can sure keep us on our musical toes.
We're very grateful this year to be able to come together again freely, as was the theme of this year's Celebrate Israel parade. The Soulfarm folks did a great job entertaining, as did the marchers, despite the warm weather. It goes without saying that so many of our proudest moments as one giant community and cycle-of-life events are accompanied by music. It's part of our heritage and who we are.
An influential and well-respected promoter approached us to begin a special radio show by and for women. We're excited about it and open to comments and inquiries. Let's make radio great again, filling voids and niches. We love all the feedback from our readers and listeners who are welcome to join us live on-air, anytime.
Our colleague and fellow radio show host Zev Brenner spoke on-air with Rabbi Efrem Goldberg, originally from Teaneck, now at Boca Raton Synagogue. They ventured into controversial topics, where Zev described him as "the rabbi not afraid to speak out." Yes. We align with the courageous ones who speak up and out, kids included.
In the music world we recognize those who dare to be different. Truth be told, each of us are here for a unique purpose, no two meant to be or sound the same. We, as Jewish music radio hosts, love new sounds, songs and styles. We play a variety of musical genres and languages, and aim to please.
Our listeners are varied, all ages and stages. The mystery of radio is we never know who's listening. The beauty of it is we know people are listening. We can often see where they listen from, location-wise. The greatest gift is the many who call in, write and interact/join us live on-air, and even sing—unscripted. Everything we do is unscripted. We're told that's part of our charm, though it's simply who we are.
Over the past month of Sefirah, we offered many shiurim on our morning shows, prompting great response. Sefirah is a time of growth, not just restriction, and we're grateful to share meaning and inspiration out loud with the goal of turning baseless hatred into baseless love.
We conducted great interviews with interesting folks who are Jewish world game-changers. Some of the big names in music will be joining us on-air for what we call "fireside chats" in the coming weeks. We welcome requests, dedications, discussions, sharing simchas, life cycle events, local happenings and anything of importance to our listeners. You matter!
Our Monday Supper Serenade and the wildly popular Motzei Shabbat/early Sunday morning show gather the most response. Our program fills an after-Shabbat void. It's where we get to debut music hot off the press: Yoni Z, Nissim, Shwekey, Shapiro, Tischler, Abie Rotenberg ("Journeys"), Shea Rubinstein, Israeli performers and others have just put out brand new music and gratefully, the musicians share with us first.
Our son Joey Newcomb got around even during Sefirah, encouraging others musically even without instruments. He and his modest wife's attempt to travel incognito was no simple feat. The world sees him as accessible: balance/boundaries, please. The unified grandparents' club held down the fort in their absence. Musical couples need restorative time, too, DJs included, post-a cappella zman, LOL.
Collaborations are my personal favorite, and we're grateful to report so many new productions between many singers—both old and new. We look forward to sharing on-air in the coming weeks. Stay tuned, friends, and invite your kids and families to join, please. We have a dream of more teenagers tuning in and hope as our post-seminary Teen Chevy, aka Joey's sister, expands her radio presence, more will join us as well.
Wishing all a beautiful and meaningful Yom Tov Shavuot surrounded by loved ones and Hashem's blessings. Special thanks to Doni Gross who produces one masterpiece after another, Thanking Hashem out loud.
---
Al and Sarah (Newcomb) Gordon own and operate 1640 WJPR, a unique radio station in hybrid format out of Highland Park/Edison New Jersey. Al has been dazzling Radioland with his voice and personality for decades. Sarah, a writer, realtor and therapeutic healer, is new to radio and new to the Gordon household. Together they hope to blaze a unique trail utilizing their special koach, impacting their children, grandchildren, community, many fans and all others as intended from above, one song and one smile at a time. #TYH Nation YOU matter! They can be reached at: [email protected].