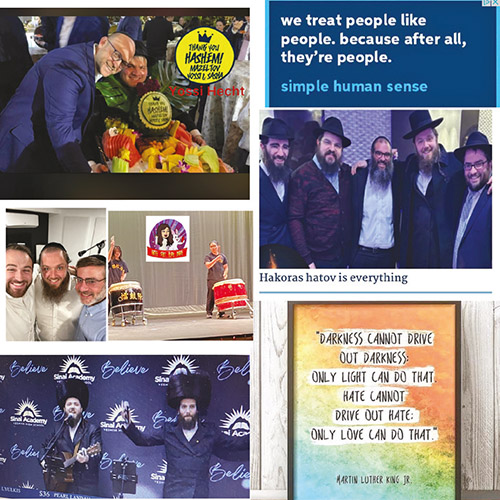 Where to begin, friends? The music world is on fire, thank you Hashem! In fact, the Thank You Hashem Nation folks keep putting out beautiful music, including male and female singers: something for everyone.
We Golden Oldies' lovers know music has no age limit. Meilich Kohn recently married and put out a great new song, "Aish Tamid"—a perpetual message. Avraham Rosenblum released "Here's to Hope." There is always, always hope. I was dubbed "The Queen of Hope" in my old New York neighborhood. Some things never change. By the way, our hopeful assistants continue to filter unwelcome intrusion attempts effectively, b"H!
We had the pleasure of running into legendary Avi Maza in a local hotspot. We value connection, music or not, and remain grateful for feedback.
We are proud to be part of The Jewish Link team. I mean it when I say I've never seen a more well-rounded, enjoyable and informative publication. I read about how Jack Ciattarelli appreciated the HASC concert and came to understand the Jewish value of tzedaka. My dad always says that music breaks all barriers. We attended a Chinese New Year event and enjoyed their music and special instruments. They appreciated our recognition. Fun fact: Our son Joey Newcomb speaks Chinese, self-taught as a youngster, still used effectively, including Ma Nishtana on Seder night.
Rabbi Kalish of Waterbury fame keeps "his chevra" musically inspired. He reminds us to always believe in our children … and all children. We love when children sing, "Joey pass that mic, please!" No wonder the Miami Boys resurged with online fame. As Country Yossi sings, "It's gonna be the little kinderlach."
Eli Levin shared on our podcast about music helping his family through difficult times. His music and message are deeply powerful. Joey Newcomb's new song, "Mi Sheomar," with young Yosh Friedman, in tribute to the good folks at Hatzolah and Dr. Friedman, BDE took the world by storm, touching souls worldwide. There's no amount of gratitude sufficient for the heroes of Hatzolah. May H" keep them safe and well.
Reb Yossi Hecht, who runs the "Grateful Warriors" podcast, sings, teaches and inspires all of us. Although he sits in a wheelchair, his soulful impact stands tall, elevating anyone around him. The news of his engagement has brought much joy, hope and chizuk to so many. Mazel tov, Yossi and Sasha. Music heals.
Beri Weber and Joey performed together, shtreimel to shtreimel on behalf of the Sinai Academy auction. When musicians collaborate, the heavens open. The children, adults, rabbis and performers danced together to live music in Hebrew, English and Yiddish. How's that for a unity event?
Talented musician and mensch Darren Glick's heartfelt song "Love Don't Fade Away" is now featured in a film. The song pays tribute to a young man lost too soon. May his memory be a blessing. Blue Melody's "Pure Groove" featuring Simcha Leiner and Eli Marcus is a leibidig zemer, says D.J. Leibidig Al Gordon. Yoni Z's "We Belong" highlights inclusion, a topic very dear to our hearts. Hashem chose each of us for a unique mission. Welcoming others is a value we, our rabbis and our family share, gratefully. Bullies, beware!
As we turn a page on the Hebrew calendar, how's 2023 going so far? Let's turn a page forward in our lives as well as we look forward to Purim/Pesach with extra family time to play, travel and celebrate together. When love is in the air, we are unstoppable. Astronaut Buzz Aldrin, who made it to the moon, just got married at 93 years old to his longtime love, saying they feel over the moon with excitement like eloping teenagers. Best wishes to the Aldrins and all those taking chances in life. I wonder what kind of music is heard on the moon? The Moon Dance? Keep dancing friends, until next time.
---
Al and Sarah (Newcomb) Gordon own and operate 1640 WJPR, a unique radio station in hybrid format out of Highland Park/Edison, New Jersey. Al has been dazzling Radioland with his voice and personality for decades. Sarah, a writer, realtor and therapeutic healer, is new to radio and new to the Gordon household. Together they hope to blaze a unique trail utilizing their special koach impacting their children, grandchildren, community, many fans and all others as intended from above, one song and one smile at a time. #TYH Nation YOU matter! They can be reached at: [email protected].