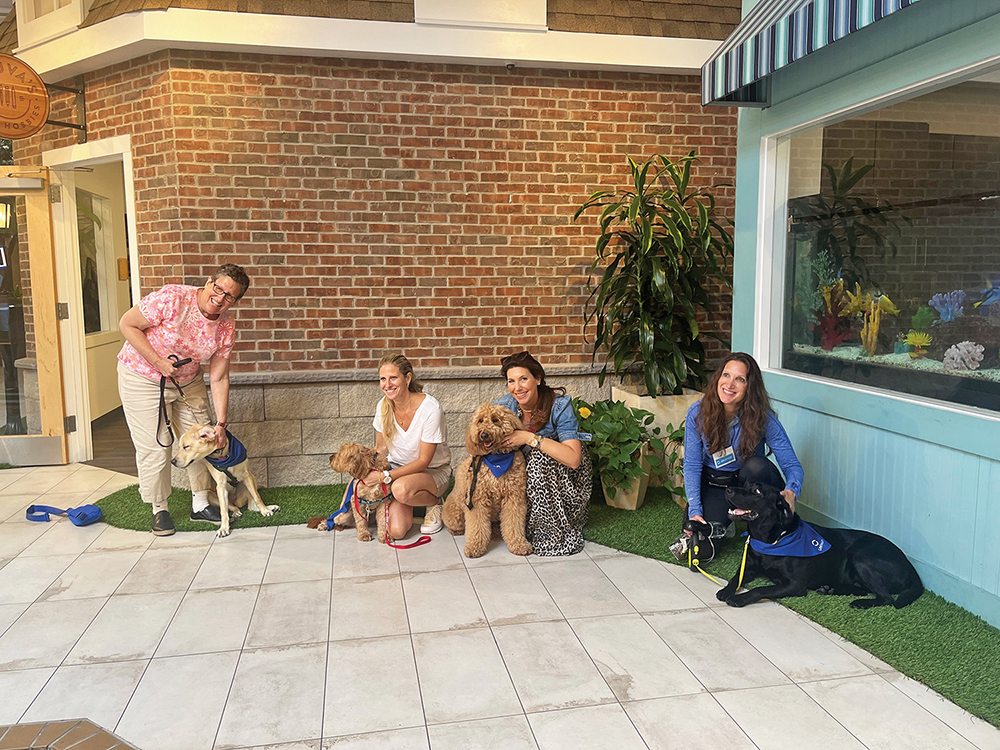 "I did it!" exclaimed 18-year-old John as Duncan, a golden doodle sporting a blue Friendship Circle cape, wagged his fluffy tail and finished chewing his treat. John, a student in Hackensack High School's special education program, wandered onto his next adventure in the LifeTown Shoppes. His teacher, Cori Carroll gushed. "Just being able to give Duncan a snack gave John such a sense of accomplishment and joy," she said.
On September 12, LifeTown honored all the dogs that work so hard to make people happy at LifeTown with capes, T-shirts, and some treats for their people.
"Dogs just make people happy, and they are a furry path to success for many participants," said Rabbi Zalman Grossbaum, CEO of LifeTown and the Friendship Circle. "Like so many of our volunteers, they give of themselves to provide love and support to our kids. Why not take a day to honor their loyalty and friendship as well?"
Lisa Schechter, who brings Duncan from their home in Englewood to volunteer regularly, said, "The cape is so fitting. He really is a superhero."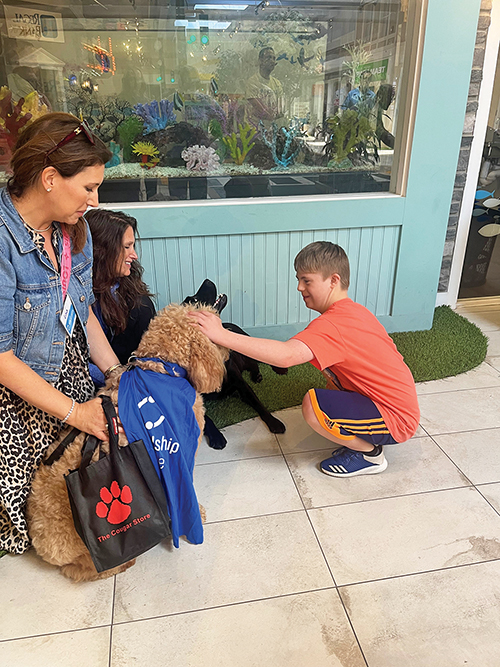 Dogs who come to LifeTown Shoppes regularly must be certified as therapy dogs; on this particular day, other dogs (and their owners) were also invited to visit and see if volunteering might be a good fit.
Ozzie, a black labrador-golden retriever mix, may be looking for a career change. A retired seeing eye dog, he is used to noise and distractions, so he exuded calm despite the high energy of the Shoppes, and he was ready to lick any visitor who approached. A Cranford student stopped to pet him on the forehead.
"He gives a lot of love and I figured if we can give love and make people smile, why not?" said Jen Rosenthal, who adopted Ozzie just a few weeks ago. "It's important to give back when we can," she said.
A puppy being fostered for seeing-eye dogs and a regular at LifeTown relaxed in the pet shop, while Cosmo, a labradoodle, barked a greeting at the puppy. A regular visitor at senior homes and hospitals, Cosmo was enthusiastic this morning as 21-year-old Ian Tanenbaum helped him explore the space and greet the children. "We were planning to have him certified as a therapy dog when we saw the flier for this event," said Ian's mother, Jen Tanenbaum. "It's perfect timing!"
Meanwhile, Lisa Schechter beamed as a girl finished petting Duncan and called, "Bye, Doggie!" "You schep naches from your kids when they do good deeds, and he's like one of my kids." said Schechter, watching Duncan's tail wagging, high in the air. "Look how much joy it brings the kids, and look how much he likes it!"