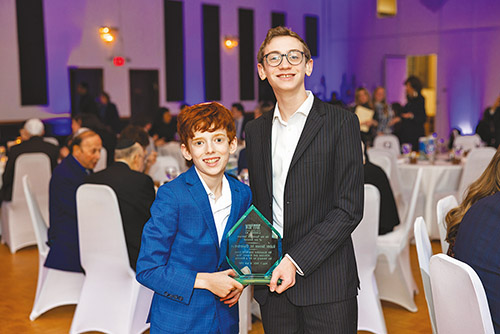 (Courtesy of Cong Anshe Chesed) On Sunday, May 7, members and friends of Congregation Anshe Chesed of Linden gathered for the shul's annual dinner. The event featured a beautiful dinner, catered by Riverdale Kosher Caterers, and a meaningful program giving tribute to Rabbi Steven Dworken z'l, the much beloved rav who led the community from 1977 until his retirement in 1999.
Anshe Chesed celebrated both its growth over the past few years, welcoming many new families to Linden, while also honoring the 20th yahrzeit of Rabbi Dworken, one of the people who made the Anshe Chesed community what it is today. The dinner also served as the launch of the newly established Rabbi Dworken Memorial Fund, which will help those in need in the Anshe Chesed community, building on Rabbi Dworken's legacy of community and achdut.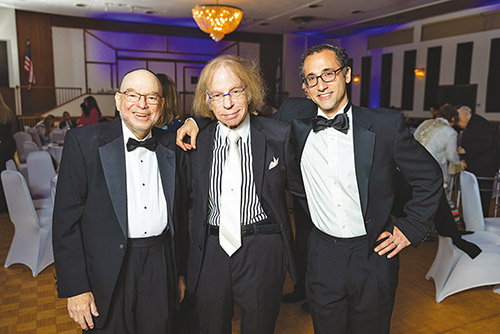 Rabbi Dworken was known for being sensitive to the needs of others, caring for everyone around him, and being so loving to mankind. During his time as rav of Anshe Chesed, he inspired many people to be active participants in the Jewish community. Rabbi Dworken inspired many people to marry Jewish, learn Torah, attend yeshiva and do chesed in the community. As Rabbi Yossi Katz mentioned in his tribute speech and dvar Torah, Rabbi Dworken was a living embodiment of the Torah of Moshe Rabbeinu. He led by example, along with his wife, that the Torah is an "etz chaim," a tree of life, and that all of its ways are pleasant and all of its paths peaceful.
Anshe Chesed was pleased to welcome Rabbi Dworken's family to accept the honor in his memory, and thank the family for allowing them to celebrate Rabbi Dworken's life and continuing legacy.
Dr. Aliza Frohlich, Rabbi Dworkens daughter, on behalf of her family, said that "it is always wonderful to come home to Linden and see our "extended family."
Anshe Chesed would also like to thank Samantha and Andy Houter, Ellen and Charles Winetsky, Rabbi Yossi and Rebbetzin Emma Katz, Leah Lipetz, Marsha Liebert, Ben Monheit (creating the journal), Beverly Miller, Josh Murad of Riverdale Kosher Caterers, and Eli Weintraub of Weintraub Studios for their help making the dinner such a success.
For more information about Anshe Chesed, Rabbi Dworken's z"l legacy, and the Rabbi Dworken Memorial Fund, please visit https://www.anshechesed.org/