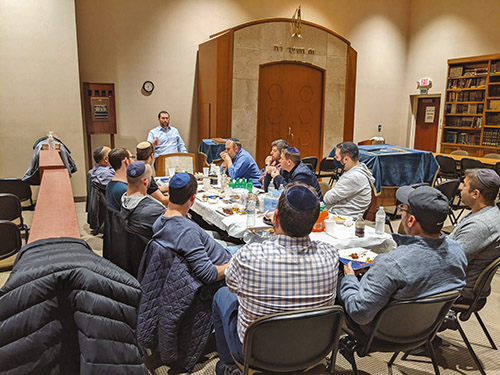 Rabbi James and Rebbetzin Sarah Proops, originally from London, a delightfully enthusiastic and united partnership, now form the spiritual leadership team at Synagogue of the Suburban Torah Center in Livingston. Over the recent Shabbat of Parashat Mishpatim, the Proops and some of their children came to Teaneck to share that enthusiasm, their refreshing outlook on Torah wisdom and the camaraderie of oneg Shabbat with the Congregation Ahavat Torah community.
Rabbi and Sarah Proops bring with them a pretty impressive history of training and education as well as abundant experience in rabbinic community service, outreach, advanced learning and spiritual "power lifting." Sarah herself is one of 10 certified graduates of the Great Britain Chief Rabbi's "Ma'ayan Program," a course for training select female Torah educators and specializing in Taharat Hamishpacha. She is a highly sought-after kallah teacher and spiritual guide to girls and women spanning all ages.
Rabbi Yehuda Halpert of Congregation Ahavat Shalom introduced Rabbi and Rebbetzin Proops with his own warm and welcoming remarks, and the participation and response of the shul members over the course of Shabbat was clearly positive and enthusiastic. The Shabbat programming began with an exquisite oneg Shabbat hosted in the ONE500 amenities space, featuring a short but poignant dvar Torah by Rabbi Proops. The oneg was enhanced by a robust chorale of zemirot, a couple of amazing charcuterie boards, the occasional tipping of a few bottles and some beautiful bakery and fruit trays to punctuate the joyful atmosphere. Rabbi Proops spoke of the importance of our awareness that every mitzvah we do projects peace out into the universe, and not to minimize this effect that we can have on the world by even the smallest and simplest mitzvot. About 60-70 people floated in and out of the room over the couple of hours, many lingering for a long time to enjoy the mellow atmosphere and the joyful noise.
On Shabbat day the rabbi shared some thoughts on leaving their wonderful Los Angeles community, where they continue to enjoy a loyal following, to join the Synagogue of the Suburban Torah Center in
Livingston in the summer of 2021. "As we began researching the community, and most importantly meeting the people, we soon realized it was a community we wanted to work for and was a place we were excited to move our family to. The Suburban Torah community is an extremely close, warm, inclusive and diverse community. Everyone feels comfortable and welcome and there is a very growth-oriented atmosphere. We saw the opportunity to join a group of people who were deeply invested and committed to the maintaining, enhancing and growing of their beloved community."
Rebbetzin Proops addressed the women during Shabbat afternoon in the Westgate community on the topic of Torah as a catalyst for personal growth.
Since Suburban Torah is well known as a dynamic, successful and growth-oriented congregation, Rabbi and Rebbetzin Proops came to Teaneck to introduce their shul to the young family residents there. "We had the great privilege of spending Shabbos with Congregation Ahavat Shalom whose members live predominantly in the Teaneck apartments. We wanted to introduce and highlight some of the wonderful characteristics of the Suburban Torah community in Livingston to residents of the Teaneck apartments, who may one day consider looking at other locations [to live]. Our primary goal was to meet people and put Livingston, SSTC and all that we can offer 'on their radar.'"
During their years of service in Great Britain, the Proops were privileged to have a personal relationship with Rabbi Lord Jonathan Sacks, zt"l, including numerous private conversations. In one such conversation, Rebbetzin Proops shared, they inquired about his thoughts on how they could successfully engage and inspire the Jewish community. "His advice was succinct and matter of fact. He said that in order to engage the larger community, a rabbi needs to empower those around him. Empower every member of the shul to feel a responsibility to reach out to others, to bring them along, to engage them together with you. He made it sound so simple, so obvious and absolutely imperative."
In discussing what is exciting, unique or ground-breaking about the programs and projects at Suburban Torah, Rebbetzin Proops described some of the newest additions to the landscape.
"Women's programming has been given a new lease on life, providing opportunities for both learning and social engagement. In particular the bi-monthly "Elevate" program is attracting participation from across the generational divides and serving as a great way to mix the ages. We have recently started an evening community kollel, offering the opportunity for members to learn b'chavrusa with a number of engaging and inspiring rabbis who come to the shul every evening. We are looking forward to our second annual community Purim seudah, which last year had over 200 participants."