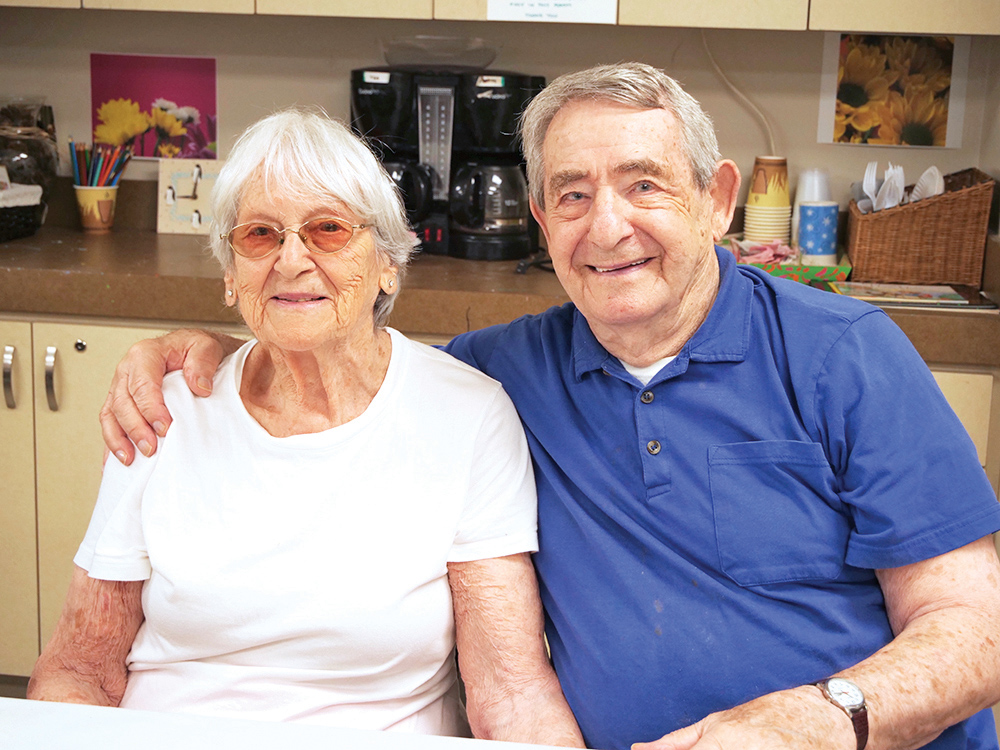 (Courtesy of Kaplen JCC) Love knows no age limits, and the heartwarming tale of Millie Sweet and Alan Friedman is a testament to that. In their 90s, these two charming individuals found each other at the Senior Activity Center at the Kaplen JCC on the Palisades, and their love story has captured the hearts of all who encounter them.
Millie Sweet and Alan Friedman's paths crossed unexpectedly, at a chance encounter during a program at the Senior Activity Center. As the two embarked on various activities and classes at the center, they were drawn to each other like magnets. Sharing common interests and a zest for life, their bond deepened with each passing day.
Alan shared, "Millie and I hit it off right away. Even though we have lost our spouses, we could still find love and someone who loves you back."
Now anyone who wanders near the senior lounge or auditorium can attest to the captivating sight of Millie and Alan, hands clasped and hearts united. Their love has become a beacon of hope and joy for everyone around them. Their cuddles and affectionate gestures display a love that defies age constraints, proving that love can find us in the most unexpected places, at any stage of life.
When asked about trying something new later in life, Alan's response touched everyone's heart: "Well, I have a girlfriend at 93." His eyes sparkled with sheer delight, showcasing the happiness he found in Millie's presence. With newfound love and companionship, Millie and Alan continue exploring life together, inspiring others to seize every moment and cherish their connections.
Millie explained, "I took a good look at him (Alan), he wears a yarmulke that's a badge of honor to me. He treats me well, never takes advantage and is very kind. We were both looking for companionship."
The Senior Activity Center at Kaplen JCC on the Palisades has proven to be more than just a place for senior citizens to spend their time—it's a nurturing ground for blossoming relationships. Millie and Alan's love story exemplifies how this program empowers older adults to thrive in this chapter of their lives. By fostering connections and providing engaging activities, the center offers a space for individuals to age in place with dignity, purpose and fulfillment.