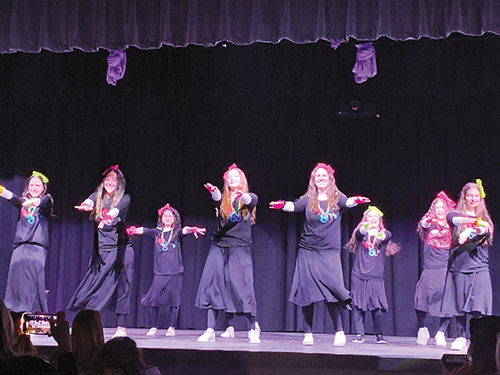 On the evening of Tuesday, May 23, over 600 women and girls from across the Jewish community joined Ma'ayanot at its annual Heartbeats performance. This year the Ma'ayanot students have again decided to honor the memory of Donny Morris, z"l, by dedicating the proceeds from Heartbeats to a scholarship fund for Ma'ayanot students learning Torah in Israel.
The program started with a welcoming speech by Mrs. Neugroschl, followed by a heartfelt address from Mirlana Morris, mother of Donny Morris, z"l, who shared how special Donny was and how much learning in Israel meant to him.
The night consisted of nine unique and beautiful songs as well as 10 coordinated, decades-themed dances. The dances ranged from up-beat dances to aerial skills and also included two Sinai dances and a faculty dance. Junior Batsheva Ratner exclaimed, "I love Heartbeats because it encourages every girl to take their own talents and use them to create something where everyone is included." It was an incredible night and the production of Heartbeats was beautiful, magical and inspiring!