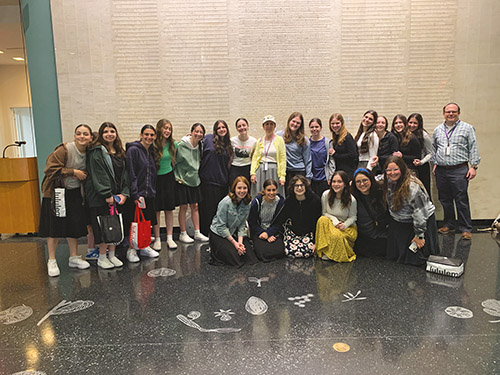 Ma'ayanot students had the special opportunity to visit the Yeshiva University Museum and to see their newest exhibit, The Golden Path: Maimonides Across Eight Centuries. Students were guided by talented educator Ilana Benson from the YU Museum, who gave them the opportunity to look at rare manuscripts and learn about the rich history of the Rambam and his Torah. Seeing illuminated manuscripts decorated in gold, comparing drawings of the menorah from the Beit Hamikdash, and different versions of the texts published by various publishing houses were among some of the highlights, but nothing was as cool as getting to see the Rambam's own handwriting!
As a special surprise, the trip also included a visit to the American Jewish Historical Society where they learned about women who have made an impact on Jewish History. Finally, they were treated to a lesson by Ma'ayanot's very own administrative assistant Sara Gruenspecht, who used to work at the YU Museum. She shared two beautiful artifacts of Judaica with students and taught about the rich history to be learned from items like a cholent pot and Torah breastplate.
Thank you to the YU Museum for partnering with Ma'ayanot to create a special experience that students will remember for years to come.