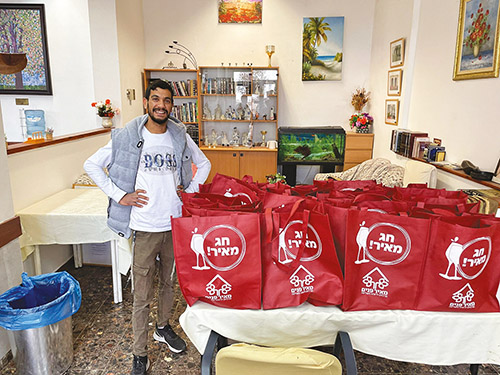 Political and security tensions have clouded Israel's unusually sunny winter, but nothing can mar the cheerful welcome patrons receive at Meir Panim branches across the country. "Now more than ever, we at Meir Panim are upholding our policy of welcoming all people, no questions asked, regardless of gender, race, religion or credo," said Mimi Rozmaryn, director of global development at Meir Panim.
Meir Panim's patrons come from across the spectrum of Israeli society. In addition to the elderly, who are hard put to make ends meet on their minimal pensions, Meir Panim caters to single-parent families, people on disability allowances, as well as the working poor, who have all been hit hard by skyrocketing inflation. "There is no room for sectarian divisions at Meir Panim," she stated. "Each branch serves as an oasis of unity, with a mission to nourish both body and soul, helping people move on to a better stage of their lives."
As the Passover holiday approaches, Meir Panim is going into high gear, with communal Seders organized in Tzfat, Dimona and other cities. For those staying home, Meir Panim volunteers and staff have been preparing and packaging all the Seder needs, not to mention a pantry basket, with staples for the week of the holiday. Prepaid grocery vouchers are another way to provide food security for those who need it most.
"Because we have such a lean staff, we engage thousands of volunteers to put together holiday baskets, cook meals and distribute Meals-on-Wheels. Everyone has something to contribute to Meir Panim," said Rozmaryni, who, in fact, brings her own children to help package and distribute the farm-fresh produce at the free market in Or Akiva.
While feeding the hungry is Meir Panim's primary mandate, the organization has widened its view to the next generation in an effort to break the cycle of poverty. Professional social programs—in the Gaza border town of Sderot and in the development town of Dimona—endeavor to rehabilitate at-risk youth, provide tools for a better future and promote social mobility. The other branches, too, have implemented creative programs to benefit underserved demographics.
The programs highlight the remedial value of volunteerism for a win-win situation: Sderot teens are in charge of assembling and distributing the Passover food baskets in their area. "We have a lot of programs in the pipeline, but we're limited by budgeting constraints. The more help we get, the more we'll be able to do," Rozmaryn reflected.
Be a part of Meir Panim's life-changing work. Make a donation today online at www.mpdonate.org, through the toll-free number at (877) 7-DONATE/(877) 736- 6283, or by mail to American Friends of Meir Panim at 88 Walton St., Suite B1 Brooklyn, N.Y. 11206-4479. All donations made in the U.S. are tax-deductible under EIN# 20-1582478.