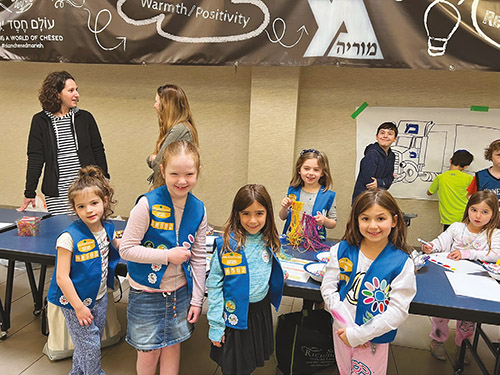 On May 21, Moriah students and their parents got together to spend the morning on campus together, focusing on helping organizations that assist the larger community. Each year, the Englewood-based yeshiva day school's theme reflects a religious, social and chesed-based idea, and this year's theme—Olam Chesed Yibaneh (Building a World of Chesed)—was exhibited in beginning-of-year welcome packs, special programming during school hours and special days like this one, sponsored by individual Moriah families and the Moriah Association of Parents (MAP). It was conceived and implemented by the Moriah community-building committee, which is run by Ariele Lazar, Sara Izrailev, Lindsay Setton, Daniela Gontownik, Dania Lauer, Tanya Wolf, Jen Wasserman and Rachel Tkatch, with Morah Wendy Nachum as staff organizer for the event.
Moriah's special "Day of Kindness" brought together a bevy of projects, volunteers and organizations to provide meaningful assistance to an array of organizations, while also providing education to students and families about community needs and ways to help. The organizers also made sure that there were age-appropriate projects that toddlers, early childhood, lower school and middle school students would each find worthwhile. Parents participated along with their children.
Before they left their homes in the morning, families collected cases of diapers and canned or nonperishable goods for Englewood's Center for Food Action. Gently used clothing was also collected for local charities, and volunteers helped organize them by size for donation. Students were also busy packing non-perishable goodie bags for distribution to Kosher Troops, and pre-Shabbat bags with toiletries and havdalah kits to be distributed by Bikur Cholim of Rockland County. Lower school students stuffed teddy bears for distribution to Friendship Circle and created bouquets with fresh flowers for delivery to Sentinel Assisted Living Facility. The Moriah chesed committee hosted a table to help early childhood students decorate pots, then planted succulents in them for distribution to seniors in the Englewood neighborhood.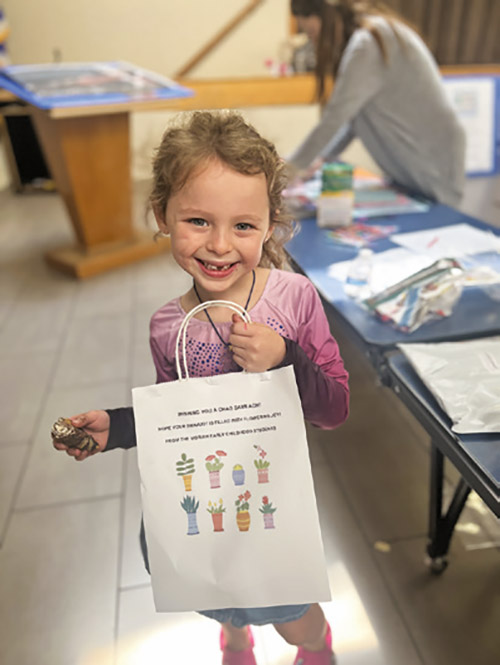 Middle school students enjoyed a special program with Yachad, an inclusive organization that provides job coach programming, events and shabbatonim for children and adults with special needs. Before the formal program began, Moriah students engaged in activities designed to help them understand challenges that Yachad participants might face, like overstimulation or memory issues. Elinor Solomon, of Yachad NJ, then introduced a panel of Yachad participants over the age of 21 who participate in either the daytime job placement program or the Mendel Balk Yachad Center, or both, which runs weeknights Monday through Thursday from 4-8 p.m.
Yachad panelists spoke about what they do at their various jobs, including working at a hotel, a clothing store and at Home Depot, and how they benefit from Yachad's programming and job coaching. They explained that each weeknight evening, groups from different schools join the Balk Center to participate and help make the activities fresh and interesting. Moriah students asked questions about the Yachad participants' job experiences and about their favorite activities at the Balk Center. By the end, the Moriah students had become enthusiastic about volunteering at the Balk Center, which they will be able to do once they are in eighth grade and above.
In addition to projects supporting the Englewood Center for Food Action, Bikur Cholim of Rockland County, Kosher Troops, Yachad and Friendship Circle, Chaverim of Bergen and Rockland and Hatzolah of Bergen County also opened up an ambulance in front of the school for tours.
The Moriah Committee Building Committee expressed thanks to all the generous sponsors and volunteers: Morah Amy Levine; MAP Chesed Committee volunteers Ayelet Rosen, Raquel Cohen and Daniella Schwebel; first grade Girl Scout volunteers and troop leaders Emily Adler, Sarah Russell and Ali Auerbach; middle school volunteer Yosef Jacob; and alumni volunteers Gabby Zlatin and Nava Siegler.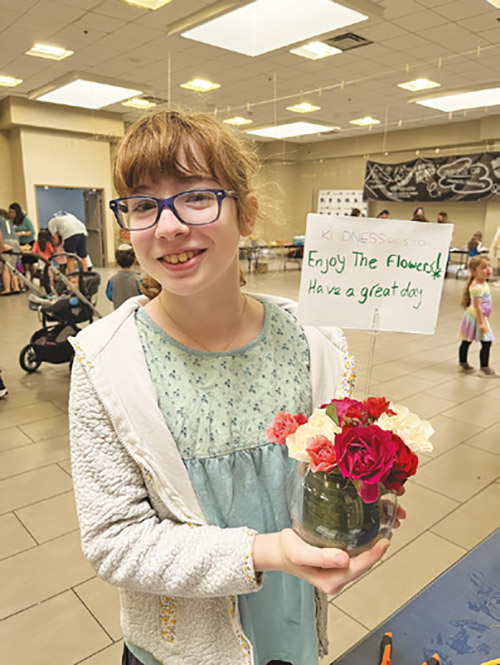 The Community Building Committee also added: "Thank you to Englewood Hatzalah and Bikur Cholim for donating supplies and for their time. Thank you to Morah Wendy Nachum for all her hard work coordinating the event. Thank you to Morah Gila (Bretter) for the beautiful posters and art work displayed, Anna Klein for leading and sponsoring the flower arranging sessions that were donated to the Sentinel Assisted Living Facility, and Michael Fried for donating the sponsorship sign."
By Elizabeth Kratz