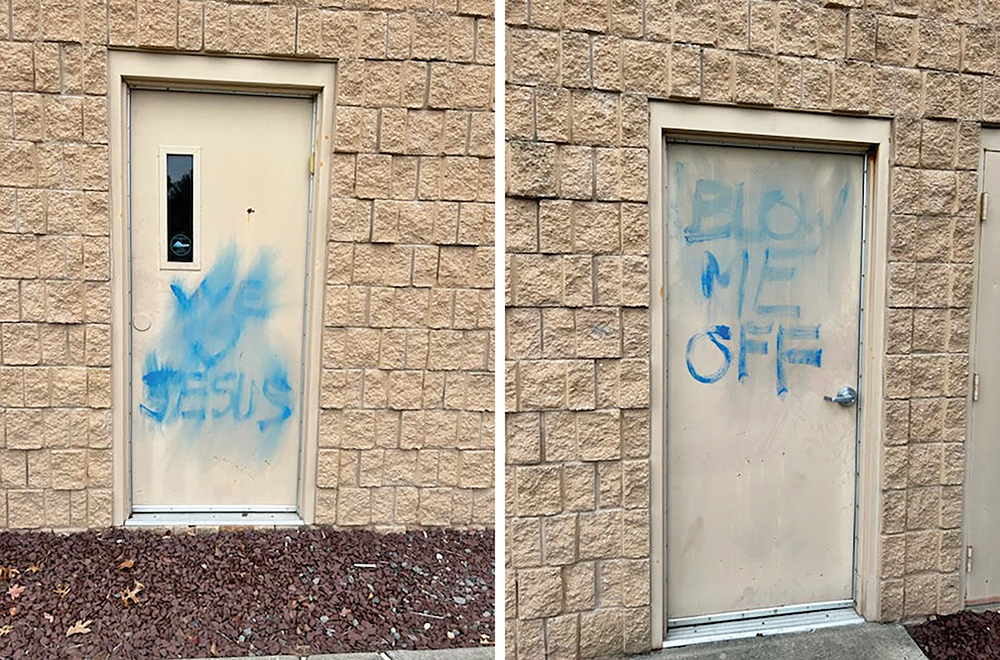 Monroe Township Police are continuing to investigate antisemitic graffiti found at Congregation Etz Chaim-Monroe Township Jewish Center.
The graffiti was spray-painted in blue on the building and left on a piece of reflective tape on the sidewalk in front of the building. The hateful messages were discovered by police at about 1 a.m. on November 9 while on routine patrol and the tape was taken by them as evidence. The police department contacted synagogue leadership, and the fire department was called and removed as much of the offensive messages as they could.
"Because of the circumstances we were already on edge," said Rabbi Shmuel Polin. "We are now on high alert. We were already scared and this terrifies us."
The spray-painted messages contained "vulgar language" and referenced Christian ideology. There was also offensive language on the sidewalk tape.
In a statement released by Monroe Mayor Stephen Dalina he called the vandalism "completely unacceptable in our community.
"We must proclaim that vandalism, of any sort … will not be tolerated," he said, adding that the police believe the messages were the work of juveniles.
"This is a raw time; the world is very small at the moment," said Dalina.
Rabbi Polin, who had made aliyah and served as a medic in Israel for his national service before returning to the United States, took over as religious leader of Congregation Etz Chaim last year after its longtime rabbi, Benjamin Levy, retired. Still "very connected' to Israel, he said it was his understanding the synagogue had once had a menorah knocked over several decades ago, but had never experienced any other antisemitic incidents.
"Our primary concern in our community is the proximity to events going on now nationally and internationally as we watch the news and see incidents that have taken place," said Rabbi Polin. "Observationally speaking, with the antisemitism going on online, this has been a scary time for all of us."
That fear is especially great among the synagogue's significant membership from Monroe's adult communities, yet they and the rabbi are comforted by the proactive support of local authorities.
Not only did the police and fire departments react quickly, but police are patrolling regularly around the synagogue, as evidenced by their quick discovery of the vandalism and their presence during Shabbat services and when Hebrew school is in session.
Amy Keller, director of security initiatives and external affairs for the Jewish Federation in the Heart of New Jersey, said the synagogue was a recent recipient of a federal Nonprofit Security Program Grant, and Federation was in the process of implementing "the target-approved hardening.
"These security enhancements we laid out in the grant will help mitigate future incidents and aid law enforcement in investigations," said Keller. "Federation security initiatives have noted additional observations and best practices while they are in the process."
Keller noted that the incident has been reported and discussed with Middlesex County's Counter Terrorism Unit coordinator and state and local law enforcement. It has been reported as bias, and a suspicious activity report has been filed with the state. She said Federation is working in partnership with the synagogue and law enforcement and is keeping abreast of developments.
"This is an unfortunate event in a heighted time," said Keller. "No members were hurt, injured or harassed. The damage will be repaired."
Anyone with information about the hateful act should contact Detective Jake O'Brien at (732) 521-0222, ext. 124.
---
Debra Rubin has had a long career in journalism writing for secular weekly and daily newspapers and Jewish publications. She most recently served as Middlesex/Monmouth bureau chief for the New Jersey Jewish News. She also worked with the media at several nonprofits, including serving as assistant public relations director of HIAS and assistant director of media relations at Yeshiva University.