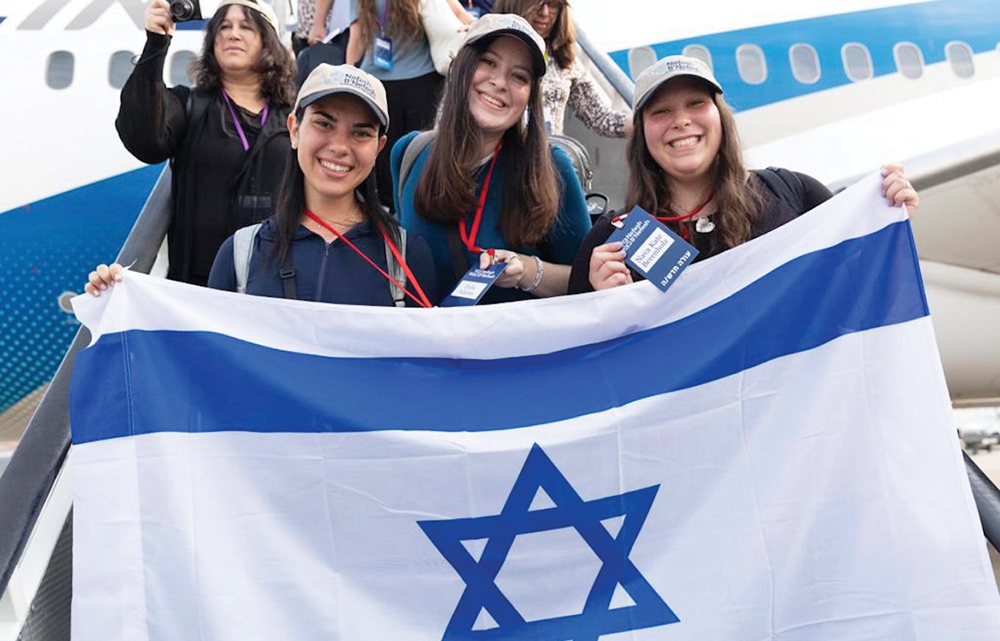 Have you ever witnessed the dreams of 215 people being simultaneously fulfilled? Have you ever been on a plane where each ordinary announcement of arrival time was met with thunderous applause? I certainly never have. That is, I never have until last week when I went on the Aug. 15 Nefesh B'Nefesh (NBN) charter aliyah flight to cover the experience for this newspaper.
The day began with a departure ceremony with opening remarks made by Rabbi Yehoshua Fass, co-founder and executive director of NBN. Fass told the olim that "our people, our nation, our homeland desperately need your idealism, your Zionism, your optimism, your faith, your hope, the diversity and the unity that bonds you all together through common action."
Concluding the remarks was NBN Co-Founder and Chairman Tony Gelbart, who rhetorically asked the crowd if they watched the news today, and then stated with excitement, "you're looking at the news! You are the news!"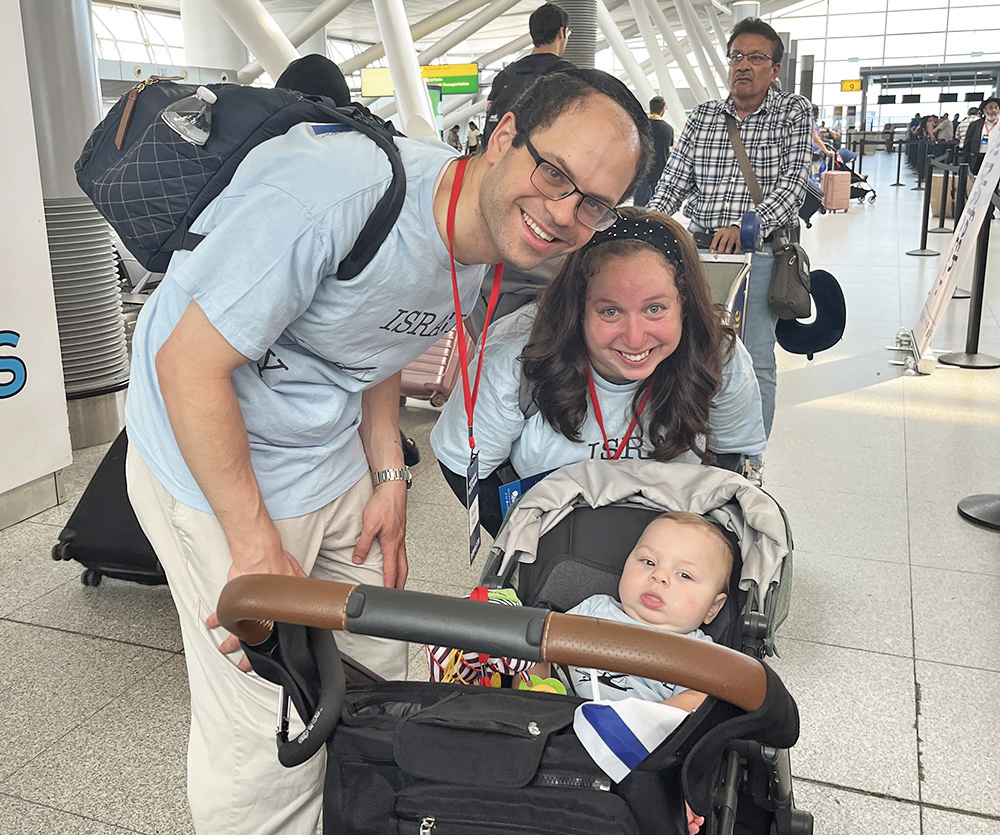 Additional speakers at the ceremony included Avichai Kahane, director-general of Israel's Ministry of Aliyah and Integration; Marc Cavaliere, senior vice president, the Americas of El Al Israel Airlines; and Neta Katz Epstein, chief program officer and head of The Jewish Agency for Israel's delegation.
The flight of 215 olim included 22 families; 75 children; 15 singles; 17 retirees; and 45 lone soldiers. I spoke to several of those olim on the flight about their journeys.
Craig and Shayna Prupis from the Highland Park/Edison community have long dreamed of making aliyah. The Prupises were in their Highland Park home for 44 years, with Shayna being in the community for 48 years and Craig almost 50 years. Craig and Shayna each spoke very highly of Highland Park. They noted with excitement that they are now moving to "Highland Park, Ramat Beit Shemesh," where there are already about 12-13 Highland Park families, some of whom they are extremely close with.
The first time that the Prupises were in Israel together was three years after they were married. Shayna remembers Craig saying during that trip that he would ultimately like to spend more time in Israel. They decided to make aliyah now because a lot of things fell into place, such as their last two children getting married. The couple is most looking forward to spending more time with their children and grandchildren in Israel; conversely, they will most definitely miss their children and grandchildren in America.
Dalia Adams from East Brunswick, a graduate of Ma'ayanot and Stern College, is currently a student at the Wurzweiler School of Social Work in its Israel program, which is where she will be doing her field work. Adams will be a madricha at Machon Maayan, where she went to seminary.
Noting that she is "a Bnei Akiva kid thru and thru," Adams stated that she has known since she was about 8 years old that she wanted to make aliyah. When she went to Israel for the first time at age 11, it "sealed the deal for me," said Adams,
Adams does not have close relatives in Israel, but both her East Brunswick community and her family have supported her decision to make aliyah. While Adams's parents Aron and Leslie are sad to see her leave, they are also excited for her, telling her that "obviously we did something right as you are making aliyah."
Adams is most looking forward to "all of the little moments" of life in Israel. "Even at JFK, as I was dealing with my bags alone, this woman came up and helped me. That's what Israel feels like to me. People helping you when they don't know you."
Moshe and Michelle Siegel from Washington Heights in New York City and their nine-month- old baby Shmuli, are making aliyah to Ramat Beit Shemesh. Moshe is originally from Edison, and Michelle from Florida.
Moshe, who was a software engineer at Meta, is looking for a new software engineering job in Israel. Michelle was working as a social worker and hopes to go back to work after taking some time to settle in.
The Siegels have many close family members in Israel, such as Michelle's parents and sister and three of Moshe's siblings, which influenced their decision to make aliyah. Michelle stated that she and Moshe made the decision to move now because she wanted to raise Shmuli in Israel.
Michelle jokingly noted that she "is most afraid of opening a bank account" when she arrives, but anticipated that NBN "would be extremely helpful to her along the way, as it has been since the beginning."
On a more serious note, Michelle stated, "we always say we'll come home, but we're finally really coming home."
As to the 45 future lone soldiers on the flight, NBN stated that they "will join the 3,500 men and women from around the world who are currently serving as part of the FIDF-Nefesh B'Nefesh Lone Soldiers Program. The majority of the future lone soldiers on today's flight are part of Tzofim-Garin Tzabar, a Friends of Israel Scouts program, who before and throughout their military service are adopted by Israeli communities that serve as their home away from home. Their absorption period includes ulpan Hebrew studies, educational tours in Israel, introduction to the military structure and the different positions."
Aliza Amiel from Teaneck, also a graduate of Ma'ayanot, is one of those on the flight participating in the Garin Tzabar program. While Aliza's parents and siblings remain in America, her family is thrilled at her decision to make aliyah and feel that she is the trailblazer for their family. Aliza hopes that her move will inspire them to also make aliyah.
As to the NBN process, Amiel noted that it has been indispensable. "Having an aliyah supervisor help me through the process was extremely helpful. Although there is a lot of paperwork involved in making aliyah, NBN made the process a lot easier for me."
Another Garin Tzabar participant is Adam Kadouri, who graduated from Livingston High School in 2023. Kadouri's parents are Israeli, having moved to America many years ago. Although many of Kadouri's friends are now deciding where to go to college, Kadouri decided to make aliyah and serve in the army. Kadouri stated that he always wanted to take the charter flight because "it's different than any normal flight. It's very energetic and makes you happy."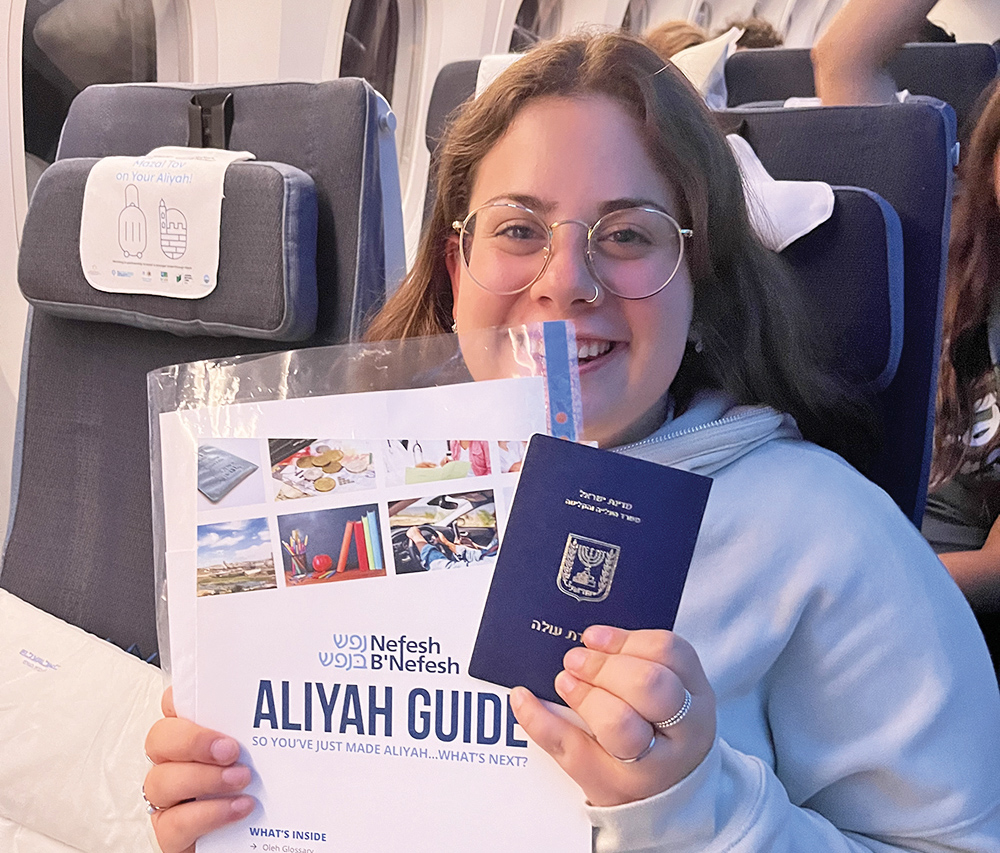 When we finally landed at Ben Gurion, Minister of Aliyah and Integration Ofir Sofer greeted the olim on the plane with welcoming words (in Hebrew!). As I descended the stairs attached to the plane with the rest of the olim, I shed my first tears upon seeing a photographer lying on her stomach. It took me a moment to realize that she was trying to capture the emotion of the olim as they kneeled to kiss the ground.
Finally, the olim made their way from the tarmac and through the airport, where they were greeted with festive music and dancing. And then, they made their way home.
All of whom I spoke to on the flight praised NBN's help in navigating the aliyah process. In this regard, it should be noted that last year NBN initiated a pilot program with the Ministry of Aliyah and Integration and the Population and Immigration Authority and gave out Teudat Oleh (immigration certificates) on the plane, as opposed to completing this process at Ben Gurion. For the first time on this flight, the opportunity to complete the immigration process in this fashion was extended to all of the passengers.
In addition, I and other members of the press had the opportunity to tour the beautiful NBN state-of-the-art Aliyah Campus, located in the heart of Jerusalem where, most notably, a wedding was held last year.
At the campus, we were greeted by Fass and Gelbart. Fass explained the several different stages of NBN's growth and evolution. From its early days of focusing on micro-level aliyah dreams for individual families, to addressing national concerns in Israel by being a catalyst of change, NBN is now looking at the next 5-10 years, concerning broader issues related to the aliyah process.
NBN then took us on a tour to see several olim-owned businesses, one of which was Mojo's, owned by Tzvi Maller. Mojo's is a very delicious upscale bistro pizzeria with a modern twist, located near the Machane Yehuda shuk. Maller is no stranger to our area, as he at one time was an owner of Sushi Metsuyan in Teaneck, as well as Nobo, which Maller stated will reopen in the next few weeks as Mojo's.
Lastly, it should be noted that the flight was brought in cooperation with Israel's Ministry of Aliyah and Integration, The Jewish Agency for Israel, Keren Kayemeth LeIsrael (KKL), Jewish National Fund-USA and Tzofim-Garin Tzabar.
---
Judy Falk is the creator of the Upper West Side Shtetl Facebook group and can be found on Instagram @upperwestsideshtetl.