Netanel Katz was born an entertainer. As a kid, he always loved making people smile and laugh. He's maintained that passion and always looks for opportunities to make those around him a bit happier.
"I've just always loved making people smile," Katz shared with The Jewish Link. "I love seeing their faces light up."
When it came time for his bar mitzvah chesed project a few years ago, Katz knew his project needed to somehow include this passion. And so, at the peak of COVID, at the age of 12, Netanel donned a clown costume from the previous Purim and jumped aboard a red tricycle his father had bought his mother for Mother's Day. Although his mother would not be caught dead riding that tricycle around Teaneck, Netanel decided it was the perfect vehicle with which to launch his bar mitzvah project.
Dressed in full gear and riding atop the tricycle, he began leading drive-by car parades throughout the Bergen County area. As crowds were unable to gather for simchas and birthdays, the parades served as the perfect socially distanced celebration.
And thus Simcha on Wheels was born.
"I hooked up a speaker to my tricycle and would lead the cars in the parade," Katz continued. "It was a lot of fun for a good cause. As a result of the parades, I was able to raise over $5,000 for Tomchei Shabbos. It was beyond incredible. One parade celebrating Rabbi Steven and Karen Pruzansky's aliyah to Israel even had 300 cars! Afterwards, people would come up to me and say how much fun they had, how much joy I was able to bring them during the difficult years of the pandemic. It was because of that feedback that I knew that I could grow my passion into something bigger."
And so, after his bar mitzvah had come and gone, Katz continued working Simcha on Wheels, which he has expanded to now include large events. He's grown a team of DJs, motivators and lighting specialists to up the level of production at his events.
"There are some pretty cool things we're able to do now," Katz continued. "We bring energy to bar and bat mitzvahs, concerts, schools, camps, shabbatons—you name it. I even have my own special effects team!"
Katz approaches each event as its own unique project, running through all avenues to ensure it's the best party possible. He gives tons of advice to his clients, connects them to other vendors and tightly coordinates the schedule of the event. He is there for his clients along each and every step of the way.
"One of the things we focus on is making sure no one is left out," Katz continued. "We go out of our way to get everyone on the dance floor and into the party. I've had parents come up to me saying this was the first event at which their kid danced. That's the best thing in the world that a person could say to me."
In a testimonial, Chevee Hein shared, "Netanel was pure fire at our son's bar mitzvah. He motivated the boys in the best way possible, and made my son feel like a million bucks. I can't recommend him enough!"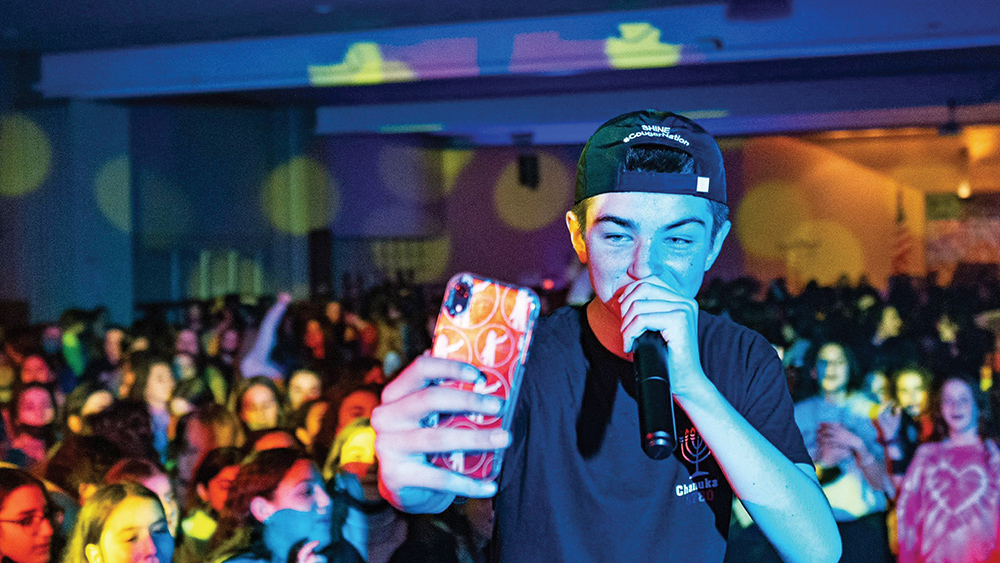 Katz is currently gearing up for a busy September. Within the next few weeks, he will be running almost 10 events.
"Netanel is a rockstar!" Noam Spinowitz shared in a testimonial. "From the first phone call in planning the event to his preparation on the day of the simcha, to his clean-up, Netanel and his team are the epitome of menschlichkeit. Once the first beat drops, Simcha on Wheels comes alive and keeps the party going until the last guest leaves."
For his concerts, he's often working with established singers like Morchechai Shapiro, Simcha Leiner, Joey Newcomb and Benny Friedman. Netanel even made it to Times Square this past February for the annual Chabad/CTeen shabbaton in the heart of New York City. He's performed solo at Frisch, Yeshivat Noam, Manhattan Day School, SAR Academy, Camp Morasha, Yachad and Camp Simcha events and many more. Netanel is also often called to do engagement parties. He plays lively music and pumps up the crowds.
"This is what I eat, sleep and breathe," Katz went on to say. "I love what I do, and it's such a privilege that my work means making people happy. It's incredible to say that I've performed for crowds as big as 5,000 people and have even been flown out to places like Cleveland to perform. If you have an event or party coming up and need someone to bring the energy, I hope you'll give me a call!"
To learn more about Simcha on Wheels, visit Netanel's Instagram page, @simchaonwheels. To book an event, email [email protected], or call 917-985-0167.
Adam Samuel is a journalist from Teaneck. He blogs at www.adamssoapbox.com.