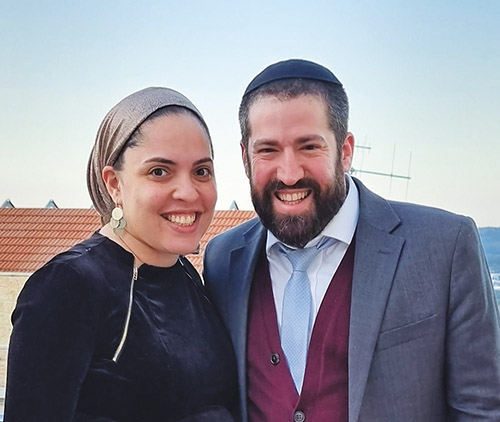 After receiving his BA in philosophy from the University of Illinois, Rabbi Matt LeVee spent three years in Jerusalem where he advanced his education in Jewish studies at Schapell's/Darche Noam Yeshiva. During weekends off, Rabbi LeVee would go on dates, hoping to find his future wife. One afternoon when he entered the kitchen in his yeshiva, he was approached by the cook with whom he had never spoken. She had a match in mind for him. He was busy dating another woman, but she was so certain that her match was a good fit that she told him, "When it doesn't work out you will let me know." Rabbi LeVee would eventually go out with the woman, Sheli—who also happens to be the cook's daughter—and the rest is history. Nearly 10 years later, the couple are living in Ramat Bet Shemesh and are the proud parents of four young children.
The two come from very different backgrounds. Sheli, who is five years his junior, grew up in a Sephardi home in Israel while Rabbi LeVee grew up in an Ashkenazi home in California and Chicago. It is communication that Rabbi Levee says is the most important element of his marriage, and a vital ingredient he believes is missing from so many relationships that are just beginning, especially between couples that meet through shadchanim. It is for this reason that he and his wife co-founded a dating platform called GamZuli, together with their business partner Yoni Rhine, in order to address flaws in the dating system and to give singles control over their dating decisions from the start of the process.
Before making aliyah in 2022, Rabbi LeVee and Sheli lived in Washington Heights. As the rabbi and rebbetzin of a shul with a large singles community, the two would spend hours each week receiving calls from congregants with inquiries about potential matches. Rabbi LeVee explained that it was during these years that he became deeply aware of the problems with the system, noting that so much conversation about potential matches was happening about the man and woman but not between them. "Sometimes I just felt this type of communication is so indirect," he said. "I'm supposed to describe whatever I think about the guy and hopefully that message is correct. It seemed like a level of separation."
It was shortly after the couple made aliyah that they decided to turn their frustrations into a practical solution to address the challenges they witnessed, and that is how GamZuli was born.
Rabbi LeVee explained that the platform was designed with the intention "to empower all Orthodox singles to meet." It is powered by an algorithm that sends subscribers matches according to a series of questions they answer when creating a profile. When two people match, their first meeting is a 15-minute video chat on the platform. According to Rabbi LeVee, this feature allows the man and woman to become acquainted with one another through direct communication. If the two decide that they want to meet in person, they can communicate directly with one another or make arrangements via a shadchan. Rabbi LeVee hopes that the format of the platform will empower more couples to communicate directly with one another and feel empowered to make their own decisions.
He emphasizes that the uniqueness of the site lies in the intake form that powers the algorithm. The questions, which are scaled, reflect "who you are and what values are important to you," he said. Questions reflect an individual's motivation for prayer and religious study, attitude towards material wealth and spending, dominant personality traits, and more. "The questions we ask give us a more well-rounded sense of an individual," he added. "I think we do that better than anything else out there."
When asked whether this type of questioning still places too much focus on "checking off the boxes" rather than on the deeper character traits of two individuals who may come from different backgrounds yet share similar values and a chemistry that cannot be captured by an algorithm, Rabbi LeVee is quick to explain that the system was designed with a large degree of flexibility and with the understanding that a good match is not based on an exact science. "The design was intentional that you will get matches that may be outside the box yet still within the core values," he said.
Since its launch one month ago, GamZuli has garnered some 500 subscribers in eight countries. Rabbi LeVee is committed to keeping the platform at no cost. He has plans in place to build additional features into the platform to encourage further opportunities for interacting and meeting, such as a global calendar listing events around the world and a forum for singles to share ideas on a variety of topics.
"Ultimately, we want to help people," the rabbi said.
For more information visit https://gamzuli.com/
---
Alisa Bodner is a Fair Lawn native who immigrated to Israel a decade ago. She is a nonprofit management professional who enjoys writing in her free time.