One of the best kept secrets in the Jewish community is the activity of shomer Shabbat Boy and Girl Scout troops. Many of us look forward to the annual sales of Girl Scout cookies or perhaps have read about a local boy attaining the rank of Eagle Scout, but that is the extent of the knowledge of much of the community. Current statistics show that nationwide only approximately 10% of youth participate, or have participated, in scouting. The number is significantly lower in the observant Jewish community.
In scouting, skills can be learned that simply aren't available anywhere else. Leadership, in combination with true life skills that are learned hands-on, are skills that our world needs more of. Some things just can't be learned from books or the internet.
Shomer Shabbat scout troops were created to eliminate all barriers to entry for young men whose observance of the Boy Scouts' 12th point of the scout law, "A Scout is Reverent," includes observing:
The Jewish dietary laws at all times (kashrut)
The Sabbath from sundown Friday to nightfall on Saturday (Shabbat)
Daily prayer services in the morning and afternoon/evening (tefillah)
Opportunities for ongoing religious learning (limudei kodesh)
Modesty in dress, behavior, speech and thought, especially with regard to the interaction between males and females, guided by religious law (tzniut)
Rabbi Avi Hoffman, assistant rabbi at West Orange's Congregation Ohr Torah said, "My mother convinced me to attend my first scout meeting and I was immediately hooked. I'm still close friends with some boys I met that night! It exposed me, a Brooklyn yeshiva boy, to the natural world and to skills I might never have learned elsewhere. Where else can Jewish teenagers build and cook over an open fire, construct a functional monkey bridge, train for a mile swim, and practice CPR all in one day?" He joined right before his 12th birthday, became an Eagle Scout at 17, took a brief hiatus, and then went back to scout camp in the summers of 2018-2019 and 2021 as an assistant scoutmaster.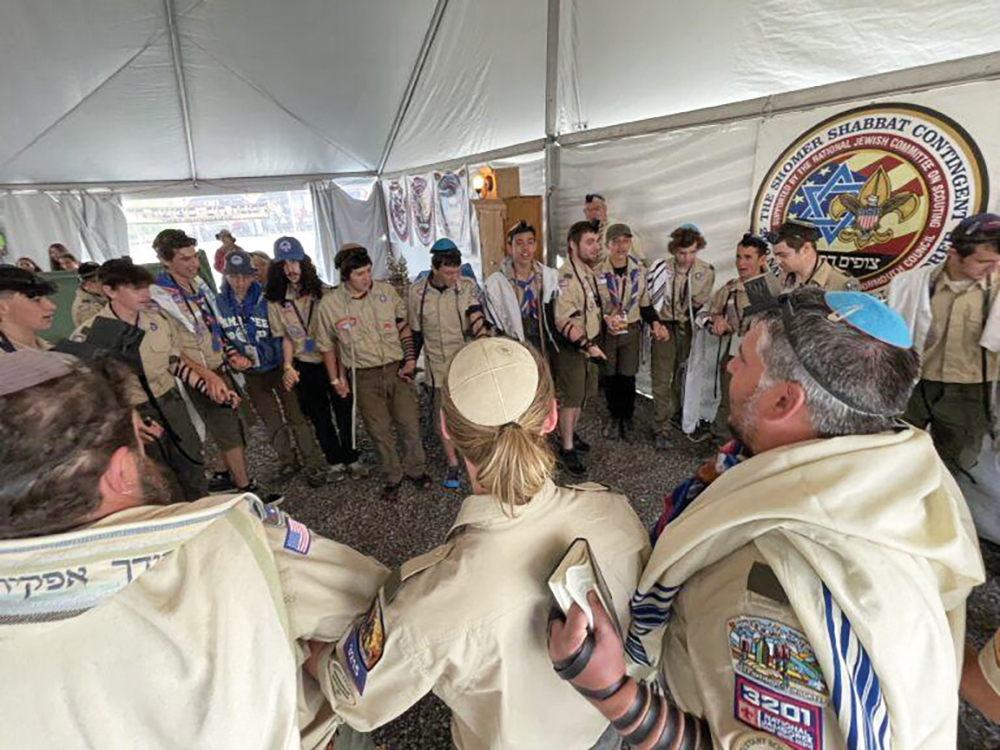 Scouting has had an impact on Hoffman. "I used to be terrified of water. I hadn't gone swimming in scout camp since I completed my early swimming requirements, but one summer I vowed to overcome my fear. Over two weeks I earned lifesaving, kayaking, canoeing, sailing and rowing merit badges, completed the mile swim award, and became BSA lifeguard certified. Since then, I spend almost all my time in scout camp at the waterfront and I've never looked back."
This summer, over 15,000 scouts and leaders attended the National Scout Jamboree of the Boy Scouts of America (BSA) at the Bechtel Summit Reserve in West Virginia. In order to enable shomer Shabbat youth and adults to attend, two special Jamboree troops (one for boys, one for girls) were established. About 45 scouts and leaders from six states and from Israel joined these troops, which enabled them to participate in the Jamboree while observing Shabbat and kashrut.
In order for everyone to get to know each other prior to the Jamboree, the participants spent a week at the Forestburg Scout Reservation (near Monticello, New York) beginning on Sunday, July 9. On the following Sunday, they began making their way south to the Jamboree. On Sunday and Monday nights, the contingent stayed at the Berman Hebrew Academy in Rockville, Maryland and toured sights in Washington on Monday. They then stayed at Congregation B'nai Jacob in Charleston, West Virginia on Tuesday night, enabling them to arrive at the Jamboree early Wednesday morning, July 19, when the 10-day Jamboree began.
To accommodate the needs of the shomer Shabbat contingent, the BSA built an eruv and erected a large synagogue tent, at which daily services, open to all participants at the Jamboree, were held. Hoffman, who served as one of the Jamboree's two Jewish chaplains, pointed out that there were several hundred Jewish scouts at the Jamboree, but that most (other than the members of the shomer Shabbat group) were not Orthodox. Nevertheless, many of these scouts found their way to the synagogue tent for daily services, and the tent was often filled close to capacity. Hoffman found the services on Tisha B'Av night especially memorable, as many of those gathered in the tent had never experienced it before. "Many non-Orthodox and non-Jewish scouts had questions and conversations with me and our shomer Shabbat scouts. They created a massive Kiddush Hashem, and I am so proud of them."
The additional synagogue attendees included three boys who had never celebrated their bar mitzvahs and chose to do so at Jamboree. On a Monday morning they were called up to the Torah and the group sang and danced with them. Cookies were served for a bar mitzvah "seuda" after davening, and the three boys were given "Shomer Shabbat Contingent" patches as bar mitzvah gifts. One of the boys was particularly moved by the ceremony and returned to the synagogue tent for other minyanim and even wore a kippah for the rest of Jamboree.
Among the participants in the shomer Shabbat troop was Daniel Chazin of Teaneck (who writes the Take a Hike column for The Jewish Link). Chazin pointed out that although hiking was not one of the activities offered at the Jamboree, the scouts had to do quite a bit of walking to get to the various activities that were offered. This was Chazin's 10th National Scout Jamboree, but the first in which he participated as a member of the shomer Shabbat contingent. "The Jamboree is a wonderful opportunity to meet scouts and scouters from all over the country," said Chazin, "and I'm so glad I was able to attend." Chazin also helped staff the booth of the National Jewish Committee on Scouting (which he serves as secretary) at the Jamboree.
Steve Springer of Highland Park holds leadership roles in local shomer Shabbat Girl Scout, Boy Scout and Cub Scout troops. "Being observant shouldn't prevent the troop from participating in everything scouting has to offer." In recent years, for example, the shomer Shabbat Girl Scouts have participated in horseback riding, woodworking, robotics, community service, photography, archery and, of course, selling cookies.
The advent of the new school year is a perfect time to look into scouting. Springer noted that both scouting organizations have similar goals: to provide leadership skills, character development and self-confidence to participants.
Hoffman has the following advice for those unsure whether to try scouting, "I'd give them the same advice my mother gave me when I was almost 12—just one meeting! Scouting might not be for everyone but it would be a shame to miss out on scouting's benefits without ever trying it. Scouting has so much to offer Jewish kids, especially those in Jewish schools. It rounds off yeshiva education beautifully and facilitates growth in a way that can't, or doesn't, happen in any other environment."
Locally, there are shomer Shabbat Boy Scout troops in Teaneck, Highland Park, Brooklyn, White Plains and West Hempstead, New York. For more information, contact the troop leaders: Daniel Chazin, [email protected] (Teaneck); Sheldon Freidenreich, [email protected] (Highland Park); Marco Pariente-Cohen, [email protected] (Brooklyn); Rob Weber, [email protected] (White Plains); or Lon Samuelson, [email protected] (West Hempstead). You can also contact Hoffman at [email protected]
---
Deborah Melman is a staff writer at The Jewish Link.