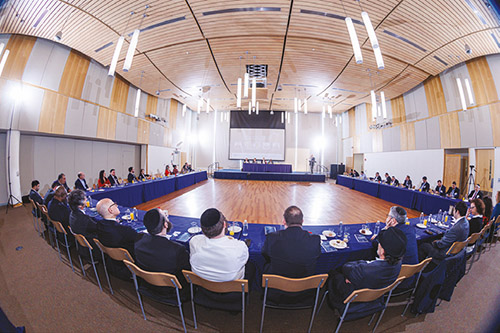 The New Jersey Jewish Business Alliance hosted its Economic Development Forum on March 1, 2023 at St. Peter's University Skyroom in Jersey City. Participants from varying industries converged to discover how businesses survive and thrive in the current economy. With a constantly changing economic climate and unpredictable future, the importance of this forum was profound. The forum was well attended, beneficial to all and a true success.
David Rosenberg, Founder and Executive Director of the NJJBA, welcomed the guests and thanked the sponsors and presenters of the event.
In his opening remarks, Event Chairman Maksim Sheyn, senior vice president at Citizens Bank and a member of the Board of Directors of the NJJBA, mentioned that he hopes this panel will "infuse some optimism in the current conditions and future conditions of the US markets."
The panel, moderated by Gary Minkoff, professor at Rutgers Business School, discussed key points to assist small businesses to achieve expansion and profitability in these challenging times. Ted Zangari, a member of Sills Cummis and Gross P.C., recommended that business owners conduct a stress test to identify vulnerabilities in a company, and emphasized that now is a good time to invest in clearing any discrepancies. Daniel Stolz, bankruptcy attorney and partner at Genova Burns, explained how there can be benefits for some or all parties within bankruptcy cases. Sheon Karol, managing director of Hilco Corporate Finance, recommended that to stay advanced in this unstable environment, it is worthwhile for business owners to invest in technology. Christopher Philips, senior vice president at Valley Bank, explained the role banks play in business loans and debts, highlightinging that businesses should make sure their debt service coverage is covered and that cash flows are set up correctly.
At the event's conclusion, the audience were given the opportunity to pose their own questions to the panelists and receive expert guidance and opinions.
The NJJBA is proud to once again have hosted a panel of high caliber specialists to advise and direct businesses and professionals.
For more information, contact us at [email protected]
By Miriam Olsberg