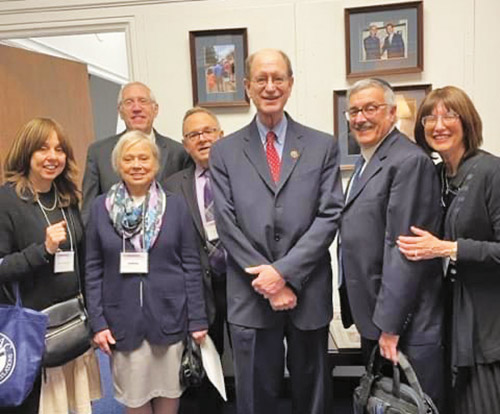 On May 10, NORPAC held its first in-person Annual Mission to Washington since 2019. Hundreds of citizen-advocates, mostly from the greater New York/New Jersey area, discussed upcoming legislation supporting a stronger U.S.-Israel relationship in small group meetings with many members of Congress and their staff.
After early morning departures from their home communities, all participants began their activities with a plenary session at the Warner Theater. Sen. Ben Cardin (D-Md.) opened the session. "We're celebrating the 75th anniversary of the State of Israel and Harry Truman's decision to recognize the young state, against the advice of his own State Department. This established a special relationship between the United States and Israel, which enjoys strong support in the House and Senate, among Democrats and Republicans, from the executive branch and presidents to the legislative branch.
"What I love about NORPAC, what I love about our activism, is that we've been able to maintain that strong mainstream support in the American political system, recognizing the importance of that relationship, based upon common values, a love of democracy, human rights, liberty and peace. That relationship is strong today." Cardin continued: "We cannot take it for granted; that's why you're here. Your lobbying is critically important to maintaining close ties so we can support security assistance, Iron Dome, Abraham Accords, and strengthen peace in the Middle East."
Sen. James Lankford (R-Okla.) stated: "I am honored to serve as a chairman of the Abraham Accords Caucus. There's remarkable interaction happening. I met with Moroccan leaders about Israel and Morocco. They noted many Jews came from Morocco and are rediscovering their Jewish heritage. The UAE built a synagogue, The Abraham House, brought a rabbi to Abu Dhabi and declared, 'We're open to Jews.' With remarkable steps on economics, water, energy and national defense, we encourage normalized relationships not only in the region, but around the world."
Lankford asked: "Why not continue to encourage normal relationships with a great nation like Israel? We have a friend and ally in Israel. We need to be very clear on the world stage and in our own country. When we speak on antisemitism or the future prosperity of Israel and the United States, it's to our benefit to continue this ongoing dialogue."
Senate Foreign Relations Chairman Robert Menendez (D-N.J.) tackled Iranian issues. "It seems to me a country with one of the world's largest oil and natural gas reserves doesn't need nuclear domestic energy," he said. "I am the architect of most of the sanctions to get Iran to stop its pathways towards nuclear weapons, which led us to negotiation but unfortunately, a bad negotiation.
"I led a vigorous fight against the JCPOA [Iran nuclear deal] because I thought it's wrong for America, wrong for Israel, wrong for national security interests in both countries," Menendez continued. "We didn't succeed. Simply seeking to contain Iran isn't a solution. That agreement has done nothing to Iran's proliferation of missiles or its long-term nuclear program. Its proxies destabilize the entire region and threaten our ally, Israel. Not only did I oppose it and vote against it, but I also continuously worked to understand; there needs to be a better plan.
"I advocate for plan B, to send a very clear message to the Iranians," the New Jersey senator said. "Don't think of crossing the threshold towards nuclear weapons because the consequences will be devastating. What does that mean? It means having a mutual missile defense system with Gulf allies. Iran must understand it's not just Israel and the United States, countries joined together in common cause against Iran."
"Israel and the U.S.: A 75-Year, Mutually Beneficial Relationship" headed the mission's agenda. House Resolution 311, celebrating 75 years of Israel's independence, passed the House 401-19 just before Yom Ha'atzmaut. NORPAC is asking for Senate co-sponsorship. These bipartisan resolutions support strengthening U.S.-Israel relations in all areas and expanding Israel's peace with its Arab neighbors through the Abraham Accords, and oppose international discrimination against the Jewish State.
An annual issue is American security assistance, with FY24 appropriations for $3.3 billion in security assistance and $500 million for missile defense programs, like Iron Dome, without added conditions and sponsorship of the U.S.-Israel Future of Warfare Act (H.R.1777).
On Iran, NORPAC encourages the administration to continue increasing pressure on Iran through sanctions, diplomatic isolation and development of a credible threat of military action. H.Res. 288 encourages the European Union to designate Iran's Islamic Revolutionary Guard Corps (IRGC) a terrorist organization, and H.R.2973/S.1334 (the Maritime Architecture and Response to International Terrorism in the Middle East Act of 2023) builds on the Abraham Accords, requiring the Department of Defense to develop strategies with Middle East partners to counter Iranian maritime threats.
The final bill, The Peace and Tolerance in Palestinian Education Act (H.R.2374), seeks reduction in terror incitement.
To learn more about NORPAC, visit their website: https://norpac.net
By Judy Berger