Camp Nesher is one of the beneficiaries of the campaign.
Last week was a big week for NJY Camps as philanthropists and longtime supporters Bruce and Roz Nussman of Englewood announced The Nussman Scholarship Match Campaign. The campaign is expected to bring in significant gifts to provide scholarships for children who wish to attend NJY Camps, with Camp Nesher as one of the recipients of this incredible opportunity.
The Nussmans will match donations up to $100,000. Donations made under $1,800 will be matched 1:1, while donations $1,800 and up will be matched 2:1, effectively tripling those gifts.
This announcement was made right after the dedication of the Nussman/Pargot Rec Center at Cedar Lake, another NJY Camp, which had been donated by the Nussmans to honor their dear friend Larry Pargot. Calling it "A building that celebrates KINDNESS, FRIENDSHIP and LEADERSHIP," the space will be shared by both Cedar Lake and Round Lake, a camp which offers an inclusion program for kids with special needs between the ages of 7 and 17 years old.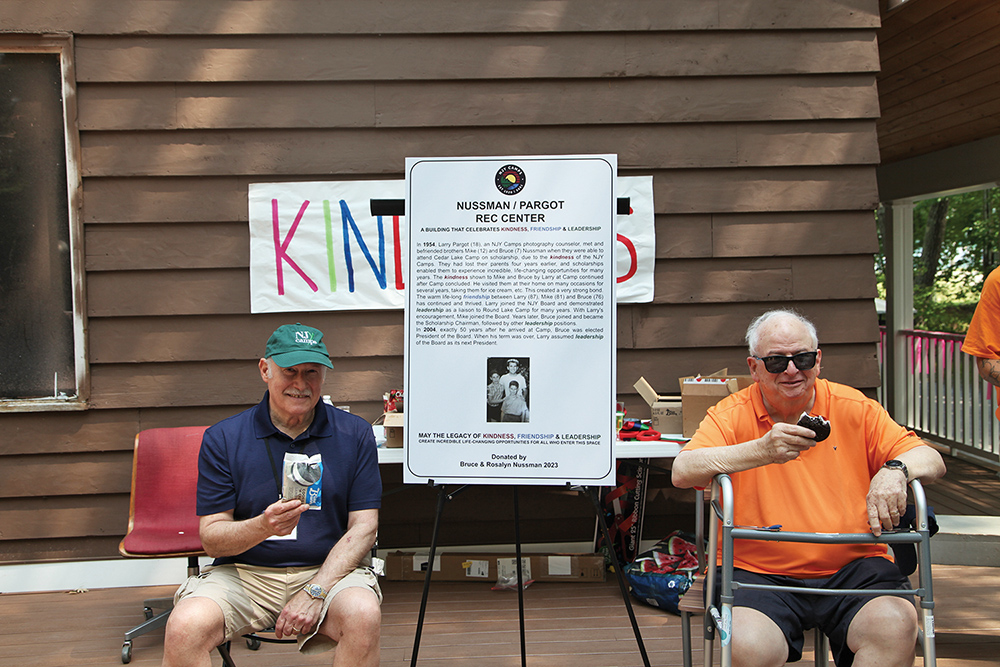 "When a child comes to a Jewish camp, it's not only the child who is coming but it's the whole family. That ability to be part of a kehillah, to be part of a Jewish community in the summer extends throughout the entire year, and at Camp Nesher in particular, we want to make sure that children who need to go to camp get to go to camp," explained NJY Camps CEO Michael Schlank.
"During the early years of Camp Nesher, I often found myself in awe of the Nussmans' seemingly endless dedication of both time and resources extended to the other NJY camps," shared Jeff Braverman, Director of Camp Nesher. "With the announcement of this scholarship match initiative, Roz and Bruce have elevated their ever-flowing generosity to even greater heights, now including Camp Nesher and its community—I am personally both humbled and honored that they have chosen to do so. They exemplify what it means to be true and authentic ba'alei chesed."
To be sure, however, this is not your average campaign. For the Nussmans, this cause has a much deeper meaning, and its origins were 70 years in the making.
Back in 1954, 7-year-old Bruce Nussman and his 12-year-old brother Mike were living with their grandparents in Belleville, New Jersey, after suffering the loss of their parents four years earlier. While Belleville had enough Jewish people to warrant a synagogue with a modestly sized congregation, the two brothers were certainly a minority in their schools, which were primarily populated with children of non-Jewish Italian families. They had very few Jewish friends.
Mike was the first brother to receive the incredible opportunity of a scholarship to attend Cedar Lake Camp, a Jewish sleepaway camp, followed by Bruce a few years later.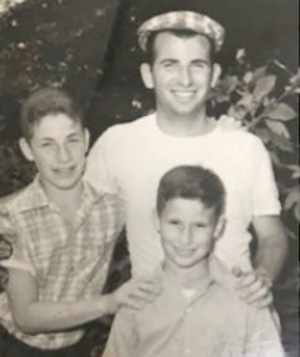 When their grandmother brought the boys to the Newark Y to board the bus that would whisk them off for the summer, she approached a young man named Larry Pargot, an 18-year-old photography counselor for NJY Camps. Roz Nussman shared how Pargot remembers the boys' grandmother coming up to him and asking him to please look after her grandsons, which he did during camp … and long after camp had ended. Pargot regularly visited the boys at their grandparents' home, sometimes just to take them out for ice cream. They formed an incredible bond of friendship, and 70 years later, that friendship is still going strong.
"That was really the beginning of that relationship. It showed how this young man went above and beyond for these two boys. The entire NJY experience transformed Bruce and really changed the trajectory of his life," Roz added.
Bruce spent 10 summers attending Cedar Lake Camp on scholarship, and those summers had a profound impact on him. "Being in camp with kids who were all Jewish, and engaging in sports and other activities that were not necessarily available in Belleville was just a great experience, and it meant a lot to me."
Bruce went on to become a successful attorney. His brother Mike retired as head of human resources at New York Law School, while Pargot enjoyed a long career as a Guidance Counselor.
Roz marvels at the empathy and kindness the Nussman brothers and Pargot possess. "Even though their story is unique, the virtues of kindness, friendship and leadership are timeless, and we certainly hope that others will walk in the paths that we have laid down," she said. "We are firmly committed to doing everything we can to make sure that as many kids as possible can go to NJY, because it was an amazing, life-changing experience for Bruce and his brother."
"Going forward I tried to pay back as much as I could by serving on the board," explained Bruce. When he was asked to serve as the chairman of the board's scholarship committee, he decided to create a more effective and significant program. He wrote a letter about his experiences, talking about the effects that camp would have on children, especially for those who could not afford to attend. His letter had the desired effect and because of it, a substantial amount of money was raised.
In 2004, 50 years after his grandmother put him on the bus to go to camp when he was 7, Bruce was elected president of the board. Pargot followed and became President right after him.
The summer of 2024 will mark 70 years since Bruce came to NJY on scholarship. It will also be the first year that NJY campers get to take advantage of the Nussman Scholarship Match campaign. "This scholarship initiative is allowing us to get back to our emotional and financial philanthropic roots," said Roz. "We are really delighted and blessed to be able to do it."
"We're really proud of this," said Schlank, the NJY CEO. "We are so thankful to the Nussmans' generosity. They are real baalei tzedaka, and we are looking forward to seeing children get the opportunity to attend camp who might not otherwise. We are also looking forward to other folks taking up this mantle and making similar gifts.
"This campaign not only provides us with an amazing opportunity to leverage their philanthropic endeavors but also to create the impetus for other people to follow in their footsteps, and because of the way this match is set upm it does that in so many important ways," added Schlank. "It ensures that Jewish children, from all backgrounds, will be able to, like the Nussmans and Pargots, form lifelong friendships at camp, regardless of their financial means."
"Bruce Nussman went from being a scholarship recipient to being the chairman of the scholarship committee and eventually the president of the whole organization," said Will Eastman, chief development officer of NJY Camps, who calls it a tremendous story about giving back. "Kids need a meaningful Jewish experience, so that they grow and they marry and they live Jewishly," he explained. "Jewish camps are one of the keys to the Jewish future, and these scholarships are a way to get more Jewish kids into camp."
"I am hopeful that this initiative will help spur others on to further support our mission of offering children the transformative magic of a Camp Nesher experience, regardless of financial ability," added Braverman, the camp's director.
To contribute to this wonderful cause visit https://campnesher.org/200for200/
To learn more about Camp Nesher visit https://campnesher.org/
To learn more about NJY Camps visit www.njycamps.org