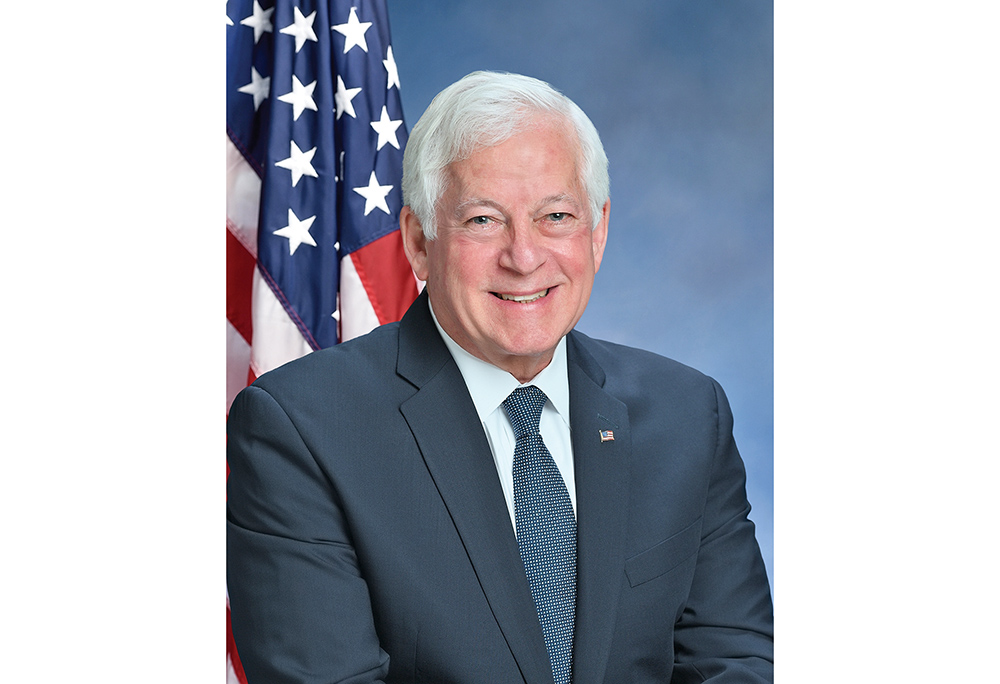 Nassau Assemblyman Charles David Lavine (AD-13) is an outspoken legislator, especially in his support of the US-Israel relationship and his Jewish constituents. Lavine leads the National Association of Jewish Legislators' (NAJL) New York chapter and is a member of its National Board of Directors. Originally established to help pass legislation enabling Holocaust survivors to receive German government reparations, NAJL addresses many issues affecting Jewish communities.
Amid a rise in anti-Israel sentiments and New York's rising antisemitism, Lavine expressed, "Since Trump's election, people who would've been too fearful to express overt, anti-Jewish attitudes were enabled and legitimized. It's hard to imagine one person could make a difference. If that person is president of the United States, it makes a huge difference." Lavine continued, "I will be 76. I have seen antisemitism; I grew up as the only Jew and have first-hand experience. I didn't think I'd see that again. I didn't think our children and grandchildren would have to worry. That changed dramatically with Trump's election."
He added, "We've always had some Jew-haters in government. In our state, the Democratic Socialists of America have an anti-Israel policy."
Lavine highlighted 'Not on our Dime,' current anti-Israel legislation introduced in Albany. "It allows anyone to sue anyone who has contributed to anything in Israel. The legislation states anyone who contributes to any entity in Israel supporting West Bank settlements can be sued for damages. That opens up a floodgate to sue anyone who contributes to anything in the State of Israel. The person who made that contribution, even if it isn't going to West Bank settlements in any way, has to get a lawyer and worry about judgments against them.
"One socialist legislator posted on Twitter, 'Free Palestine,' a meme with flowers along Israel's border. Free Palestine means Jews are kicked out."
Lavine continued, "We have a challenge, but I know it's manageable on the legislative side in New York. We also have antisemites in the House of Representatives. My philosophy is, as long as we can talk about these things, we'll be okay."
On CUNY Law School's graduation, he explained, "Students selected a young woman born in Yemen to speak. The speech itself was overtly anti-American, anti-New York Police Department, anti-federal law enforcement and anti-Israel.
"I, along with other legislators, had to take issue with that. My purpose is not to engage in censorship, but what was said was entirely inappropriate for any graduation ceremony. I have no desire to stop them from speaking. I'd be happy to speak with them in a public park or arena about issues, but this was unfair to Jewish students or anyone in that audience who didn't believe in the speaker's view," Lavine said.
A letter from CUNY's Chancellor described efforts for dialogue between students and established a Jewish Advisory Council. Lavine continued, "This issue isn't over. There'll be continued discussions about what Americans can do to make sure that remarks at official functions are appropriate. Our challenge isn't just in New York; it's national. I have colleagues who speak using the same attitudes, basic language and intonation as professional wrestlers. Performance art gets us nowhere, other than allowing those who hate to feel good. We have to talk about what is 'appropriate' to say, not what we're 'allowed' to say. We have to relate civilly to each other."
Lavine offered the following advice for combating antisemitism and having the right message. "Bystanders enable those who want to propagate hatred, agitation and conflict. We have to speak out about these issues and stand firm against those who attack others; it doesn't matter if they attack Jews exclusively.
"In history, we've gone through this many times, even back to Lincoln. The Know-Nothing Party was adamantly against Irish immigration. Laws also kept Jewish and other refugees from Europe out. Democracy gives us a forum and environment to address these issues. We'll never be perfect. If we live up to what the Founders wanted us to, we'll never be horribly imperfect but learn from our mistakes."
New York State has 15-20 Jewish legislators, both Democrat and Republican. They meet during semi-annual National Conferences of State Legislators, "so each of us knows what's going on in other parts of the country. … Jewish legislators throughout the country are fearful of what has developed, great concern about the future and great fear about political figures who believe hate language is OK," Lavine said.
"I thought the Hebrew expression 'Am Yisrael Chai' had been around for centuries, but was first heard when the BBC recorded Bergen-Belsen survivors immediately after the camp was freed. We can say 'Am America Chai' as much as 'Am Yisrael Chai,'" Lavine concluded.
Lavine chairs the Assembly's Judiciary Committee and is a member of the Committees on Codes, Ethics and Guidance, Rules and Insurance.
---
Judy Berger is a community editor and a staff writer for The Jewish Link.