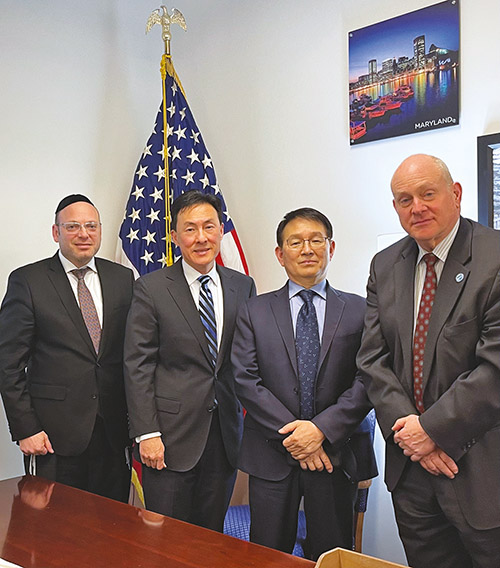 (Courtesy of OJCC) The Orthodox Jewish Chamber of Commerce recently brought its mission of economic development and inter-communal networking to Washington. This followed its success at the state level in establishing N.J. Economic Development Day, which was introduced by the chamber and signed into law by Governor Phil Murphy. The mission hosted a prominent delegation to the Department of Commerce to discuss collaboration. There to represent business interests at the meeting were the presidents of three major chambers of commerce: Duvi Honig founder and CEO of the Orthodox Jewish Chamber; Mark Jaffe of the New York Chamber, and James Kim of the Korean Chamber, along with their teams.
After a private dinner at the Capitol, the business community leaders sat down with Department of Commerce officials for a highly productive discussion. Recognizing the high priority of the chambers' work, the department brought together multiple federal agency leaders, including Deputy Assistant Secretary Mark Keam, head of the National Travel and Tourism Office; Keith Roth, director of the National Trade Administration; John Seo, head of the Office of Multilateral and Strategic Initiatives; and Andrew Rodriguez, assistant undersecretary of the Minority Business Development Agency.
The Orthodox Jewish Chamber of Commerce's role as head of this high profile delegation is in keeping with its year-round leadership in economic development through building bridges between communities and reflects the organization's growing influence within the business world. "It was a great honor for the chamber to lead such a delegation together with our partners," said Honig. "We're excited to continue building bridges and relationships with other countries and other communities."
The Orthodox Jewish Chamber had much to discuss at the meeting. World Trade Month, which is in May, is fast approaching and includes some important dates for the chamber. N.J. Economic Development Day, which the chamber introduced, is the second Monday in May, and the chamber is seeking to guide collaboration between federal and state officials for this important day. World Trade Week takes place in the third week of May; the chamber will hold an event on May 18 where it will bring together heads of trade from all levels of government, from local to international.
The discussion also centered on the unique needs of minority communities and how to bring groups such as the Jewish community further into the economic sphere. As the new millennium economy continues to change at a rapid clip, the Orthodox Jewish Chamber is keeping its finger on the pulse and responding to new issues as they emerge.
The presence at the meeting of representatives of Korean business interests was highly significant. The Orthodox Jewish Chamber is working diligently with South Korea to strengthen economic ties between South Korea and the Jewish community. Honig will chair South Korea's 21st expo, the first being hosted in the United States, this October in California. "I'm honored and look forward to working together on the highest levels," said Honig, "stimulating South Korea and building bridges between their economy and ours."