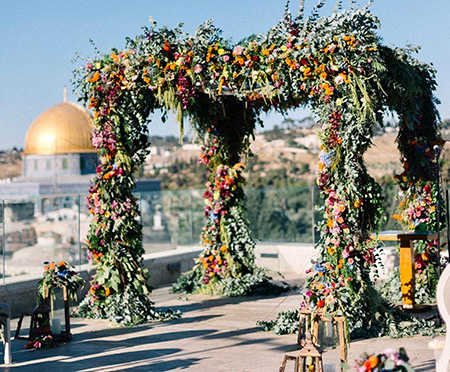 "There is nothing more spectacular and meaningful than making a simcha in Israel," said Penny Rabinowitz, founder of event planning firm Penny & Co. Events, now based in Israel. "It is our history — our homeland!"
Rabinowitz helps English speaking families have the simcha of their dreams in Israel. "Ninety percent of my vendors are olim," she said. They understand what we're looking for — an American-style event in Israel," she said. "They also know that aside from the quality of service we expect them to provide, responsiveness is key when we call them."
People who try to plan a simcha in Israel themselves, with only pictures and general information from websites and social media as their guide, often do not get the result they want. "We know the Israeli vendors and venues and how everything works — or doesn't work," she said. "We know what a place looks like in reality and how it is to deal with their manager. We know how flexible or inflexible the vendors are about doing things the American way. We know the caterers, bands, photographers and videographers and are familiar with the quality of their work."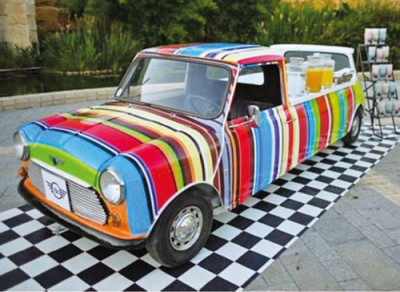 People find Penny & Co. Events through the gorgeous photos and videos Rabinowitz shares on social media. All simchas have beautiful elements, but the look of Rabinowitz's events is more polished, strategically blended and above all, creative. She puts layers of detail into her events and that sets her apart from other event professionals.
Before entering the event production business, Rabinowitz was a graphic designer working in advertising. She brings her artistic sense and ability to integrate elements into a cohesive design, into all visual aspects of an event. She includes a comprehensive design proposal so her clients have a perfect visual of what their event will look like. "Most event planners are not designers," she said. "They hire vendors, present the ideas to clients, and show up a few hours before the event. I do the design, and I'm there setting up from the early hours of the morning and stay until the last guest leaves. I choose the color scheme, floral design and tablescapes. Designing events has become my passion!"
When Alyssa Wilk of Englewood started planning her son's bar mitzvah in Israel in 2019, she knew she couldn't do it alone and turned to Rabinowitz to make it happen. "What I love about Penny is that I had all these crazy ideas and she brought everything to life," she said. "She's an incredible listener. She heard me, she listened and she executed."
Wilk held the bar mitzvah party at the Jerusalem Aquarium, which had never hosted a private event before. Wilk knew the director and had donated the funds for two large tanks in memory of her father who had been a marine biologist. Her son Cooper, the bar mitzvah, had volunteered at the aquarium for a month. "There was no road map, Penny had to create the plan from scratch," Wilk said. "Whatever idea I came up with, Penny executed to perfection."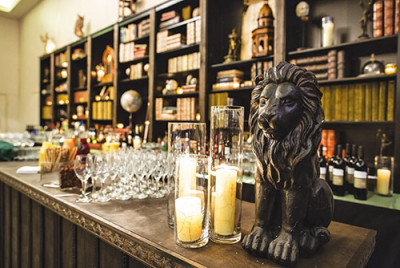 As a play on her son's name, Wilk asked Rabinowitz to design the event around the theme of Mini Cooper cars, specifically one created in 1999 by designer Paul Smith with 86 stripes in 26 colors, and blend it with the marine setting. Rabinowitz replicated the look everywhere — a striped Mini Cooper at the entrance, and a video of Mini Coopers with fins, like swimming fish, projected on the wall. There was a striped Mini Cooper in the entrance. The logo was on the paper goods including guest towels in all the bathrooms, and on pillows. Rabinowitz arranged divers in the fish tanks and actors dressed like fish. Wilk recalled one woman dressed like a seahorse who appeared to be a statue — until she moved.
"Everything moved like clockwork," said Wilk. "There was a cocktail party outside in the courtyard with beautiful décor. Cooper led a tour of the aquarium. Then we went into the main area where a big tank was the background to the dinner. Penny helped me plan an outrageous buffet. Penny knew exactly who the appropriate caterer was for the job. The décor was magnificent with twinkle lighting and candles. She really thought about every detail and followed through. As soon as I said it, it miraculously happened. It seemed effortless; I don't know how she figured it out. And she was a pleasure to work with."
Rabinowitz started her company as Save the Day Events in 1993 and changed the name to Penny & Co. Events in 2015. She made aliyah from Englewood, New Jersey in 2016 and began producing events in Israel. She returns to the U.S. several times a year to make events for clients, most who know her expertise and creativity from using her for their past events. Many bar and bat mitzvah kids have now become her brides and grooms.
Gayle Lewis of Englewood held bar mitzvah parties for her two sons at Congregation Ahavath Torah, both produced by Rabiowitz. "She was sensitive to my needs and my requests and I knew she would be able to capture my vision," said Lewis. "She ran the events; I was literally like a guest." The events reflected each boys' personalities. One was a voracious reader so Lewis wanted a library theme. The place cards were personalized bookmarks that had quotes from famous authors. The bar was a vintage bookcase with faux volumes. The second bar mitzvah was completely different. Lewis Gayle told Rabinowitz she wanted a crisp, clean, modern look. "Penny did all the legwork and brought samples of fabrics for me to choose. All I had to do was say yes or no."
As the business grew, Rabinowitz needed someone to help with the logistics so she could focus on design. She placed an ad on Facebook last December and got over 80 responses. She narrowed that down to 15 and asked those candidates to send a video explaining why they were the right person for the job. "Rena Levin sent her video a half hour later," Penny said. "It was creative, articulate and even had a slideshow in the background! I knew this was my next associate."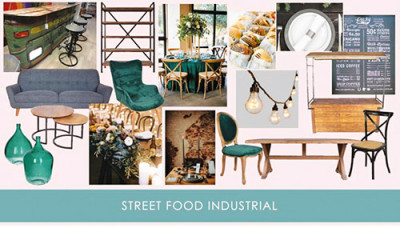 Levin started with Penny & Co. Events in January. She conducts interviews with clients to hear what they're looking for, and Rabinowitz advises her on which vendors to call for information and pricing. When her research is complete, Levin produces comparison charts of vendors for clients to help them choose from four or five options in various budgets.
Levin made aliyah from Teaneck in 2017. She worked for Jerusalem U., a company that changed its name to Open Dor Media, for over two years. Then she moved to the Times of Israel as a project manager and found that the work she liked most was producing their events. She had already made the decision to work exclusively in event management when she saw Rabinowitz's ad. "It's been a huge learning curve, but I love it," she said. "Penny is an amazing teacher and manager. She is so creative; finding solutions is her strength. The more we work together, the more clients we can take on simultaneously. I hope my logistics skills make our team even better."
Follow Penny & Co at https://www.instagram.com/pennyandcoevents and visit www.pennyandcoevents.com.
For more information about making a simcha in Israel or the U.S, contact Penny Rabinowitz, founder and principal creative at [email protected]; in Israel at 058 417 0657, or in the U.S. at (917) 475-0091.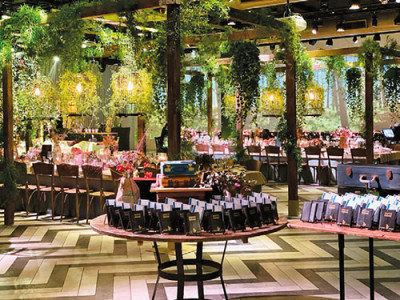 By Bracha Schwartz