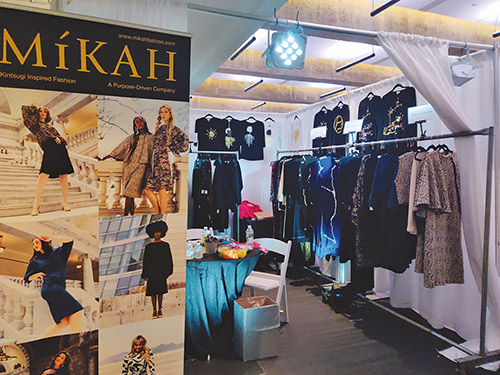 The Promenade trade show has grown into a popular event for modest fashion brands to show their upcoming collections to retail buyers who cater to frum women. Held on April 27-28 at the 2-million-square-foot Bell Works in Holmdel, New Jersey, the show drew over 36 brands and 100 retailers from across the U.S. and beyond, including Israel, Mexico, Panama, England and Canada.
Promenade is organized by Aaron Weiner, an entrepreneur who owns the Level Collection, a women's apparel line, and Two12 Fashion, makers of women's belts. He began Promenade two years ago, after he attended a similar show in Brooklyn, and found it challenging to deal with the logistics of crowded streets and no parking. He decided to create an event that would be easier to navigate and more open, giving retailers the freedom to meet vendors without a set appointment. He has held the twice-yearly show in increasingly larger venues as the number of exhibitors and visitors has increased.
"I wanted an environment that was peaceful and enjoyable for brands and stores," he said in a phone interview. "This year we made it even more welcoming with a hot lunch, open coffee and fruit smoothie bar and snacks in the afternoon. Everyone was in a good mood."
Although the stores are buying from the same brands, there is enough diversity for each store to choose pieces right for their customers. "Each store has its own customer base, tznius level and tastes," said Weiner. "Some are more fashion-forward. There is huge variety within the brands."
Weiner said the show is good for the larger brands, who can reach many of their customers at one time, and for the smaller brands who would never get an appointment with stores on their own. He said his own brand, Level Collection, has developed a loyal customer base due to its original designs and attention to detail by his team of designers.
"Our designers don't just copy what's out there; they start from scratch. They understand our customers. When a woman puts on one of our outfits, she looks put together and sharp. Our clothes are very well made with quality fabric and workmanship. We spend a lot of time making sure the fit is correct. We don't rely on Chinese specs; we do our own specs in-house, with our fit model."
Bracha Aronovich, owner of Suede & Co in Teaneck and Passaic, said it was very helpful to see brands back-to-back and get the whole process of selecting and purchasing done at one time. She enjoyed meeting other store owners, and noted that each booth had curtains that could be closed for any buyer who wanted a more-private experience. She said the show was set up beautifully—and she loved the coffee bar.
Aronovich said there was a great range of styles and prices. She chose some similar and some different pieces for her two stores, and met some new vendors she hadn't known about previously. Asked about any trends she observed, Aronovich said knits were big, and there were lots of midi-length skirts and dresses that look good with boots.
Chanie Koplowitz, co-owner of Flair in Passaic, and owner of Monarch (formerly Ruthie's) in Monsey, said Promenade was a great experience, enhanced by the coffee station. She makes the majority of her purchases at both the Brooklyn show and Promenade. She said she bought a few pieces from new vendors and if they are popular, and good quality, she would order from them again next season. Like Aronovich, she said her two stores have different but overlapping personalities and she bought separate pieces for each store. She observed many floral prints in flowing styles and she saw plaids being introduced.
With his perspective as show organizer, Weiner added a few more insights into trends we will see next winter. He saw retro styles like smocking and high waists. There were lots of prints, as well as monochrome, and metallics in gold and silver. He saw many sets, and lots of maxi dresses, which have replaced the Shabbat robe for Friday-night attire. Weiner noted that his Level Collection makes its own unique prints. As for colors, black dominates but cream is popular.
Organizing Promenade is a big undertaking, said Weiner, but totally worth it when he sees vendors writing the orders. "I took the initiative to start Promenade and everyone joined in. Brands love it; they come back every season. Stores love having all the brands in one place. Rafi Stein, who runs my back office, automated the process so that all promotional and instructional emails go out smoothly and all payments can be done easily on the website. And I'm there onsite, making things happen and making sure everything is perfect. I thank Hashem and my wife, and my team who puts it together."
Weiner said the next Promenade trade show is planned for mid-August, when spring 2023 collections will be unveiled. He is encouraging brands to get in touch soon as space always sells out.
Follow promenadetradeshow on Instagram and visit the website www.promenade-tradeshow.com. Email [email protected] for information. And watch for details about a show for consumers, now in the planning stage.