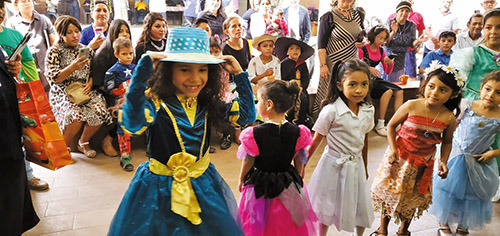 Shavuot night: A time to celebrate receiving the Torah, often spent attending shiurim given by our rabbis and community leaders. But what if your community is one of the poorest in the Americas and can barely afford chumashim and siddurim, let alone a rabbi? Next week, as a participant on YU's Torat Adam Summer Experience (TASE), I will have the opportunity to share Torah with and learn from the communities of El Salvador and Guatemala alongside 35 of my peers.
In preparing for this trip, I have researched the small but strong Jewish communities of the region, and from what I have found, the commitment to Jewish tradition and thirst for Torah learning in these regions is remarkable. Last month, I watched a video clip of a Tekes Maavar in El Salvador, marking the transition from Yom HaZikaron to Yom Ha'atzmaut. It was amazing to see how the community continues to uphold Jewish traditions and culture, as well as a strong love for Israel, despite few having traveled to the Holy Land (because flights are unaffordable). A mezuzah can cost a week's salary, so we are raising funds to try to bring more of them. (You can help us by scanning the QR code in this article). Fortunately, a few community members donated tefillin from loved ones who had passed away so we will be able to bring a few of these with us. We also received a generous gift in memory of Estelle Glass, a"h to help us bring chumashim.
The famous Gemara in Masechet Bava Kama discusses the thirst of the Jewish people in the desert after three days with no water: "Ein mayim elah Torah," they spent three days in the desert thirsty for Torah. The communities which we will be visiting thirst for opportunities to learn Torah and to be able to continue performing the rituals which are central to Judaism.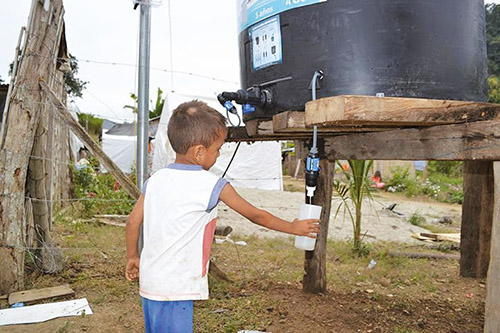 I am excited to learn about the unique culture and traditions of the Jewish communities of Central America, and draw inspiration from their commitment to leading Torah lives; undoubtedly it will give my peers and me a deeper appreciation of our own Jewish practices and the infrastructure that we mostly take for granted.
In addition to the Jewish community's spiritual thirst, there is a physical thirst in the greater region, as safe running water is scarce in many areas. Our cohort is working to raise money for water filtration systems which we will install for the communities that we visit. With your generous donations, we will ensure that close to 300 people per day will have access to a regular supply of drinking water. In many of the schools in these areas, each day begins with the opportunity for the children to brush their teeth because many of their homes do not have a regular water supply, let alone water that is drinkable. Thank you to the dentists who already donated toothbrushes! It's not too late to send more: Contact our program leader, Rabbi Daniel Coleman, at [email protected]. These schools are also frequently the only place where children have access to Wi-Fi so we are asking friends and family to donate used chromebooks or ipads to take with us.
TASE aims to encourage students to participate in meaningful interactions with local communities and inspire a commitment to social responsibility through contributions to sustainable development initiatives and delivery of crucial supplies to local hospitals, clinics and schools. We will have the opportunity to expand our initiatives in Central America because of the ideas and contributions of participants and the broader community. With help from Jewish Link readers, we'd love to satisfy the requests to start a robotics and music program in two schools we'll visit, and provide gym equipment for a third. Be in touch, visit our wishlist at amzn.to/3H7FQ2D, or scan the QR code in this article to partner with us in making their dreams a reality.
As we prepare to embark on this 12 day journey, an excerpt comes to mind from Rabbi Lord Jonathan Sacks' To Heal a Fractured World, the text that will accompany each of us to the region, and serve as a catalyst for inspiration, reflection and nightly discussion. "Goodness is not an attribute of the soul but a way of acting and creating: Creating happiness for other people, mitigating their distress, removing even a fraction of the world's pain."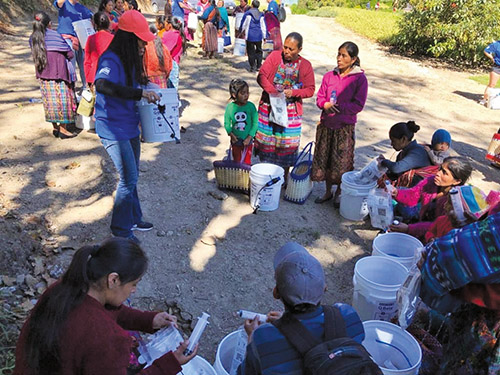 Join us in making a difference in the lives of the Jewish community and greater region, and be a part of removing a fraction of the world's pain.
General donations can be made at www.yu.edu/support/CentralAmericaTrip or by scanning the QR code.
---
Tzivia Major is a rising senior at Stern College for Women. She is studying biology and Judaic Studies with the eventual goal of entering the field of nursing. Contact her at [email protected]