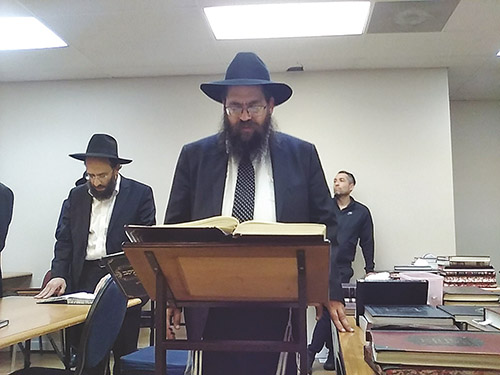 When Rabbi Naftali Bursztyn began studying the Talmud years ago, he became so fascinated with its revelations that he began studying some parts over and over again, each time learning something new.
Twenty-eight years later, after countless hours of study mostly at the Kollel of Manalapan, he reached a milestone by completing his 1,000th siyum, surrounded by others devoted to Torah and Talmud study.
"When I was 6 years old I started thinking about learning Talmud," said Rabbi Bursztyn in a phone conversation, adding that in the few weeks since, he had already completed five more siyumim.
That passion for the infinite and timeless insights of the Talmud have largely been focused on multiple readings of the first two sedarim, Zeraim—which deals with daily prayers—and Moed—dealing with the rituals, observances and laws of the holidays and festivals. Rabbi Bursztyn is now studying the third order, Nashim, dealing with the role of women, touching on such topics as marriage, divorce, ketubahs and societal roles.
"At the end of completing every tractate I have a better understanding of the tractate and more clarity every single time," said Rabbi Bursztyn.
Rabbi David Rosenthal, a Manalapan native and director of the Manalapan Jewish Connection, also studies Torah at the kollel, where he has come to admire Rabbi Burstyn's dedication.
"Through hard work and perseverance Rabbi Bursztyn has finished the Talmud's 63 books numerous times," he said. "I learn near him and see him learning for hours and hours."
Rabbi Rosenthal has been attending the kollel since the age of 12 when he decided to start studying Torah. The kollel, now located in Morganville, offers a special community study program Wednesday nights until 9 p.m. and study from 10:15 a.m. every day except Saturday. Closing is at 6:30 p.m. every day except Friday, when study ends at 1 p.m.
The driving force behind the founding of the Manalapan Kollel, and other kollels around the world, was the late Rabbi Nosson Meir Wachtfogel, known as the mashgiach of the Lakewood Yeshiva, Beth Medrash Govoha.
"The kollel has had a very big impact on our community," said Rabbi Rosenthal. "It has changed the lives of a lot of people. We've had a lot of people who decided to become rabbis because of it, and others who decided to start introducing mitzvot and Torah into their lives because of it."
By Debra J. Rubin