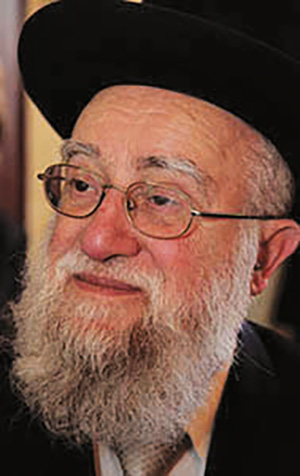 I was saddened this week to learn of the passing of Rabbi Abraham "Abba" Bronspiegel zt''l, a longtime YU/RIETS Rosh Yeshiva and a founding Rosh Yeshiva at Beis Medrash L'Talmud at Lander College for Men. Rabbi Bronspiegel was my rebbe for my first year of RIETS semicha (1995-1996) and that year was probably my best year Torah learning-wise. Specifically, in learning Gemara, it was probably the one I most enjoyed during all my productive years in Washington Heights.
Why, you may ask? To take a step back, let me review my learning history briefly.
Although my rebbeim in MTA tried their hardest, I didn't really develop a love for learning Gemara until graduating high school and going to yeshiva/beit medrash in South Bend (a story for another time and another column as to how I ended up there and not in Israel). In fact, I laugh sometimes when I think about the fact that I am sending my youngest son this summer to NCSY Kollel (where I was a madrich back in 1996). I always like to tell people that I don't think all the money in the world would have been able to induce me (and most of my friends) to go to a summer program like NCSY Kollel when I was in high school. The idea of spending a good portion of one's day during the summer months learning Gemara was a non-starter to me back then. Times have definitely changed, both for myself and for our community, which rushes to send our kids to programs like NCSY Kollel and Michlelet NCSY. Many of our children in almost all Orthodox circles are into learning in a big way today and are achieving more much earlier. It's certainly a good thing all around.
But back to Rabbi Bronspiegel's shiur. After two years in yeshiva in South Bend, I came back to Yeshiva College with a love and desire for learning Gemara and for staying "on the daf," as it is known in learning circles. I just enjoyed simply focusing on the Gemara, Rashi, Tosafos with a sprinkling of rishonim who would be used to enhance the shakla v'tarya (back-and-forth) and give a taste of the deeper Talmudic and Torah ideas at work.
However, in my undergraduate years, I never really found a shiur that fully matched what I was looking for until after I graduated college, started RIETS and joined Rabbi Bronspiegel's shiur. Being in his shiur took me back to my earlier days in yeshiva when I began to really love learning Gemara and it felt like a breath of fresh air for me. I found my Gemara learning groove again, so to speak, for that year, and I owe Rabbi Bronspiegel a big debt of gratitude for helping me do that.
Although short in stature and mostly soft-spoken, Rabbi Bronspiegel made a very powerful impression upon his talmidim and all who heard his shiur. He radiated a sincere sweetness and chein that I have never forgotten. He also somehow managed to never be involved or seem to care much about the "hock" and "politics" of the YU scene and was laser-focused on his shiur and his talmidim—not always an easy feat.
Another lasting memory I have of Rabbi Bronspiegel is of him trying hard to convince the many pre-med students in our shiur that they should strongly consider becoming dentists instead. Why? Because dentists, he advocated, have more time to learn Torah and a better lifestyle and quality of life. It was as simple as that. As it happens, he succeeded with a good number of them, and I know at least four people from my YU days who are happy and successful dentists today (as well as serious Torah scholars) in part because of Rabbi Bronspiegel's convincing arguments.
Rabbi Bronspiegel left a tremendous legacy upon the literally thousands of talmidim he impacted, including me, over more than a half century of teaching Torah at a high level, and I am sure he will never be forgotten completely by all who learned under him. T'hei nafsho tzrurah b'tzror hachaim!
By Moshe Kinderlehrer/
Co-Publisher, The Jewish Link