A kidney donation is always a monumental occasion—for the recipient, it's the day his life changes for the better, and for the donor, a new perspective on what it means to help someone is gained. But on Monday, August 21, a donation at North Shore University hospital on Long Island was monumental for one additional reason: it was the 1000th kidney donation coordinated by Renewal.
In fact, it was one of three donations happening that day, all considered the "1000th donation," according to Renewal's Director of Outreach Rabbi Josh Sturm. Since Renewal's inception in 2006, the international nonprofit organization has seen exponential growth in kidney transplants, reflecting the overall positive impact of providing resources for donors and recipients alike.
"Even though Orthodox Jews make up 0.02% of the American population, they account for 20% of live altruistic kidney donations in the country," said Rabbi Chaim Steinmetz, executive vice president of Renewal. And there's no doubt that this wildly disproportionate statistic is thanks in part to the work of Renewal. "We have normalized kidney donations in the Orthodox community…whether it's Teaneck, Lakewood or Brooklyn, most people know of someone who gave a kidney."
By 6 a.m. on Monday, Renewal's 1000th donor was already prepped and anxiously awaiting to meet with the surgeons at North Shore who would be performing the transplant. The donor, who is from Teaneck and wishes to remain anonymous, shared with The Jewish Link that he watched his grandmother suffer from kidney failure and dialysis for many years—and thought that if he could help someone be relieved of that pain, he should.
"Renewal was with me every step of the way," he said. The donor was connected to his recipient just two short months after attending a Renewal drive at his shul. "All you have to do is swab your cheek. It was really very simple. Then I got a call that I was a match for someone."
Upon hearing that he matched with a recipient, the donor talked it over with his wife, who initially thought he was "crazy" for wanting to give a kidney. "I told him that if he wants to do it, then he can go and do it, but I'm not giving my own kidney," the donor's wife shared. "Our [eight] children have been generally supportive, and our younger ones have asked a lot of questions about the process."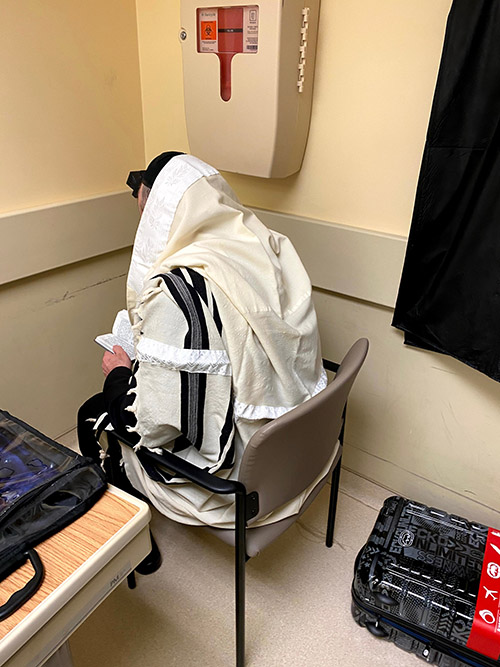 The donor himself had a lot of questions about the donation process, and was connected by Renewal to several people who have given kidneys themselves. "Each of them shared the same sentiment…that if given the chance, they would give a kidney again. One person even told me that he was jealous that I matched with someone, because he wants to do it all over. If everyone who went through with it felt it was the right decision, that I should do it too, even if it's a challenge."
Although the donor moved forward with the process, he was informed that the recipient needed another surgery before being able to withstand a kidney transplant. "I had about five months between all of the tests and when they called me to set up the actual surgery," he shared, adding that in the interim, one of his daughters became engaged and is now planning a wedding in November.
"I asked the doctors when I could expect to dance again; I want to dance at my daughter's wedding," the donor explained. "When the doctor said I could do it within three to four weeks after surgery, I was relieved."
The donor's wife shared that their daughter wasn't dating anyone at the time her father began exploring the thought of kidney donation. "The shidduch came shortly after we scheduled the surgery," she said. "That's another good thing that's come out of this."
When asked if he would like to meet his kidney recipient, the donor expressed interest, assuming that the recipient would like to meet as well. "Typically we introduce the donors and recipients within several weeks of the transplant, if all goes well," explained Rabbi Steinmetz of Renewal. The recipient shared with The Jewish Link that he, too, would love to meet his donor after the transplant.
"We got so lucky," the recipient's wife said. "It's a really big deal and we are so grateful." The recipient, who began the search for a new kidney a year and a half ago, did not expect to find his donor so quickly, which he attributed to the hard work of Renewal.
"As soon as we got in touch with Renewal, they began seeking a donor for me," he explained. "We had a couple of leads but nothing worked out. When we got the call that there was a match the feeling was surreal."
The recipient noted that he was taken off of the transplant list at North Shore for a brief period due to a triple bypass heart surgery (which explains the donor's five month break between tests and booking), and was reinstated after recovery. "When I was reinstated to the transplant program, I jokingly asked, 'okay, so do you have a kidney for me?' and they said 'yes.' It was amazing."
Right before heading into surgery, the donor shared with The Jewish Link his advice for anyone considering a kidney donation. "Speak to people who have done it before…they all have had such positive experiences. And just know that if you can do it, it's a tremendous chesed and a tremendous accomplishment."
On Tuesday, August 22, Renewal's 1000th kidney donor was in good spirits after a successful transplant. Mazal tov to Renewal on another life saved and, hopefully, many more to come!