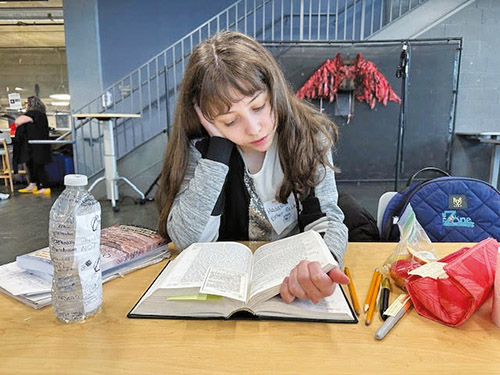 If past performance is any indicator of future results, one person worth watching is Hadassah Esther Ritch of Highland Park, an eighth-grade student at the Rabbi Pessach Raymon Yeshiva in Edison. Because she is likely to achieve great things in the years to come.
Ritch was the only student from RPRY to participate in the Chidon HaTanach national competition, held on the last Sunday in April at SAR High School in the Bronx. The 2023 competition attracted 325 middle and high school students from across the US.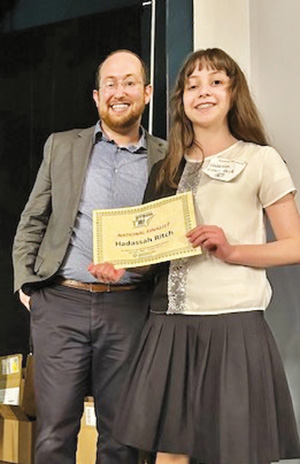 As she explained to The Jewish Link, Ritch was motivated "to get to know the Tanach up close, in detail, to know the characters in Tanach and learn about their contributions, what they did, their traits, the connections between them and what is special about each character." And she was so driven that she often studied on weekends and skipped recess and lunch at school to study for the competition.
The Chidon HaTanach is a time-honored tradition in the Jewish community, established in 1958 by Israeli Prime Minister David Ben Gurion. It challenges students to demonstrate their mastery of citations, quotes and other information in the Torah, Nevi'im and Ketuvim. The US contest organizers share, one year in advance, the selected parts of Tanach that the Chidon HaTanach will cover, and on the day of the competition they administer a 120-question multiple choice test. The top seven finalists in the middle and high school divisions are called up to a stage for a written tie-breaker test, and the two students with the highest scores in each division go to Israel for the international Chidon HaTanach competition.
When the results of the 120 question quiz came in, Hadassah was not one of the top seven scorers in her division. Yet she ranked 14th nationally in the middle school division, which is a remarkable accomplishment in and of itself. And rather than stew in disappointment, Hadassah immediately started studying for the 2024 competition.
Hadassah's mother Avigail, a registered nurse, told The Jewish Link: "I'm very proud of Hadassah. She is young and enthusiastic, and look what she did: this is her first time (at the Chidon HaTanach) and out of hundreds of kids, to be number 14 is amazing. This is a great achievement!" Avigail also praised her son Yehudah, who learned the parsha with Hadassah every Shabbos and was very supportive of his sister's efforts.
Avigail pointed out that her daughter's interests are diverse and she also participates in the girl scouts, book clubs, the school's basketball, soccer, and hockey teams, the robotics club and other activities as well. So if you're looking for Hadassah's next big score, it may happen in any number of fields.
---
Harry Glazer is the Middlesex community editor at The Jewish Link.