Eighty-seven-year-old Sarah Lustig Goodman calls her Holocaust survival "an escape story." She has retold her story scores of times—she estimates that a total of 13,000 people have attended her lectures. She likes to leave her listeners with two important messages: the value of faith in overcoming challenge, and that nothing is more important than family.
Goodman was born in the living room of her Dortmund, Germany, home in 1936. At the time, Jewish people were not allowed to give birth at the local hospital. On November 8, 1938—the eve of Kristallnacht—her father Max's store was vandalized and he was violently thrown into jail by the Nazis. Her mother, Hilda, knew that life for the Jews would only get worse so she sent her two daughters—Sarah, who at that time was only 2 ½ years old, and 6 1/2-year-old Susan—to relatives in Belgium. Meanwhile, Hilda was able to get her husband out of jail through bribery and by presenting doctored visas. Miraculously, Hilda and Max hid in a truck and then under a train in order to escape to Belgium and reunite with their two young daughters in 1939.
Using false papers issued by Holocaust rescuer Sousa Mendes, the family was able to escape from France to Spain and then to Portugal. Goodman explained that, somehow, her family was always able to stay a few steps ahead of the Nazis. Once in Portugal, her father's plan was for the family to escape to the United States, but according to Goodman, "Everywhere he went they said 'No, no, no.'" Cuba was the only country that would allow them to enter. But when they tried to board the ship that was supposed to carry them to Havana, they were told they could not board. Shortly after, her father learned that that boat was torpedoed. "It's full of miracles," Goodman repeated over and over about her family's story. Ten days after the family finally arrived in Cuba, her younger sister Hadassah was born. They stayed in Cuba for four years until they were permitted entry into the United States in 1945.
In Manhattan, Goodman became involved in the Bnei Akiva youth movement, where she received a Zionist education. She met her husband, Rafi, during a Bnei Akiva Hachshara in New Jersey, but they did not keep in touch until the two of them made aliyah and reconnected again on Kibbutz Shluhot in the Beit She'an Valley. They married in 1958 and moved back to New York for 14 years for Rafi's studies and for work opportunities. In 1973, they returned to Israel with their three children, settling in Haifa.
Goodman worked as a bookkeeper for Israel's leading energy company, "Paz." In 2004, together with Hadassah, she penned her family's story of surviving the Holocaust. They began with eight pages and before they knew it, they had a 116-page book that was translated into Hebrew. "We wrote it to honor our parents and to inform our children," Goodman explained. "I find it incredible what my parents did. They were ordinary people who got extra courage from God. They were selling materials and running a store and going about their business. Growing up, I did not realize how brilliant they had been."
After the publication of her book, she began receiving speaking requests to share her story of survival. Since her first request nearly 20 years ago, she has spoken to Jewish and non-Jewish groups from Germany, Holland, Belgium, Russia, Israel and the United States. She has met with high school students, Taglit—Birthright Israel groups and ambassadors. She also paired with Israel's Ministry of Foreign Affairs to share her story to audiences in Taiwan. Her story has been published on a blog of 3 million subscribers in Taiwan.
Goodman remained very close to her two sisters. Her older sister Susan passed away 30 years ago. She still sees Hadassah, who lives in Jerusalem, often. One of the sisters had learned from their father that 250 members of his family were murdered during the Holocaust, many of them with no grave or name to their memories. But rather than focus on death, Goodman chooses to focus on life—and this is the message she shares with her audiences.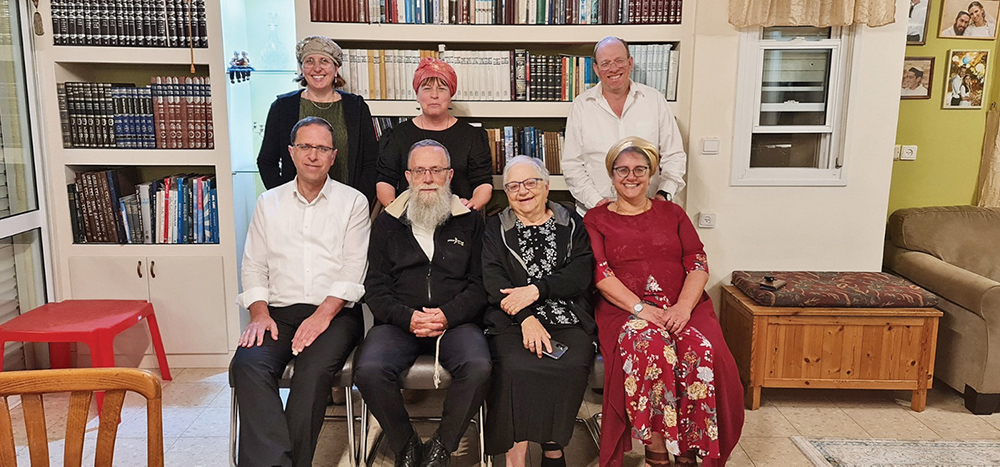 The walls of her home in the Beit Barth retirement center in Jerusalem are full of photos of her three children, 16 grandchildren and 33 great-grandchildren (she is quick to say that more are on the way). She speaks proudly of her children—one works in education, one in high-tech and one as a social worker—and of her grandchildren and great grandchildren.
She chose to pick one photo on the wall to speak about. It is of her great-granddaughter Shoham standing beside an Israeli flag with a sign that reads in Hebrew, "Savta we won." The photo sums up the life Goodman has built. "My sisters and I together have over 60 great-grandchildren because we succeeded in escaping the burning continent of Europe," she said. "Baruch Hashem, I am very grateful. We have done something."
---
Alisa Bodner is a Fair Lawn native who immigrated to Israel a decade ago. She is a nonprofit management professional who enjoys writing in her free time.