Highlighting: "Shadows We Carry" by Meryl Ain. SparkPress. 2023. English. Paperback. 296 pages. ISBN-13: 978-1684632008.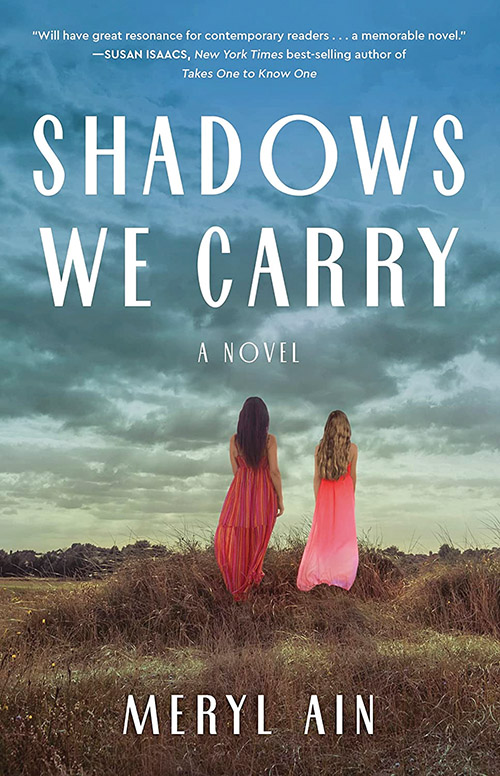 The sequel to Meryl Ain's hit novel "The Takeaway Men" takes place in 1960s America.
The Long Island author's new novel, "Shadows We Carry," has been called "an insightful novel that probes the complex, painful question of what it means to be Jewish in a post-Holocaust world" by Foreword Clarion Reviews.
The novel takes place in the late 1960s in the United States and follows twins Bronka and JoJo Lubinski, children of Holocaust survivors who came to New York after World War II. They are students at Queens College. JoJo aspires to become a famous actress while Bronka wants a career in journalism.
The time period plays an important role in advancing the plot as the novel's events take place in a time right before the women's rights movement took off. "I wanted to show all of the cultural and political turmoil that was going on in the United States," Ain said. "[The twins] dealt with their family's heritage, but they also had to confront these changing times. I wanted to call attention to what it was like back then."
One of the twins is faced with an unplanned pregnancy, and the other is faced with university gender quotas for female students as well as more gender discrimination within her profession. "Both sisters are confined by the time in which they live," said the author. "[They] seek to define their role as women and as individuals."
As well as the Lubinski twins, the novel follows a boy who discovers his father was an Auschwitz guard, and a Catholic priest who suffers an identity crisis after realizing his birth parents, who gave him away for safety, were Jewish. "All of the characters wrestle with their family's ancestry, secrets, and bloodlines," Ain said. "I wanted to raise the issue of Jewish identity… [I wanted to raise] the question of 'Who is a Jew?' [Also,] are we defined by our genes or our environment? Who is responsible for the misdeeds of previous generations? I left all of those questions open-ended."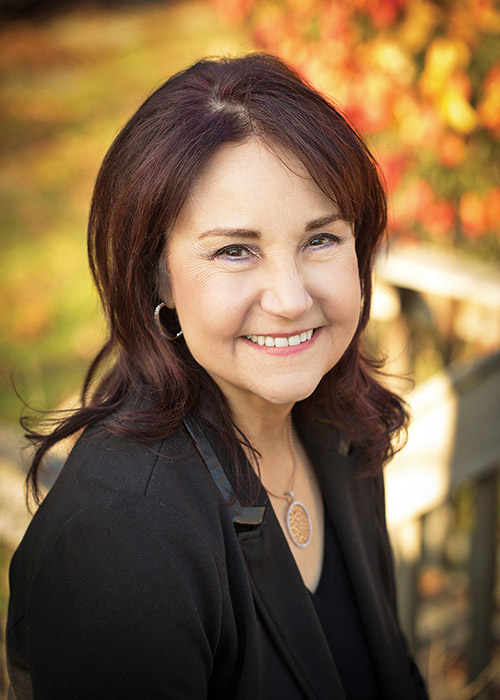 "Shadows We Carry" can either be read as a sequel to "The Takeaway Men," its prequel, or as a standalone. "Shadows We Carry," which was written at the request of many passionate fans, picks up after the events of "The Takeaway Men," the story of which ended in 1962. The prequel begins after World War II at a displaced persons camp where JoJo and Bronka are born. Their father suffers from PTSD and grief from losing his family to the Nazis, while their mother has a secret: She is a righteous gentile who passes as Jewish at the DP camp.
The family moves to the United States, and while the twins easily assimilate into American culture, the parents have much difficulty, particularly the father, who feels guilt for lying about the identity of his wife. "The children try to unearth their parents' identity," Ain said.
Reading both novels together will help the reader understand the historical changes that occurred after World War II. During the events of the first novel (in the 1950s), the words "Holocaust" and "survivor" did not exist. "They were considered refugees," the author explained. "The country, and even the Jewish community to some extent, just wanted to move on." In addition, there was no concept of post-traumatic stress disorder. The first novel also follows a former Nazi who is in hiding. However, in the 1950s, the U.S. government was more concerned with hunting down communists than they were Nazis. In the second novel, people now begin to care about the Holocaust, and the same former Nazi is also finally being hunted. "The times really changed," the author commented.
Ain chose to write a novel that took place post-Holocaust as there are already many, many bestselling books that take place during the Holocaust. She believes that it is also important to discuss what happened afterward: "Those who survived lived with [trauma] every day of their lives and passed it on to their children and to their grandchildren. These things don't go away. It is important for all people to understand … what happened."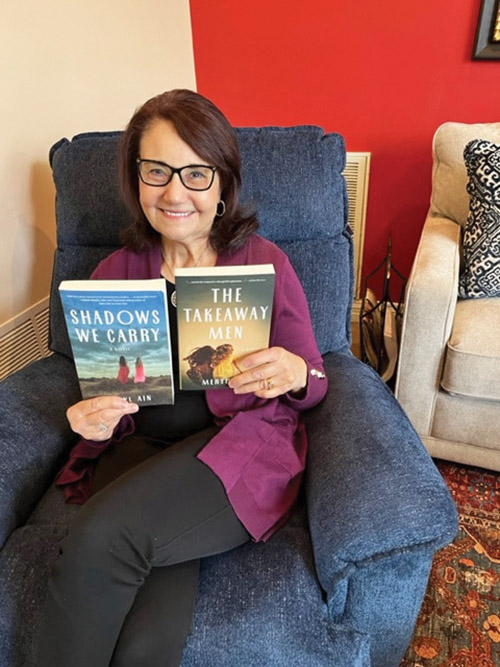 After Ain wrote "The Takeaway Men," she was appointed as a member of the International Advisory Board for Holocaust Survivor Day. "[We] honor those who are still around as their numbers are dwindling." In light of this, she believes that there is a need to tell these types of stories now. "The burgeoning incidents of antisemitic hate crimes makes it more necessary than ever to tell these stories."
Ain is also the creator of the Facebook group "Jews Love to Read!" She wanted "to create a space that was welcoming [and] that was not judgmental … I wanted to give freedom to readers and authors to post [and] connect." Its 4,300 members from numerous countries discuss Jewish authors and books with Jewish themes.
Through her Facebook group, Ain became aware of new authors and new books, so she decided to create a podcast where she could interview these writers. She partnered with Authors on the Air Global Radio Network to launch the podcast "People of the Book," where she could do just that.
Ain loves speaking with groups in person and virtually. She has given talks to Hadassah groups, synagogue groups and book clubs. If you would like to set up a talk or book event with her, she can be reached through her website, https://merylain.com.
Ain hopes that "anyone who cares about Holocaust survivors, children of Holocaust survivors, justice, antisemitism, the changing role of women" reads her new novel. You can purchase "Shadows We Carry: A Novel" on Amazon and at Barnes & Noble.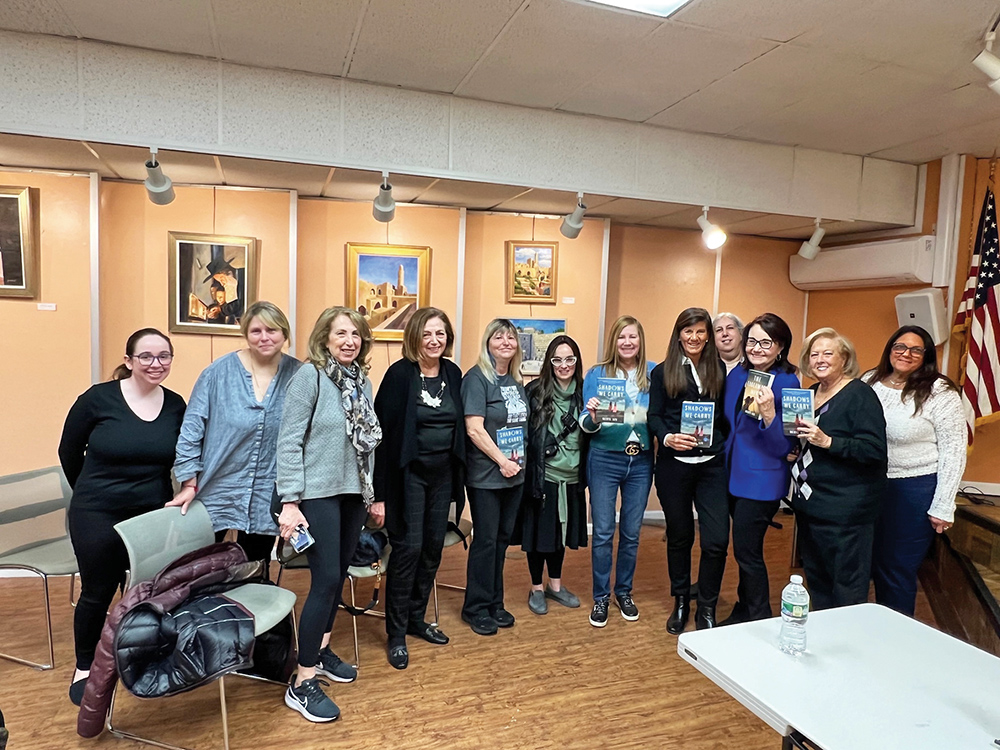 ---
Dina Shlufman of Tenafly is a Jewish Link summer intern and a rising freshman at Cornell University.