Children's book tells the tale of a superpowerless girl living in a land of superheroes.
Highlighting: "The Unsuper Adventures of Norma," by Mark Svartz. Carpathian Press. 2023. 188 pages. ISBN-13: 979-8986052403.
It's tough growing up as it is, but what if you were growing up in a town full of superheroes? Now, what if you were the only kid in this town without their own power? Author and illustrator Mark Svartz explores this idea in his new book, "The Unsuper Adventures of Norma," which is set to be released on August 29.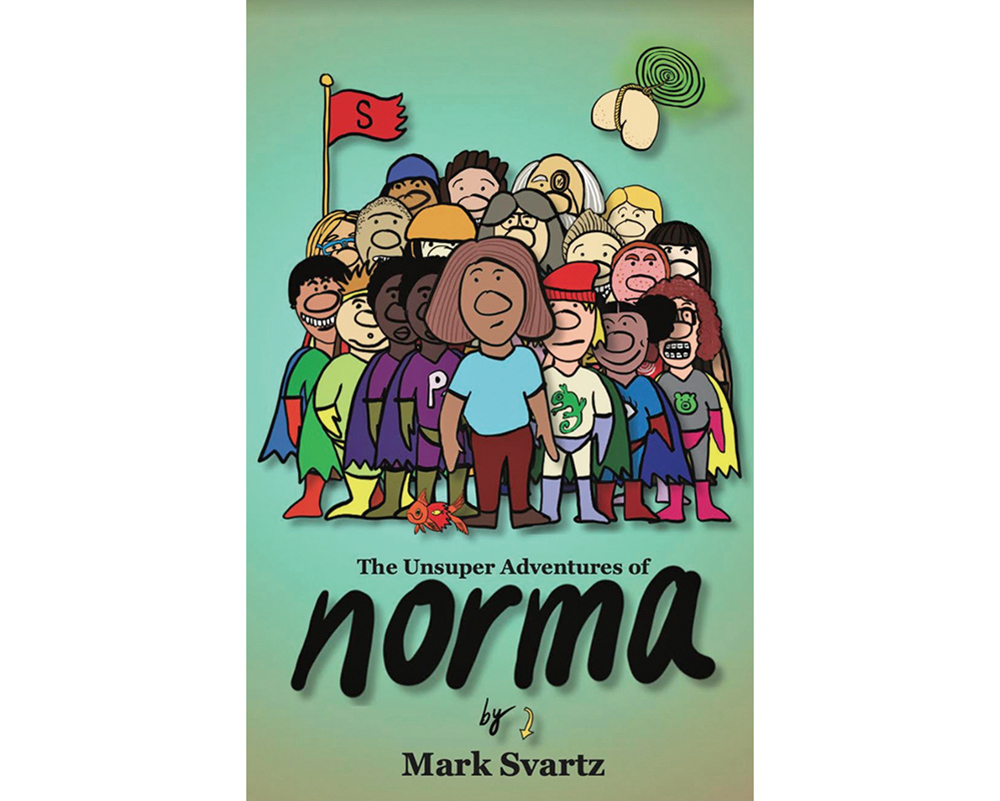 Svartz lives in Stamford, Connecticut with his daughter, Madeline, and two sons, Jackson and Dylan. He credits his 7-year-old superhero-obsessed son Jackson with the idea for the book. "He felt a little bit frustrated that he couldn't be as fast as The Flash. And I told him, 'You might not be as fast, but you can be the best Jackson you can be. That's your superpower.'"
In the same vein, the book follows a 10-year-old girl named Norma living in the town of Superton, where everyone has superpowers, well, except for her. Some people are invisible, some can hypnotize hippos, and others can see one minute into the future. However, Norma doesn't possess any of these superpowers: She's just "normal."
One day, supervillain Lord Fartron invades Superton and steals everyone's powers, threatening to destroy the universe. Norma is now able to use her "normalness" to her advantage. "Norma accepts that she may not be the best at anything …[but] sometimes the best superpower is just being the best at being yourself," Svartz said.
Svartz noted that his Judaism greatly impacts his writing. The lesson of the book draws on Jewish ideas: "We are all special. We are all made a certain way. We are all made that way for a reason." He also cites Judaism as a force in forming the strong work ethic he needed to complete this book.
While this is Svartz's first children's book, he also authored "I Hate You, Kelly Donahue," and is currently writing a sequel to "The Unsuper Adventures of Norma." He started writing at an early age. ("I wrote my first children's stories when I was in first or second grade," he recalled.) He went to Brooklyn College to study television and radio production and then got his master's in mass communications from the Virginia Commonwealth University Adcenter, where he learned how to write advertising copy. He then began writing commercials for dozens of different brands and agencies as well as freelancing. Svartz's impressive resume includes work for Google, The New York Mets and actors including Fred Armisen.
Svartz believes that art and creativity are so profoundly important, but laments the fact that many choose to ignore the arts as a viable career option. He said: "A lot of people in the Jewish world don't really see [the arts] as an … opportunity. I don't think it is something that we have been generationally supporting. Jewish people are a big part of culture as a whole. There have been amazing Jewish artists, writers and musicians throughout time; I think our religion is built on so much of that." Despite this, Svartz thinks that there seems to be a lack of a push for Jews in the Orthodox community to enter these creative jobs.
Mostly, Svartz said, he sees that "there are kids becoming doctors, and there are kids becoming lawyers and going into finance. That's all fantastic, and we need that, but I don't think a lot of people realize that you can [also] go into the arts … They see [these other jobs] as a pretty clear path to success." He believes that music, art, writing and architecture are important avenues that "utilize the artistic and creative side of us, and [people] turn that into a very viable, successful career that doesn't necessarily go down the classic path."
Svartz believes that this problem is exacerbated by the fact that there aren't enough art, music and creative writing programs for young children at yeshivas. "When we don't harvest that from the beginning, it goes away," he commented. "If we don't spark that flame from the beginning, it becomes an afterthought. I think it's a shame because there are so many opportunities for people to find new avenues in the creative world that can build from the Jewish learning that they've had as children." Although the overwhelming majority of students with whom he went to school took career paths outside of the arts, Svartz wants kids to know that it is possible to go into a creative field.
Svartz hopes that he can inspire other kids to become artists. He encourages them to not "worry about what other people say about it. It is all about capturing what you feel is right." Likewise, he doesn't know what the reaction to his new book will be, but he said that seeing his son Jackson's reaction to it "was worth it all."
Storytelling is a necessary tool for sharing positive ideas and messages. "The Unsuper Adventures of Norma" emphasizes this point. "[Storytelling] is also how we strengthen who we are as individuals. We all have a story to tell, but if we don't know how to tell it, then the stories go away." Svartz did not let his story go away, and hopes his storytelling abilities will be seen as a tool for kids to explore their individuality.
"The Unsuper Adventures of Norma" is already receiving accolades. Readers' Favorite said, "Brilliantly written, this story will resonate with children who have ever felt they might be on the outside looking in." According to BookLife Reviews, "The cast is colorful and buzzing with kid-friendly jokes … Younger readers will revel in Svartz's oddball humor and cartoonish illustrations … This charming book teaches us that being normal isn't so bad."
The "Unsuper Adventures of Norma" is available for pre-order now on Amazon. You can also find it on normabooks.com.
---
Dina Shlufman of Tenafly is a Jewish Link summer intern and is a rising freshman at Cornell University.