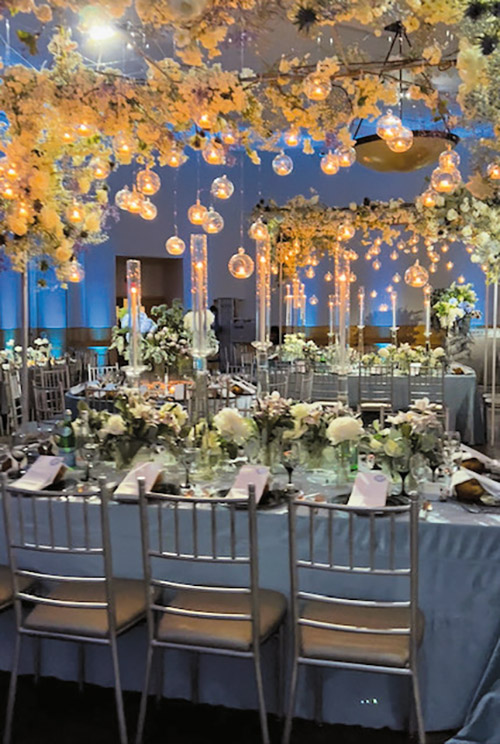 When Congregation Keter Torah was built in Teaneck almost 25 years ago, it was designed to be the go-to venue in the area, with the capacity to hold events of all sizes. There have been hundreds, if not thousands of simchas celebrated here since its inception, from an intimate bris to a large wedding, bar and bat mitzvahs, school dinners, nonprofit fundraising galas and everything in between. While other venues have opened, none can match Keter Torah's size and facilities. Keter Torah can accommodate events of 500-plus people in a building set back on picturesque grounds surrounded by wooded areas. With such consistent use, the shul administration embarked on a major renovation a few years ago that is now complete, with just a few cosmetic touches remaining.
"The whole building has a fresher, cleaner look," said President Yossi Katz. "There are rooms for small or large parties." The refresh includes an updated bridal suite, updated audiovisual functions with greater internet capabilities, and new lighting with color enhancements in the ballroom. Updated wall paneling and fresh paint add to the décor. The space can be customized for any function. Katz said he saw the building completely transformed for a large fundraising event with a stage and stadium seating including couches, tables and chairs. Outside, the parking lot was repaved, the bridge to neighboring Winthrop Road was replaced and the landscaping was upgraded.
Keter Torah's spacious grounds allowed for events to continue during the COVID pandemic. Katz said the shul hosted many outdoor weddings over the last two years. Now hosts can opt for an indoor, outdoor or hybrid function with plenty of seating for those who are more comfortable outside. Hosts can also hold portions of their event on the patio adjacent to the main ballroom.
Sammy Eisner, a member of the shul, was the volunteer project manager. A New Milford resident since 2002, he has a background in property and construction management. "I was asked to help out—and never looked back," he said. While ongoing work is always needed, he said this has been the biggest refresh since the shul was built. "Keter Torah has a lot to offer. The premises are beautiful. And nowhere else in the immediate area can you find a facility like this in terms of size, location and accommodation."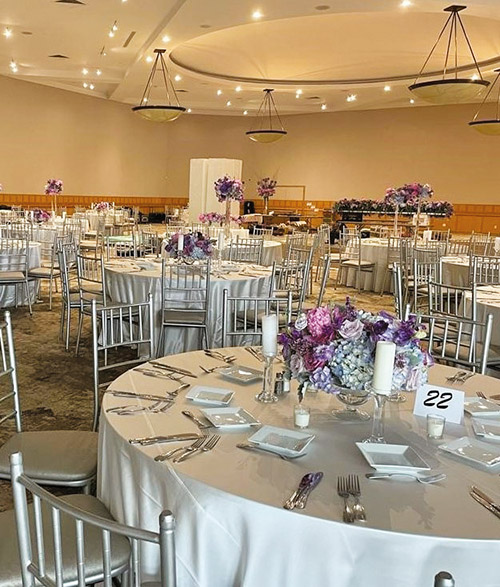 Keter Torah has also introduced a panel of nine caterers to offer hosts options in style, price and personal preferences. Katz said they vetted a number of candidates. Some they knew, and others were recommended by members, or introduced by hosts. "Having a panel of several reputable caterers, rather than allowing anyone in, ensures that everyone who works in the facility understands our expectations and the quality we offer," he said. "This is a large facility with full dairy and meat commercial kitchens. We have to make sure that when people come in, they know how to properly use the facility and what condition to leave it in, once the event is over. The caterers on the panel understand and respect our requirements, so we can have a mutually positive and beneficial relationship, with the ultimate goal of providing the best experience for our hosts."
The calendar is quite busy for the next few months, but the ability to potentially hold multiple events on the same day helps Keter Torah make their facilities available to as many people as possible.
For information about holding an event at Keter Torah, call 201-907-0187 or email [email protected]