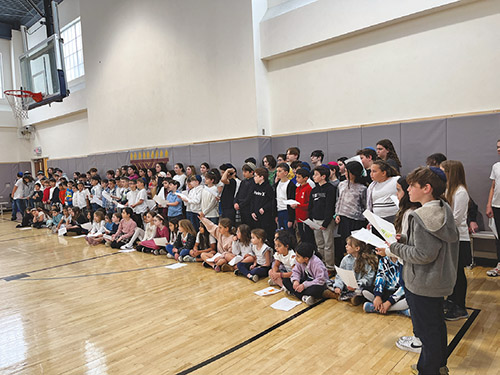 Tenafly Chabad Academy had a truly memorable celebration of Yom Yerushalayim today, leaving a lasting impact. First our entire school joined together to sing "Yerushalayim Shel Zahav." It was beautiful to see the entire school singing together in honor of Yom Yerushalayim.
Middle school had a captivating oneg where an insightful movie showcased authentic footage of the remarkable retaking of the Old City and the Western Wall. This cinematic experience allowed students to comprehend the magnitude of the miracles that unfolded during The Six Day War, enabling them to vicariously relive the heroic moments of Israeli soldiers reclaiming Jerusalem. The resounding chant of "Har Habayit b'yadenu, the Temple Mount is in our hands" still sends shivers down our spines today, underscoring the significance of that historic victory.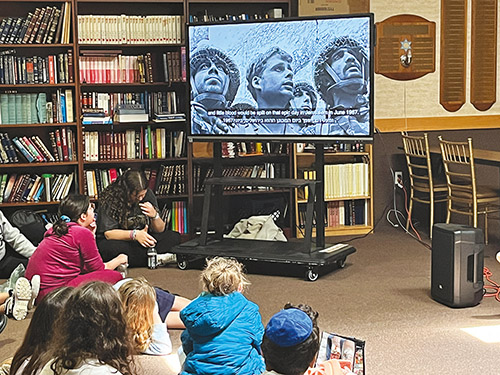 To continue the festivities, Rabbi Shinefeld guided students in an engaging array of songs celebrating the spirit of Yerushalayim. Through uplifting melodies and heartfelt lyrics, students were able to express their deep connection to this sacred city. The oneg served as a powerful reminder of the eternal bond between the Jewish people and Jerusalem, instilling a sense of pride and unity among students.
As the day drew to a close, the TCA community carried the joyous atmosphere into Shabbat, feeling an enhanced connection to our heritage and the significance of Yerushalayim. Students came away with an understanding of the historical events surrounding the reunification of Jerusalem, but also with a deep appreciation for the sacrifices made by those who fought for its freedom.