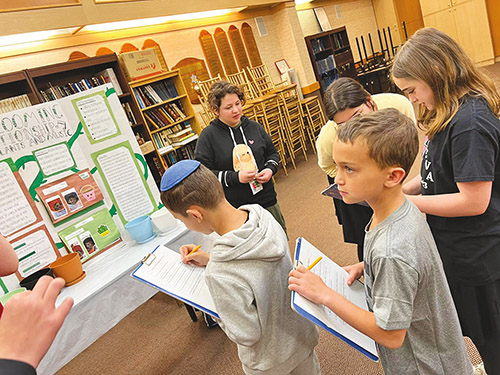 Tenafly Chabad Academy's seventh-grade students have truly engaged in an immersive scientific exploration over the past few months culminating in a fantastic Science Fair. Collaborating in small groups, these budding scientists selected intriguing topics, formulated hypotheses and diligently conducted experiments. They left no stone unturned in their quest for knowledge, meticulously documenting their observations and collecting data. To showcase their findings, each group designed and constructed a comprehensive display board, presenting their work and drawing compelling conclusions.
The exhibits themselves were thoughtfully crafted, covering an array of captivating subjects. Some explored the impact of music on plant growth, delving into the question of whether plants flourish when exposed to different types of music. Others investigated the influence of different air pressures on the distance a football can travel, determining the optimal air content for maximum performance. There were exhibits that shed light on the effects of food coloring in diets, and one comparing the lifespan of organic versus inorganic produce. Some students discovered the secrets behind constructing a boat that minimizes seasickness, and there were many other exhibits that offered students insights into engineering principles and problem-solving techniques.
To foster a love for science and encourage curiosity, younger grades enjoyed a scavenger hunt sheet at the fair. They enjoyed a memorable experience and gained exposure to a diverse range of scientific concepts. The interactive nature of the fair encouraged them to actively seek answers and fostered a spirit of exploration and critical thinking.
Parents were able to explore the fair and see their children's incredible exhibits in the evening. Everyone was so proud of the students for creating an exceptional science fair that inspired both participants and visitors alike. Their enthusiasm for discovery celebrated the wonders of science and instilled a lifelong passion for learning.